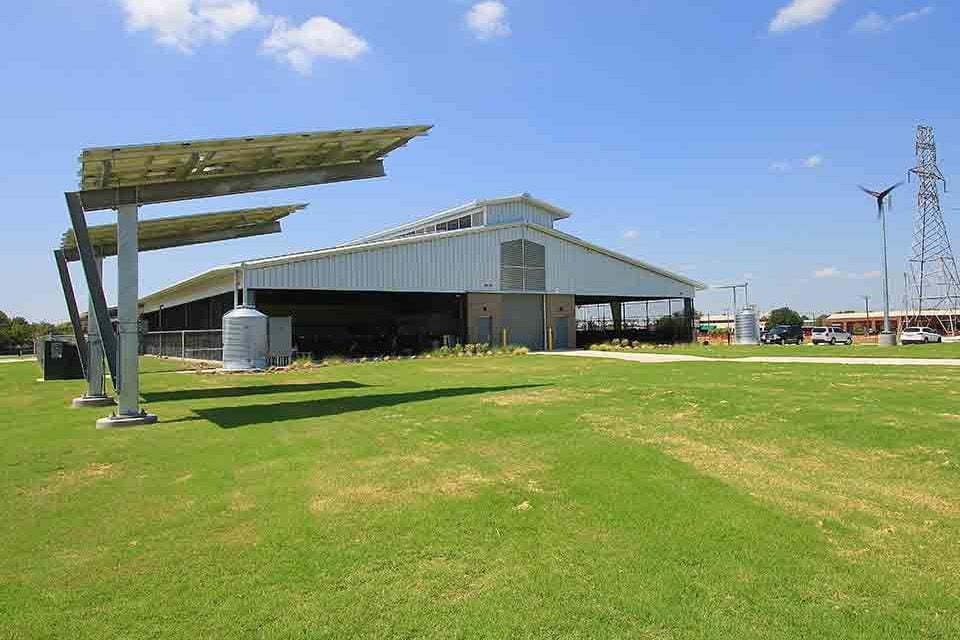 Arlington ISD Continues To Push Energy Management on 50th Anniversary Of Earth Day
Today is the 50th anniversary of Earth Day, a day designed to raise awareness about the negative impact our actions can have on the environment and to promote transformative change that benefits the planet. In the Arlington ISD, pursuing the principles behind Earth Day is an everyday pursuit.
"The district's energy management goal is to continuously improve energy efficiency and reduce the resources we use by establishing and implementing effective energy-saving strategies districtwide while providing a safe and comfortable learning environment," said Danny Helm, AISD Energy Manager. "Through our districtwide energy committee, the program brings awareness to all of our students, faculty, staff and administration on the impact their actions have on our environment for future generations."  
The district's energy management program, started in 2011, is making a huge impact in the district's energy consumption. Here are just four highlights of the program's success.
1) Reduced electricity usage by 28 percent
The AISD has reduced the amount of electricity it uses per square foot by 28 percent since 2011. That equates to $20 million in cost avoidance.
"We save energy by managing it better," Helm said.
That management includes constant monitoring, districtwide energy audits and an energy committee with a representative from each district building. It also involves competitions among buildings to reduce energy, monthly energy report cards, and other energy saving activities and campaigns.
Check out the AISD's Utility Dashboard to see the district's utility use, see how each campus compares to others, find your school and get tips for how to be green.
2) Net-zero Agricultural Science Center
The new Agricultural Science Center, a project of the 2014 Bond that opened in the fall of 2017, is the only net-zero facility in Arlington and may be the first and only net-zero agricultural school building in the country. The building utilizes a solar array and wind turbine to produce more energy annually than it consumes. On average, it produces more energy than it uses each day and pushes the surplus onto the local power grid. The facility also has four rain-water storage tanks and uses the collected water for irrigation and other purposes.
Learn more about the Ag Center's net-zero capabilities and check out the Ag Center energy dashboard, where you can see how much energy is being produced each day in real time.
3) 60 ENERGY STAR facilities
The AISD has 60 buildings that have earned the ENERGY STAR certification from the U.S. Environmental Protection Agency. That means that 60 AISD buildings – and counting – are verified to perform in the top 25 percent of buildings nationwide based on weather-normalized source energy performance and many other metrics, including occupancy, hours of operation and more.
The 2014 Bond was a major factor in earning this many ENERGY STAR certifications. The bond improved energy conservation by funding renovations at AISD campuses that significantly improved energy efficiency. Renovations included new exterior LED lighting, better insulation, dual-pane windows, and, most importantly, major mechanical replacements and improvements. Many new high-efficiency HVAC roof-top units and chillers were installed, and pneumatic controls were replaced with direct digital controls, giving the district much greater control over each campus' mechanical systems.
The new 2019 Bond will continue the progress started by the 2014 Bond.
4) Watt Watchers
The AISD is part of Watt Watchers of Texas, a state-sponsored STEM program designed to help boost energy literacy for K-12 students and help schools save money by saving energy. Through the program, students, teachers and families have access to energy-saving tips, activities and lessons.
The district's energy committee members have Watt Watcher patrols in their buildings to monitor and reduce electricity usage. They also make morning announcements and use many of the resources available through the program to encourage students and teachers to "reduce, reuse, and recycle."  
Next year, there are plans to expand Watt Watchers with a conservation program that will create "student patrols" to monitor utility use and encourage teachers to use the TEKS-aligned materials available to them. Check out the contest-winning posters created by two fifth graders to promote the conservation program.
Learn more about the AISD's energy management program at aisd.net/energy.