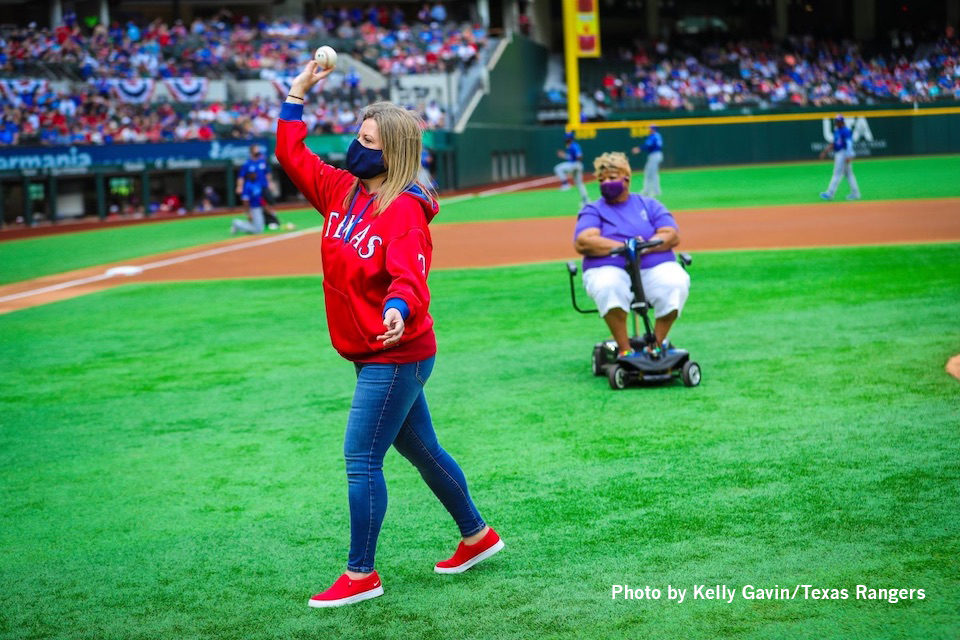 'It was surreal'
Dunn Elementary fifth-grade teacher Audrey Simmons had a great story to tell her students when classes resumed at Dunn Tuesday morning.
Simmons was supposed to be on the field for Monday's Texas Rangers home opener representing teachers as frontline workers. But when the original plan for the ceremonial first pitch changed Monday morning, the Rangers went to Simmons to be the relief pitcher.
Just like all Arlington ISD teachers during the pandemic, Simmons delivered a perfect strike in front of nearly 40,000 fans in the first home opener with fans at Globe Life Field.
"It was surreal," said Simmons. "It was very exciting, and I wasn't as nervous as I thought I would be because I was representing teachers. That was the most exciting part, representing teachers because of all their hard work. It wasn't about me. It was about everybody working together to create a great learning environment for the kids. It was a great opportunity."
And a last-minute one, too. Simmons, the 2019-20 teacher of the year at Dunn, found out last week she'd be on the field before the game. But five minutes before she was leaving for the game Monday she got asked to throw out the first pitch.
That gave Simmons and her husband Robert enough time to throw a few pitches in the backyard before going to the park. She got a few tips from the organization once she got there, and then she made her toss to a nurse from Dallas before the Rangers lost to the Toronto Blue Jays.
The day was filled with other highlights for Simmons, too.
"I got to meet George W. Bush beforehand," said Simmons, who returned to Dunn Tuesday morning as the school opened for students for the first time since the winter storm in February. "I was just about to practice with the nurse and we got to meet him. We shook his hand and took pictures with him. It was a great day. It was fun seeing all the behind-the-scenes stuff. It was surreal being a part of history."
Being at the ballpark has been a part of Simmons' life. She used to go to Arlington Stadium with her late father. That tradition continued at Globe Life Park, where Simmons took her children. Monday she had her husband and her daughter and son-in-law with her for the game.
"She [her daughter] is a teacher in Dallas," Simmons said. "They all had great memories of going to the games. She's had a year being a teacher, too. This will be something we will never forget."