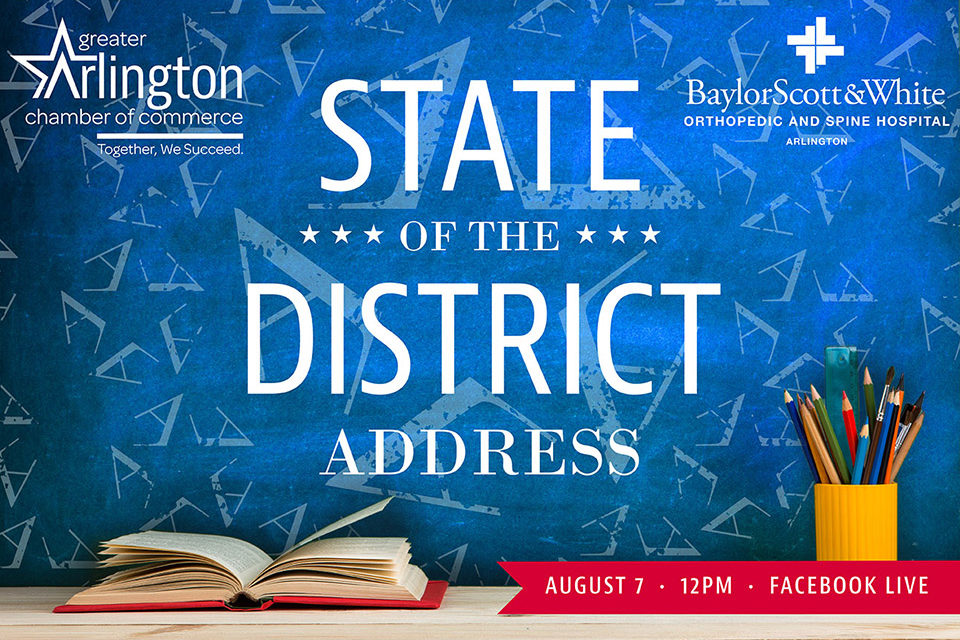 Arlington ISD's State of the District to be Held August 7 
The Greater Arlington Chamber of Commerce will host the tenth annual Arlington ISD State of the District address featuring Dr. Marcelo Cavazos this Friday, August 7. Because of COVID-19 this year's event will be held live on the Chamber of Commerce Facebook page.
In a Q&A format, Dr. Cavazos will answer questions about the district's Return to School plan. Moreover, he will share information about new initiatives including PTECH and the new Center for Visual and Performing Arts.
Everyone is invited to attend virtually. Similarly, everyone is asked to sign up on the Chamber of Commerce's Facebook event or join their page at noon on Friday.
The Presenting Sponsor is Baylor Scott & White Orthopedic and Spine Hospital Arlington. The Virtual VIP Reception Sponsor is LBL Architects. Platinum Sponsors are Peyco Southwest Realty, Inc. and Stripe-A-Zone.
Arlington ISD is committed to growing whole and well-rounded young adults who are prepared to excel in college, career and beyond. The district's mission is that every one of its more than 57,000 students will graduate exceptionally prepared for college, career and citizenship. With top educators, an outstanding core curriculum, a growing number of specialized programs and state-of-the-art facilities, the opportunities for all students from pre-K through high school are endless.