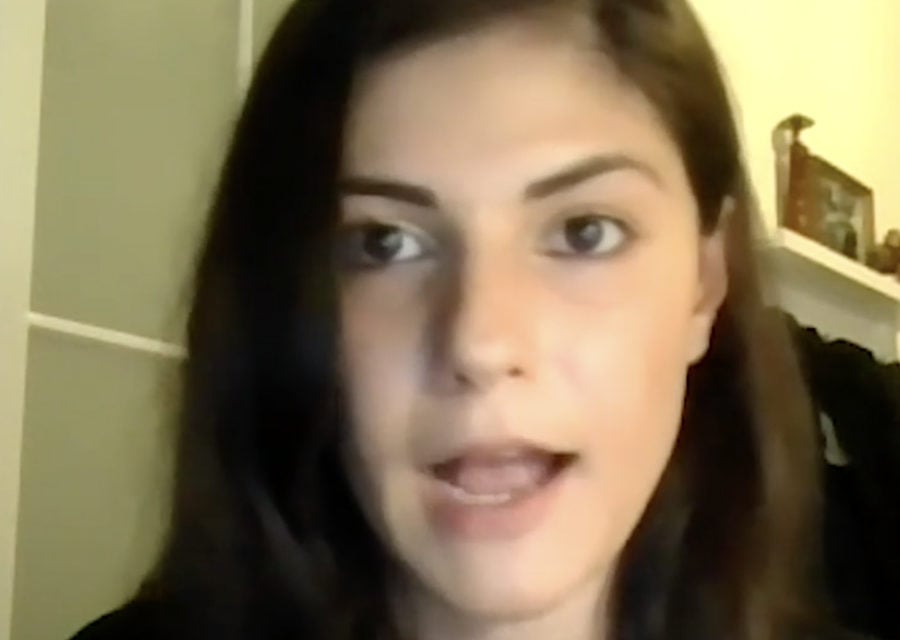 Martin High School Alumna Shares Her Story From The Other Side Of The World
Martin High School alumna Shereen Ayub is now a freelance medical writer living in Beijing. Last month, she spoke with Good Morning America about her experience during the coronavirus quarantine in China and urged people to social distance and wear masks. (Watch the video posted by Good Morning America.) This month, she took time to answer questions from Arlington ISD and share her experience and advice with our community.
Ayub grew up in Arlington and attended Martin from 2004 to 2008. She studied international relations and global studies at the University of Texas at Austin and graduated in 2012.
"I was always curious about what living overseas would be like and made it my goal to one day live in another country for at least six months," Ayub said. "I decided on China because around the time that I graduated, I was learning a lot more about China's booming economy and global impact. I also thought it might be fun to start learning Mandarin."
Ayub started her Chinese journey in Shanghai in 2013 and worked as an overseas marketing strategist and English editor for a Chinese manufacturer. Later she moved to Hong Kong for five years where she earned a master's degree in public health at the University of Hong Kong, specializing in health economics and policy. She also worked in healthcare research for the University of Hong Kong and a Hong Kong-based think tank. Now, Ayub is based in Beijing as a freelance medical writer and editor.
AISD: How long did your quarantine last and is it completely over now?
Ayub: All of China effectively shut down when Wuhan went into lockdown on January 23. For nearly three months, the majority of businesses in Beijing were closed with the exception of many restaurants still being open only for delivery orders. It wasn't until around the end of March that more restaurants and businesses opened back up. Beijing has been particularly strict, and a lot of containment measures became normalized, including: having your temperature checked at businesses that remained open; registering every time you enter a neighborhood; and wearing a mask when out in public. As of May 5, Beijing has opened up a lot more, although the temperature checks and registering with security every time you enter a neighborhood are still happening.
In mid-April, after my husband returned back to Beijing from a business trip to Wuhan, we were required to do a 14-day enforced quarantine. This meant that for 14 days straight we were not allowed to leave our house. In fact, that is actually what a true "quarantine" is – you are totally barred from having contact from others throughout the duration of the quarantine period. What's really interesting to me is that in the U.S., it seems like saying that you are in "quarantine" has now been equated with any COVID-19 containment measures. If you are staying at home for most of the time but still go outdoors for only essential trips, that's actually self-imposed isolation, not quarantine. I've been really fascinated by how the usage of the word "quarantine" has basically changed in the U.S. because of the pandemic.
AISD: In the GMA video, you talk about the culture of wearing masks in Asia. We are not used to wearing masks in the U.S. Can you share a little about why wearing a mask is important in Asia and any advice you have for those of us here who might be hesitant to wear one?
China and other parts of East Asia experienced the SARS outbreak back in 2003, and at that time, wearing a mask became very important in order to stop the spread of the virus. Masking, though, had already been accepted culturally even before SARS, especially in Hong Kong. Here's why: Let's say, for example, I woke up one day with a nasty cold. I can't stop coughing and sneezing, but I still decide to go into work because I've got a lot of work to do. If I walked into my office here and I am obviously sick but not wearing a mask, my coworkers may be a little concerned that they could get sick and may even be a little offended. If I'm sick but not practicing good personal hygiene – washing hands, cleaning surfaces I'm touching, covering my cough and wearing a mask – I could very easily spread my germs and potentially get my coworkers sick, too. Wearing a mask is seen as one of the few steps I am totally in control of doing in order to ensure that others around me don't also get sick.
I understand the confusion of wearing a mask in the U.S. Before I moved to China, I also had no idea that wearing a mask is an indication to others that you are the one that is sick! I initially thought wearing a mask meant someone is trying to prevent themselves from getting sick. That is false. The real intention of wearing a mask is a sign of respect: it indicates to others that you are sick, and you do not want them or others in the community to get sick, so you are wearing a mask in order to prevent that from happening.
However, we are in special times and because COVID-19 spreads rapidly compared to other viruses, the use of a mask has been recommended for everyone, not just those who are sick. Wearing a mask right now is essential, especially in the U.S. because many cities still have not reached peak cases. Researchers have found that a large proportion of COVID-19 cases never show any outward symptoms, which makes masking even more important. Even if someone you know seems healthy, they could be infected and have no idea. And if increased protection for you and others means wearing a mask, I think communities are better off opting to wear a mask.
AISD: From what you know about our coronavirus experience in Texas, how does it compare to what you have experienced in Beijing?
For perspective, Texas is reopening only after about a month of experiencing mass closures. Beijing was closed for two months, and, even though Beijing is more open now three months after COVID-19 became known to the world, certain rules are stricter than ever before. No new confirmed cases have been found in Beijing for the past two months, based off Johns Hopkins University's COVID-19 Dashboard.
Times are very tough, especially for those facing unemployment and students, but if Texas continues to face these surges in cases from reopening too soon before the virus is mostly suppressed, the economy and schools will continue to have to stop and restart in the long run.
AISD: What lessons did you learn from your time in quarantine?  And what lessons can we learn in the United States from your experience in China?
The biggest lesson I learned is that given all the information we now know about COVID-19, a country's chances of opening back up will be low if the entire population does not work together to stay at home, practice social distancing, wash your hands, wear a mask and be patient. The longer a city is not compliant with containment measures, the longer it will be until "quarantine" fully ends.
AISD: What tips do you suggest for surviving during COVID-19? 
Stay home as much as you can! Remember that if you have the ability to stay at home right now, you are helping those who are essential workers and don't have the choice to stay at home.
Wear a mask. If you can't buy a mask, you can make a makeshift mask using a scarf or bandanna. Make sure to also sanitize your mask regularly, as bacteria can build up on a mask.
Keep up a good hand-washing routine. Since I can now go out to restaurants in Beijing, the first thing I do after I finish touching the menu and put in my order is to go straight to the bathroom and wash my hands. Or use hand sanitizer if a bathroom is not accessible. When I return back home, the first thing I do before I touch anything is to wash my hands, and if I do have to touch anything (e.g. doorknobs or surfaces) I sanitize those surfaces.
If you can, support your local restaurants by ordering delivery/takeout.
In terms of how to handle self-imposed home isolation, I think it's so important to take time out to make a schedule for yourself every week. And try your hardest to stick to that schedule. Structure can take the edge off of how overwhelming the current situation may feel. Incorporate specific time slots for work, exercise, entertainment, Zoom calls, self-care and anything else you enjoy. But remember: By the end of each week if you realize you didn't stick to your weekly schedule exactly as scheduled – that is totally fine. We need to remind ourselves that we are living through a historical event (arguably the biggest crisis since World War II) and it makes sense if it's very difficult to find the motivation to complete tasks you would normally be able to do before COVID-19. Be gentle with yourself and remind yourself that you are trying your best.
AISD: You mentioned the importance of mental health in the GMA video. Having been through the quarantine, what are some tips to protect mental health?
First and foremost, try to stay virtually connected with people as much as you can. Talk with friends and family. Journaling is also great, especially if you don't feel comfortable being vulnerable with your current social circle but still need an outlet to express how you've been feeling lately. Second, treat yourself! Take an extra-long shower; do a face mask; watch a TV show or movie you've been wanting to watch for a long time; drink a hot cup of tea. Third, I think art is wonderful for mental health: listen to one of your favorite albums or discover a new one; check out artists' online pages; take virtual tours of museums. There is endless access to art online! Fourth, exercise is really essential for both physical and mental health, and not just now but throughout your life. Even a short walk every day is beneficial to both your physical and mental health. If you can go out for a walk in your neighborhood while still socially distancing from others, try to get out for a 30-minute walk every day.
Loneliness and depression are serious concerns for many because of increased home isolation. Above all else, your well-being is the most important. If you are not in immediate danger because of thoughts of suicide but need someone to talk with about your suicidal feelings, please call one of the following national suicide prevention lines:  1-800-SUICIDE (1-800-784-2433) or 1-800-273-TALK (1-800-273-8255).
Thank you to Shereen Ayub for taking the time to share your experience and thoughts with Arlington ISD!