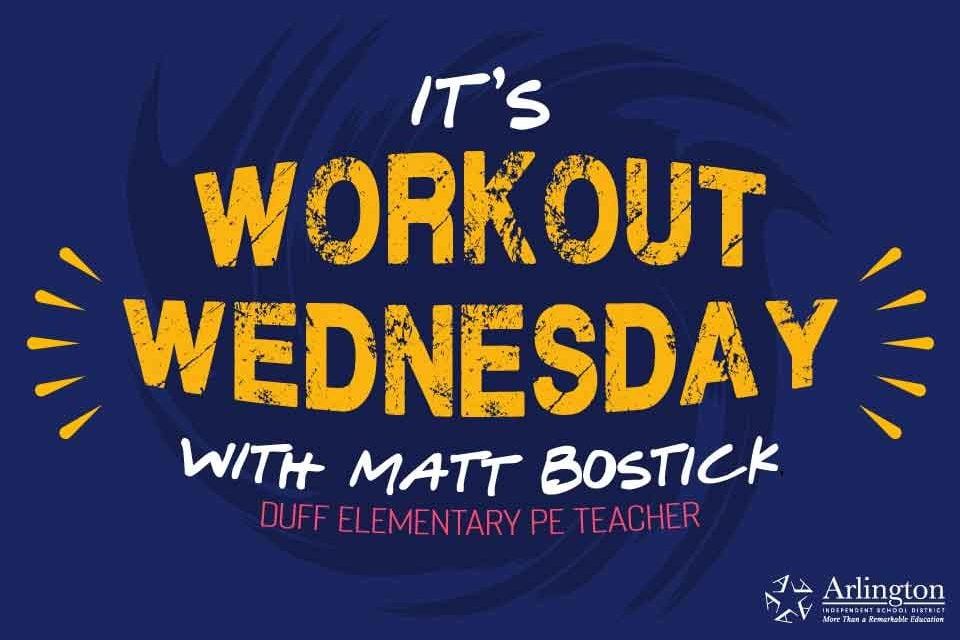 Do You Have 4 Minutes? That's All You Need For This Workout Wednesday Session
Six weeks into Workout Wednesday and Duff physical education teacher Matt Bostick is introducing many of you to a new word – Tabata.
The good news is that if you're a fan of quick workouts, Tabata is right for you as Bostick said you can get what you need done in four minutes. The bad news? Well, there's not a lot of time to slow down and think about the At-Home Learning Hub as Tabata's goal is a lot of intensity in a short amount of time. The focus is on hard work and short breaks to get in another great workout.
Here's the plan for this week.
Week 6 workout (perform eight rounds, 20 seconds of work and 10 seconds of rest)
You pick the exercise:
Jumping jacks

Jumping squats

Sit-ups

Plank
For added intensity, perform one set of Tabata using one exercise, and then do another full set with a new exercise!
In case you missed any of the earlier episodes of Workout Wednesday, here are the exercise routines Bostick did as well as a link to all the episodes.
Week 5 workout Backpack Complex (3-5 sets of 5-10 repetitions)
Using a backpack filled with household objects, complete the "complex" without putting the backpack down.
Deadlift

Bent over row

Ground to overhead

Overhead press

Front Squat

Back Squat

Jumping Squat

Broad Jumps
Week 4 workout (three sets each)
30 Mountain Climbers with a push-up between every five

20 Squat Jacks

20 Plank Shoulder Taps

10 Lunges (five per leg)
Week 3 workout (three sets each)
Plank – Hold for 20 seconds

Superman – Hold for 20 

Split Squat – Hold for 15 seconds per leg

Side Plank – Hold for 15 seconds per side
Week 2 workout
Five minutes of burpees every minute on the minute
burpees then rest until minute is up.
Week 1 workout (three sets each)
20 Jumping Jacks

20 Air Squats 

30 seconds – Plank (high or low)

30 Mountain Climbers