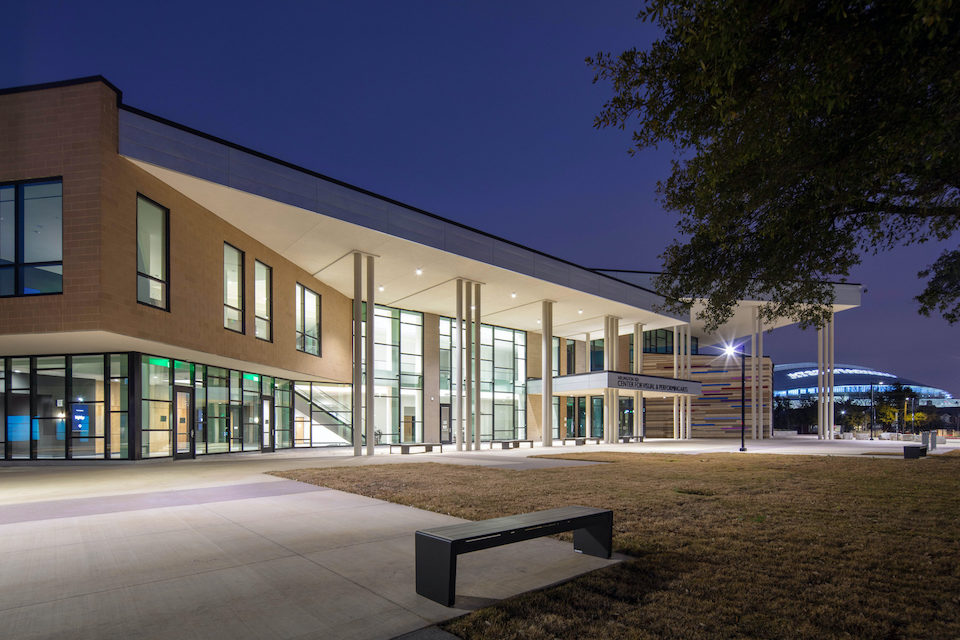 New facilities all about student opportunities
Arlington ISD's new Arts and Athletics Complex, home to the Center for Visual and Performing Arts and Athletics Center, has been named a finalist for D CEO's 2021 Commercial Real Estate Awards.
"The nominations in this year's program reflected the diversity, size and strength of the industry," according to D Magazine. "In the end, 82 projects, transactions and dealmakers stood out."
The recognition puts the Arts and Athletics Complex in the company of other transformative projects in DFW like Globe Life Field and the AT&T Discovery District. The final project of the 2014 Bond, the AAC is now open and set to make an indelible mark on the district's students and the community.
"Adolfson & Peterson Construction is honored to be part of such a monumental project for Arlington ISD students and community members," said Terry Loreth, vice president of field operations with AP. "The complex's state-of-the-art design stands on its own in Arlington's highly visible Entertainment District, and it was a great privilege to work closely with the district and HKS Architects to see this project come to life."
While the D CEO recognition is a great honor, and the incredible design and aesthetics are worth celebrating, the buildings are all about Arlington ISD students.
"The most exciting thing to me about the Arts and Athletics Complex are the many new opportunities these facilities are going to provide for our students," said Michael Parkos, Arlington ISD director of facilities planning and construction and the project manager throughout the construction process.
The design of the facilities was a meticulous, years-long process that included fine arts and athletics administrators, teachers, community members and, finally, the architect.
"The result is an arts center that knows what it is, hosting dedicated venues for music and theater that are right-sized for age-appropriate experiences that will propel high school students to the top of their class when competing for coveted spots at national higher education institutions," said Leonardo Gonzalez Sangri, HKS architect and director of education.
The CVPA features a 1,250-seat concert hall acoustically designed to offer an optimal live performance experience and a 450-seat theater that gives students an intimate setting in which to explore and grow. The center also houses classroom space, art and dance studios, the district's unique instrument repair center and an art gallery. (See photos of the CVPA.)
Next door, the Athletics Center gives the district its first-ever natatorium with a 50-meter world-class Myrtha pool, seating for 1,000 spectators and a warm-up pool. The AC also houses a 1,200-seat arena designed to host competition wrestling, basketball and volleyball. (See photos of the AC.)
All Commercial Real Estate Awards finalists will be recognized in the April issue of D CEO and winners will be announced in the spring.