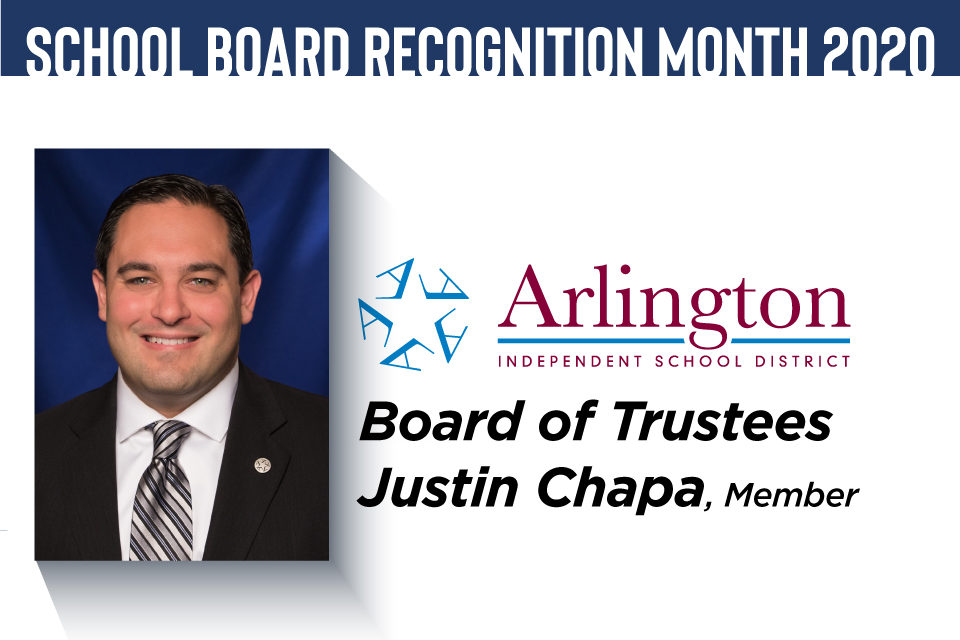 January is School Board Recognition Month, a way to honor the 7,200 locally elected school trustees in the state of Texas. This month, the Arlington ISD will help you get to know each member of our Board of Trustees a little better while thanking them for their service. We begin with Justin Chapa.
FIVE QUESTIONS WITH BOARD TRUSTEE JUSTIN CHAPA: 
Why did you want to be on the Arlington ISD Board of Trustees? I am a former teacher, grew up in East Arlington and have kids in the District. I also have served on several AISD citizen committees that help oversee district finances and the boards of a number of nonprofit organizations that work to reduce poverty and promote equity. I believe the saying that "education is the great equalizer."  The Board seemed like the best place to make a difference given my background, beliefs and interests.
What's the best part about being on the board? The opportunity to serve my hometown school district and help play a small part in the great progress being made. People know about the 2014 and 2019 Bond programs, which affect literally every campus in the district. And I'm particularly excited that the 2019 Bond will rebuild several aging campuses in the neighborhood in which I grew up. But the district is doing a lot of good work on things that are important to students but that often fly under the radar, such as policies to address food security. Starting this year, the district implemented a federal food-service program at 25 high-needs campuses that allows students to eat free breakfast and lunch regardless of their circumstances. Two years ago, AISD became an early adopter of now common anti-lunch-shaming policies that ensure students at other campuses receive a hot meal even if they forgot their lunch money or their meal-account balance is too low. We don't make kids bear the brunt of money issues; that stays between adults. I truly enjoy serving in a role that allows me to advocate for changes, both big and small, that ensure all students have access to quality educational experiences and facilities.
What's the most difficult part about being on the board?Not being able to fix every issue that comes up. People think that trustees have direct authority over everything that happens in the district, but that's not the role we play. Although we can get concerns sent to the right person, the Board focuses on governance-level issues. It's always hard to explain that I can't intervene in campus-level issues, like a specific decision made by a principal or a particular instance of discipline given to a student.
What's the funniest or most interesting request you've had from a community member or parent?A student once asked me to make lunch and recess each two hours long. Another student asked me to abolish homework. That student might have been one of my kids.
What makes working on the Arlington ISD Board of Trustees unique?To pick just one thing, we get to work with one of the best superintendents in the country. After attending several state and national education conferences, it is clear that the education community holds him in high regard and watches AISD with interest.
Thank you, Mr. Justin Chapa, for your dedication to the students, teachers and staff of the Arlington ISD!