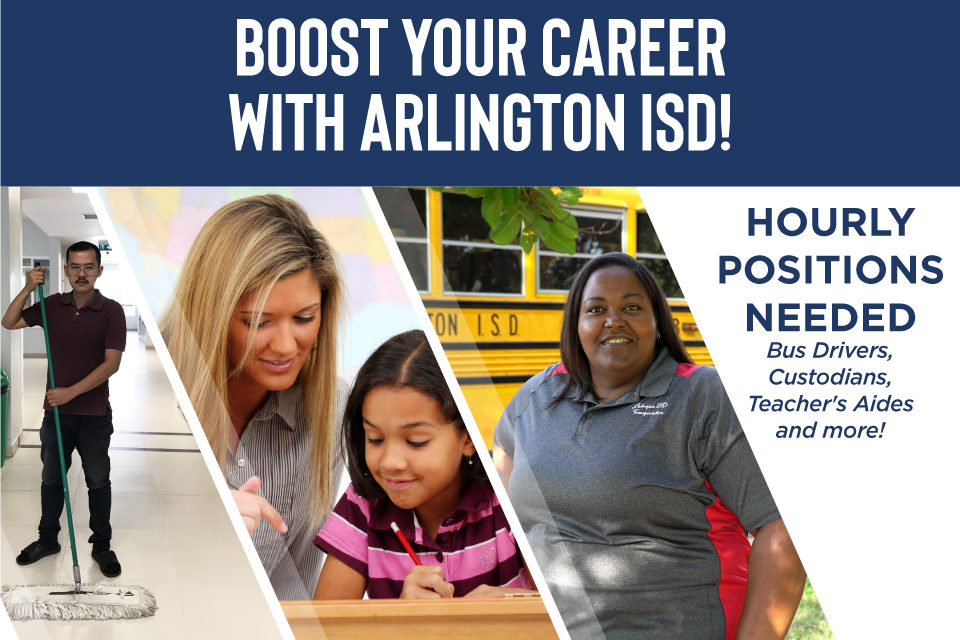 Virtual informational meetings Jan. 5
Are you looking to get your career revved up to start the new year?
Then check out Arlington ISD to get a jumpstart on a new profession. We're hiring hourly workers to fill a variety of needs and we need you!
We're looking for workers in several areas with a focus on bus drivers, teacher's aides and custodians.
The good news is that we're ready to hear from you. Our hourly position hiring blitz is from Jan. 5 to Jan. 15. To help you get started, our human resources department has three informational meetings set up for Tuesday, Jan. 5, that cater to anyone's schedule with meetings slated for 9 a.m., noon and 4 p.m. You can register for the event here and pick your time to meet with our staff.
That's the first step you take to get your foot in the door with the Arlington ISD.
Once you join us, you'll have the opportunity for flexible hours, the chance to sign up for health benefits, be able to give back to the Arlington community and join a district that is more than 8,000 strong in stakeholders and nearly 60,000 strong on students.
"Our culture in the Arlington ISD is strong because we have a common purpose to support our students," said Scott Kahl, the district's assistant superintendent of human resources. "We have hourly positions that can fit multiple schedules and many different types of work experience or skills. The first step of being a part of our rewarding culture is to apply at www.aisd.net/jobs. From there, you're on your way toward a job with competitive pay, benefits, and purpose. That's what we're all about."
If you're wondering if teaching is right for you, being a teacher's aide can give you a glimpse of what's going on inside the classroom. More of a person who favors a flexible schedule? Then consider driving a bus in the Arlington ISD. Want to work where your child goes to school? Joining our custodial staff provides a variety of different options for campus assignments.
And those are just a few of the opportunities for you to be the engine that powers the Arlington ISD.