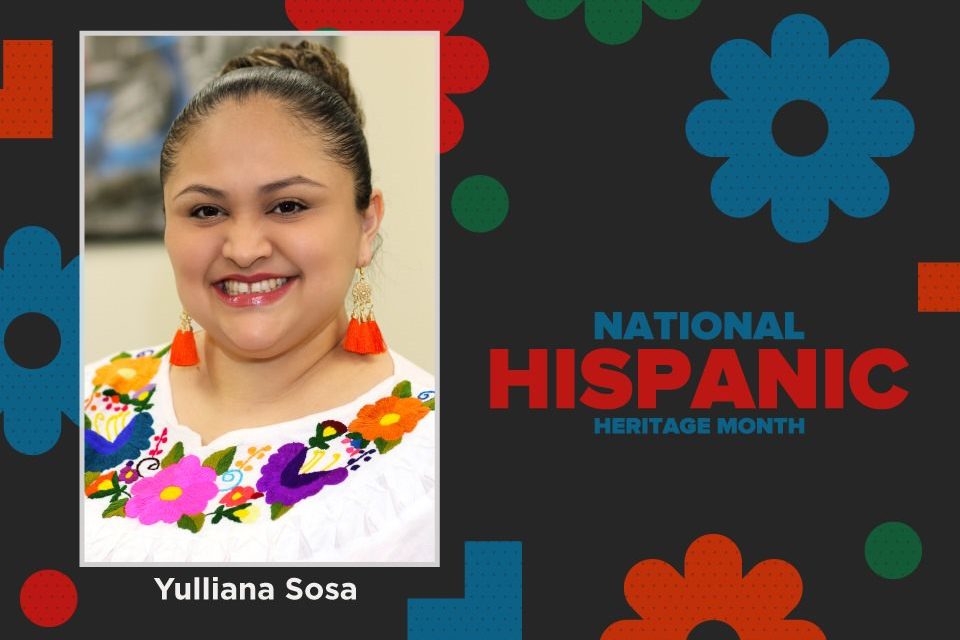 Guatemala has colorful gastronomy
During National Hispanic Heritage Month, the Arlington ISD is spotlighting several staff members about their Hispanic Heritage. Today we're talking with Yulliana Sosa, a clerk in our food and nutrition services department.
〉What does your Hispanic heritage mean to you?
It means honoring the history, culture and influence of past generations that came from Spain, Mexico, the Caribbean and Central and South America. Also, it means to be proud of my Guatemalan roots and to share with others the traditions of my Guatelinda (beautiful Guatemala). Above all, it means celebrating and promoting the values of racial, ethnic and cultural diversity.
〉What is something people might not know about your culture?
Guatemala is known as "el país de la eterna primavera" (the country of eternal spring). This is due to its extraordinary warm climate. It is surrounded by mountains, volcanoes and colors of a culture that mixes Mayan, Spanish and Garifuna traditions. Guatemalan people are known as "Chapín." Chapín or Chapines were a type of platform footwear of Spanish origin, which were popular and used in the 15th century. The name of these shoes arose as the onomatopoeia of the noise that the nobles made when walking through the streets: chap, chap, chap. Today the name is very popular and is used as an adjective for a person belonging to the Republic of Guatemala. Spanish is the official language of Guatemala, however, there are 21 indigenous languages inherited from the Mayan communities and two dialects, Xinca and Garifuna. Thus, Guatemala is a multicultural and multilingual country.
〉What's your favorite thing about your culture?
What I like most about my culture is its food. Guatemala has a varied and colorful gastronomy. For example, Tapado is a striking typical dish. Tapado is a spicy stew made from fish, cilantro, coconut milk and banana. This is the most identifying dish of Guatemalan gastronomy. But in addition to its food, I love its natural parks like the Tikal National Park. Tikal has earned its title as the first mixed UNESCO World Heritage site for its cultural and natural wonders. It is impressive to see the Mayan ruins of Tikal embedded in the jungle.
Also, Guatamala's traditions are fascinating. In particular, The Sumpango Festival, also known as "El festival de barriletes gigantes" (The Giant Kite Festival), which is a cultural event celebrated on November 1, "El día de todos los santos" ( All Saints' Day), in the town of Sumpango, Santiago Sacatepéquez. According to legend, on November 1, evil spirits invaded the cemetery to disturb the good souls who were resting, so they wandered restlessly through the streets and houses of the town. As this problem persisted every year, the people of Sumpango decided to consult the elderly about the phenomenon. The solution given by the community guides was to force the evil spirits to retreat by hitting pieces of paper against the wind. For this reason, they began to make kites, which allowed the good spirits to remain calm and stop receiving the unwanted visitors.
And, of course, I love the wonderful people who are very friendly. They always welcome you with a smile. Guatemalans are "chispudos" (creative) and "pilas" (motivated). They are welcoming and warm people. Whatever they do, they do it well, with passion and effort. They strive to achieve their goals and always strive to fulfill their dreams. They enjoy the simple things in life and admire the natural beauty of their country, and they are always ready to help out!
〉How do you celebrate Hispanic Heritage Month?
I celebrate it by wearing my hand-embroidered shirts brought from Guatemala, by using my accessories made by Mexican artisans, meeting with family and friends to enjoy delicious food, and by teaching the new generations our traditions so that they learn and love their Hispanic heritage.
Learn more about National Hispanic Heritage Month.