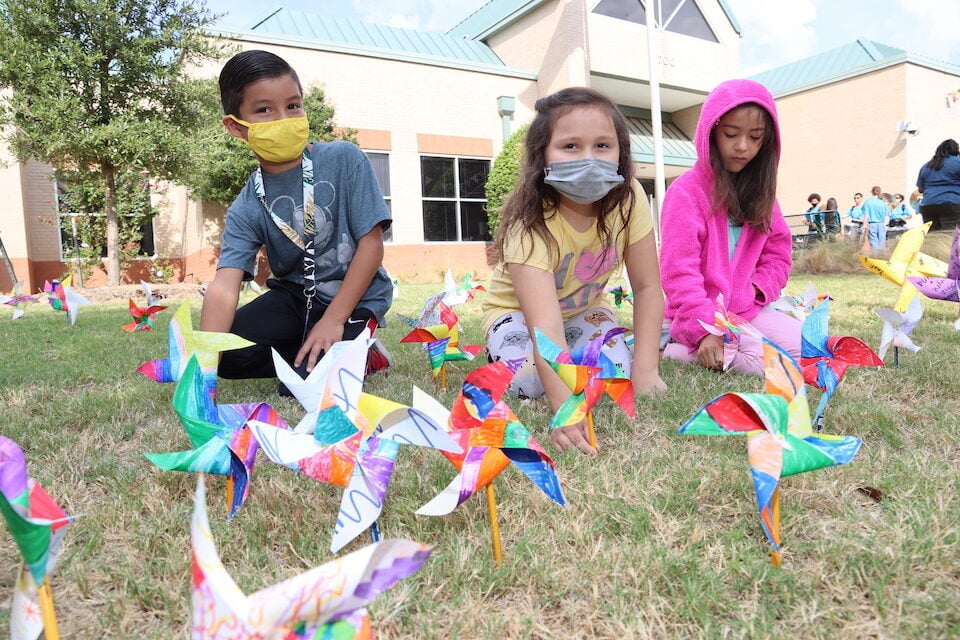 Ashworth Elementary celebrated International Day of Peace alongside members of the south Arlington community with decorative pinwheels and performances on the front lawn. The United Nations and countries around the world observe the day annually on Sept. 21 to encourage peace and non-violence.
Pinwheels for Peace was started in 2005 by two Florida art teachers who wanted to promote world peace at their school. Several years later in 2009, Ashworth picked up on it, and the school has been participating in the tradition ever since.
Hundreds of pinwheels were decorated in all shades of colors and intricate designs by the elementary students, and members of the Seguin High School Key Club went to their neighboring school to stick the pinwheels in the ground at 6 a.m.
"We want to make the world a better place through kindness, peace and acceptance of all people," said Ashworth principal Stacey Maddoux.
Police cars and fire trucks lined the front of the school with flashing lights as officers and firefighters stood in solidarity with students and staff.
Seguin's drumline also joined by providing upbeat tunes accompanied by principal Ray Borden and the Seguin Starline's jazzy dance moves throughout the event. To close out the program, Ashworth's sixth-grade choir gave an incredible performance.
"Our heart is to spread love and peace through art and music while coming together as one in the community," said art teacher Karen Piveral.
Administrators from the Arlington ISD Center for Visual and Performing Arts were also in attendance to show their support for the celebration of peace.
"The pinwheels the students have created are a reflection of what the district believes in – peace and unity," said Linh Nguyen, Arlington ISD assistant director of fine arts. "We couldn't think of a better way to recognize this special day, and we hope that more schools will begin to participate in the years to come."
APD officer Dale Horton has a personal connection to the event since his coworker Officer Jillian Smith, a former Ashworth student, was killed in the line of duty while protecting a child.
"Her sacrifice while serving the community was not in vain and that's exactly what Pinwheels for Peace represents," said Horton. "Our department will be here every year so the community knows we're standing with them for peace in our neighborhoods."
For more pictures from the event, please visit our Facebook page.