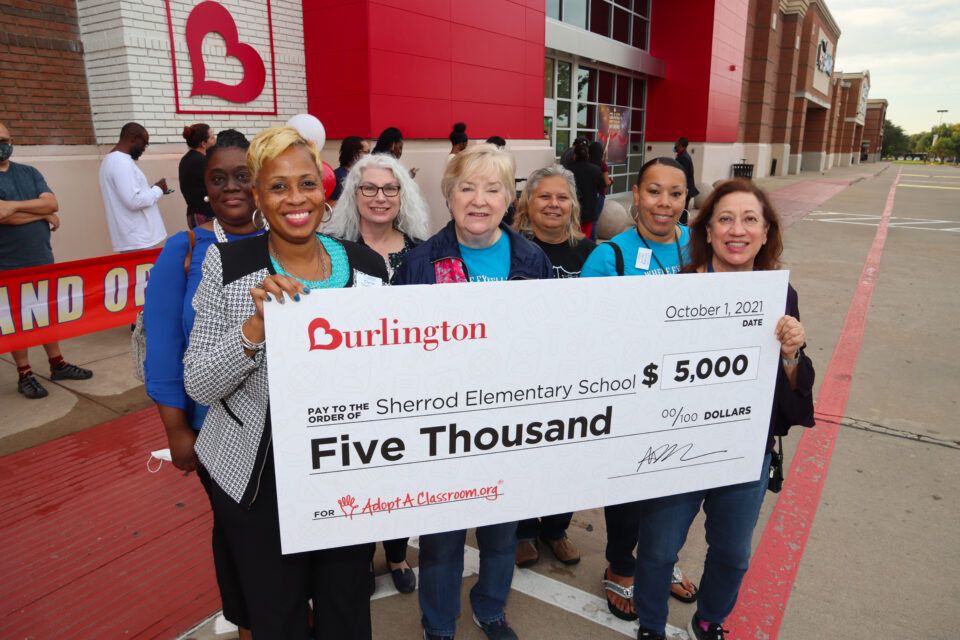 Burlington's newest North Arlington location opened its doors and heart to the community by donating $5,000 to Sherrod Elementary. The donation was made possible by the store's partnership with AdoptAClassroom.org, a non-profit organization dedicated to supporting teachers and their students. The money will be distributed evenly among teachers and allow them to shop for classroom supplies and resources from nearly 30 education vendors.
Sherrod Principal Clarita Thompson and a few of her staff members were present to accept the gift and celebrate the grand opening last Friday.
"We're so appreciative for the partnership between Burlington and AdoptAClassroom.org, and I know the teachers will be thrilled to get new supplies after the year they've had," said Thompson. "This means the world to us, and it's such a huge blessing to Sherrod."
Burlington is committed to supporting education through its partnership with AdoptAClassroom.org. Each time Burlington opens a new store, the company celebrates by adopting and funding a local elementary school in their store's community.
The leadership team at Burlington also expressed their excitement to give back to their new neighbors.
"Teaching students can be very stressful and throwing the pressure of the pandemic on top of it made it even tougher," said Michael Dunnington, Burlington store manager. "We applaud you for your service to our students, and we're so excited to be able to give back to this special school in our community. What I love most about Burlington is that they love giving back to people, and that's what makes my job special."
Arlington ISD appreciates the kindness of Burlington and AdoptAClassroom.org. The new store is now open for shopping at 200 Lincoln Square in Arlington.
Burlington is no stranger to helping the district. Last year the company donated money to Burgin Elementary after it opened a store in south Arlington.