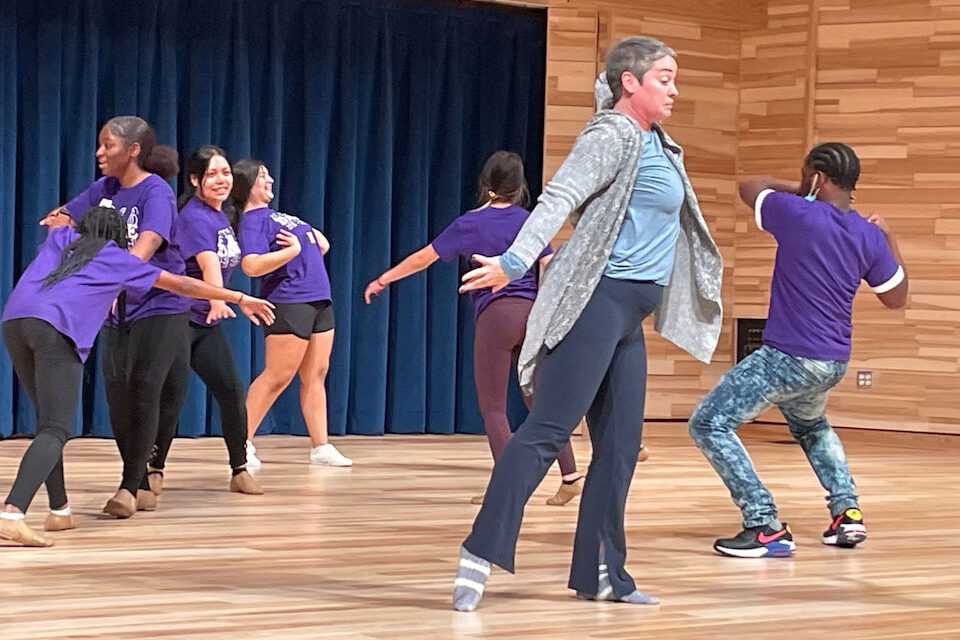 First Annual Day of Dance
"I felt lost and did not have a care in the world."
Nellee Mejorado couldn't help but utter those words after flailing her arms and gracefully gliding across a stage inside Arlington ISD's Center for Visual and Performing Arts last week. One might have thought Mejorado wasn't actually dancing. However, the Sam Houston High School freshman was doing exactly what her instructor, Courtney Mills, wanted her to do.
Mejorado was learning improvisation – a dance that involves creating movement without pre-planning any steps or choreography. Mills, the director of a contemporary dance company that serves all Arlington ISD high schools, said that "improv" could make a reserved teen feel "super small" as he or she attempts the freestyle moves.
"But I'm the type of person who likes to make things super-big," the charismatic and personable Mills told the students as they stepped out of their comfort zones.
Mejorado was among about 70 high school students who attended Mills' first annual "Day of Dance." During the free, 7-hour event last Saturday, the teens had an opportunity to explore various dance forms, from jazz to hip hop to step and more.   
Throughout a given week, Mills watches how well her students from different schools interact with each other and called it "the coolest thing ever because they find commonalities."
Mills said, "So I thought to myself that it would be so cool to have (dance participants from the entire district) come together and say, "We all do this!"
Led by the best
The classes were conducted by dance instructors from Seguin, Sam Houston, Martin, Arlington and Lamar high schools and Gunn Junior High and Fine Arts and Dual Language Academy. The participants – mainly girls – were eager to learn what it takes to – one day – dance on the big stage.
Among them was Bowie High School sophomore Tiffany Vasher, who shimmied to the sounds of rappers such as Migos in her early morning hip hop class. After indulging in the pizza lunch that was provided, she was anxious for the start of her afternoon jazz dance class, anticipating that the moves would be "sassy."
"It's a huge opportunity!" Vasher said, referring to the event. She greatly admires Nicole Laeno, an actress with jazz, ballet and musical theater dance experience, and aspires to become a professional back-up dancer in the future.
Lamar High School junior Eric Mack also attended the event to get some pointers. The 16-year-old – a huge fan of dancing singer Chris Brown – said the event was a "blessing." After all, he's found dancing to be a positive outlet throughout his high school years.
At the event, Mack was not afraid to show off his moves and try unfamiliar techniques. He would become winded, and his legs would get tired. Yet, he remained determined to keep up with the ladies.
Mills applauded Mack and the other attendees and was extremely proud of the turnout. She said, "To get them here, voluntarily, on a Saturday is always amazing. And just seeing them work together, today, has been awesome!"