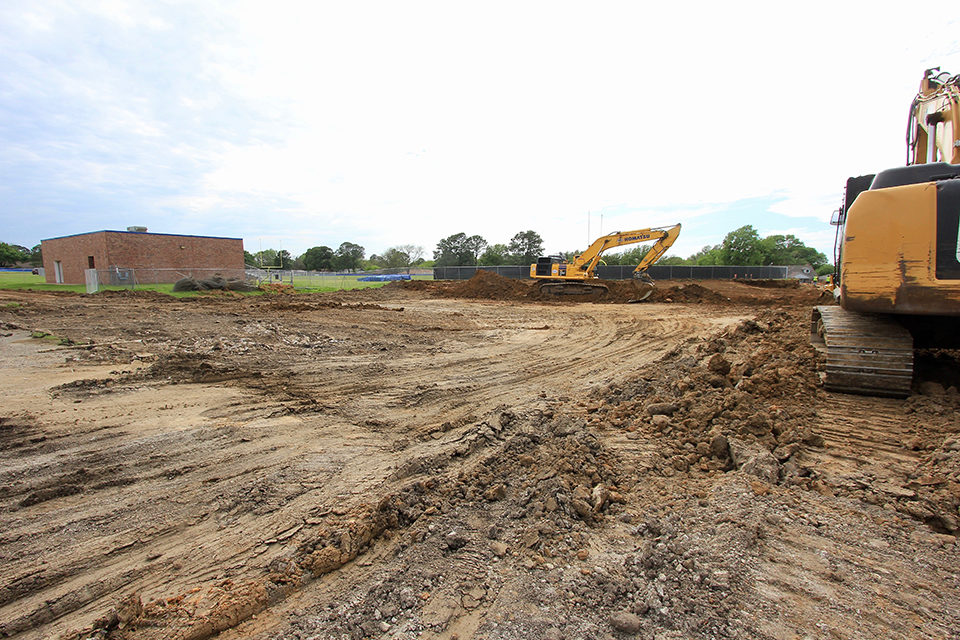 Gunn Junior High is closed for students, but construction hasn't stopped. The Bond 2019 project to renovate and build an addition to the school is still proceeding as planned.
The project is in the early stages but will eventually transform the entire site and building. With the addition and renovations, Gunn will become home to a new junior high fine arts and dual language academy while continuing to serve the 7th and 8th grade students zoned for the school.
"This construction project and innovation are symbolic of the district's focus on providing 21st-century learning experiences for all of its learners," Gunn Principal Dr. Matt Varnell said. "We are tremendously excited about continuing our motion towards the most rigorous, relevant and innovative programming we can provide for students, and we thank the community for their confidence in providing facilities that set a new standard of excellence."
The construction process started immediately after the 2019 Bond was approved in November. Today, dirt work and utility work are underway, including digging for a retention pond and carving out new bus lanes and a parking lot.
The plan calls for the retention pond and bus lanes to be completed by August and the parking lot to be finished in the fall. Preparations to start building the addition should start soon.
If there is a positive to the current school closure, it's that construction crews aren't having to worry about being in the way of students and teachers.
But Varnell and Gunn's teachers would gladly deal with the inconvenience of construction if they could just be back in school with their students. Varnell even wrote a song and made a music video to tell Gunn's students how much they miss them.
"This unexpected school closure has reminded us that students and teachers are the lifeblood of public education," Varnell said. "Our students are proving that they are incredibly flexible and they will make it work, and our teachers have proven that they are committed to learning and will do what it takes to serve students."
Though construction has continued during the COVID-19 shutdown, the AISD and the general contractor, Pogue Construction, are taking precautions, like requiring social distancing among workers.
For a list of all Bond 2019 projects, please visit aisd.net/bond2019/projects/.