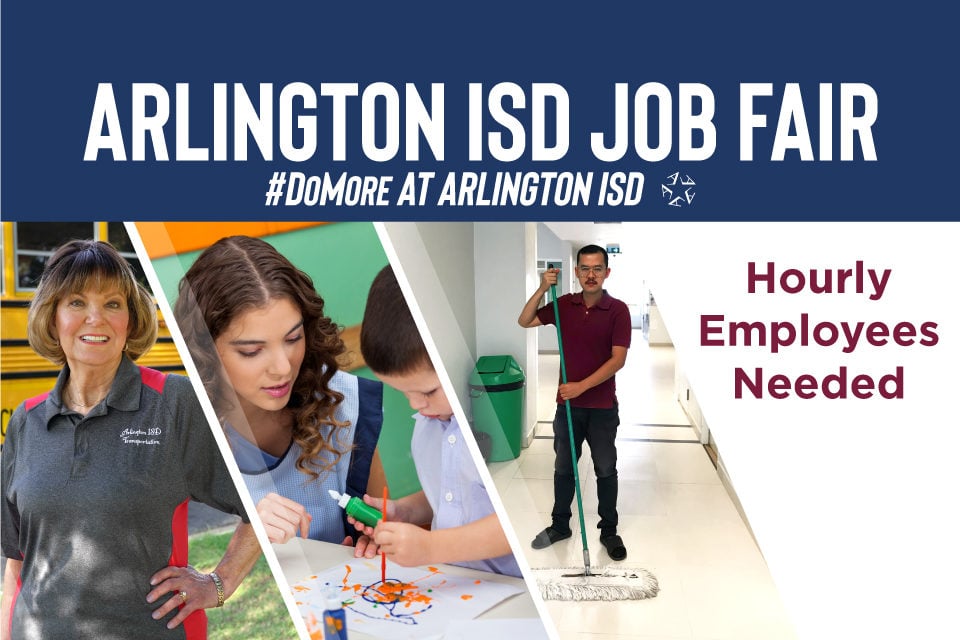 The Arlington ISD hourly job fair is set for Thursday from 3 to 7 p.m. at the Arlington ISD Athletics Center. Whether you're looking to provide a safe learning environment for students, or you would like to be on the same daytime schedule as your child, Arlington ISD has the perfect position for you. If you're not sure what to expect, here are the answers to some frequently asked questions.
Do I need to be there for the duration of the event?
You are only required to be at the job fair for your specific interview slot(s). After completing registration on Eventbrite, visit aisd.net/jobs to complete your candidate profile and apply to jobs. Human resources will contact you to select an interview time.
Can I apply for more than one position?
It is highly encouraged that you apply for all positions you may be interested in. Representatives from various departments will be present. After registering for the event, completing the candidate profile, and applying for available positions, Human Resources will contact you to schedule interviews.
Do I need to bring anything with me to the job fair?
Because we will not be able to make copies on site, you may bring copies of your resume to the job fair.
Is there anything I need to do before the job fair to be prepared?
Please make sure you are registered to attend the event by signing up at Eventbrite. After you have registered, head to aisd.net/jobs to complete your candidate profile and apply to all jobs you may have an interest in. On the day of the job fair, please bring copies of your resume.
What is the hiring process with Arlington ISD? How long does the process take?
Hiring managers recommend candidates for their open positions by notifying HR to begin the hiring process. The hiring process includes an initial screening of the candidate's application, gathering all necessary information from the candidate, extending a salary offer, and conducting a background check. If you are recommended for a position with Arlington ISD, Human Resources will work to process your hire as soon as possible. Timelines for the hiring process depend on several factors, including what is needed from the candidate (i.e. certifications, education documents), what is needed from the hiring manager (i.e. references), and fingerprint requirements. During the summer months (May – August), the hiring process can take longer.
What will I be paid once I'm hired?
Please visit our Salary Schedule listed on our Human Resources page to view the pay grade for a particular position. Salary offers are typically based on years of comparable experience that a candidate has completed and compared to our current employees' experience/salary in that pay grade. We cannot guarantee that candidates will approach the midpoint or maximum of a pay grade after a certain amount of work experience. Where a candidate falls on the paygrade depends on the internal equity of our district employees.
Does Arlington ISD sponsor work visas?
We do not sponsor work visas at this time.
I do not meet the minimum requirements for a position. Can I still apply/be considered?
In order to be considered for a position, the candidate must meet all requirements listed on the job posting, including education and experience. If you are not qualified for a position that you are interested in, please visit the job boards at our Human Resources page to consider other roles that better fit your qualifications.
Does Arlington ISD hire retired teachers?
Arlington ISD does not hire a candidate for a full-time position if they are retired with Teacher Retirement System (TRS). The candidate can, however, substitute with the district part-time.