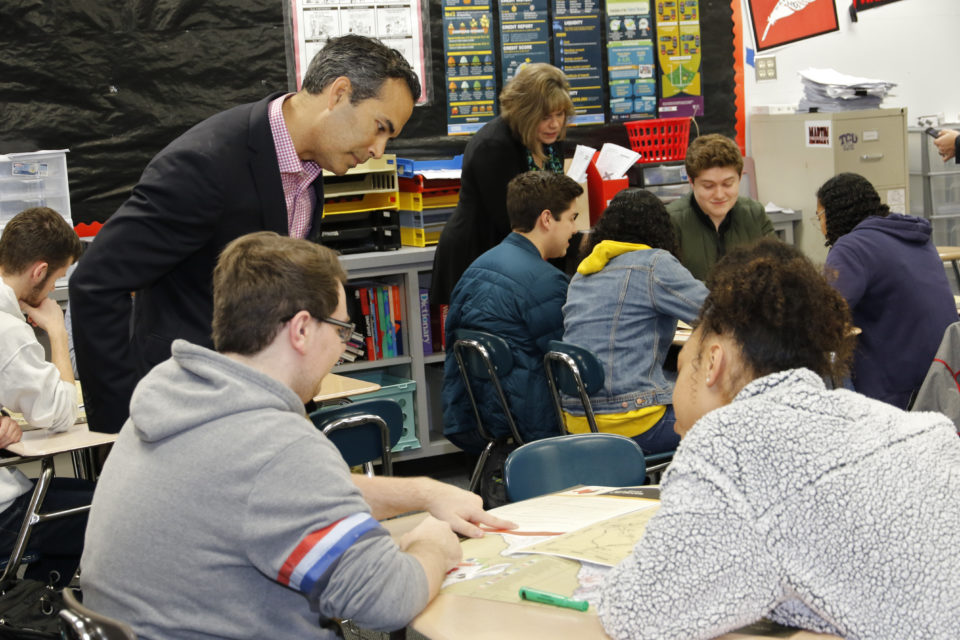 Students in Martin High School teacher Trey Benedict's AP macroeconomics class came into Monday expecting to take a quiz but instead, they got a lecture from an unlikely teacher. Texas Land Commissioner George P. Bush lectured and talked to them about Texas energy resources and answered questions about everything from the viability of offshore oil fracking to how his family's legacy impacts him.
The energy lesson from Bush, who was a teacher in Florida, was just part of his morning that saw him visit four classes at Martin as well as visit with the school's solar car team and talk with members of the robotics program.
 While the morning might not have been typical for Bush or the Martin students, it was an important one for the state's land commissioner since 2015.
Commitment to Public Education
"It's absolutely essential," said Bush. "Many of us in Austin think we have all the solutions to all the problems. This past legislative session we made a historic commitment to public education, both K through 12 and postsecondary ed. As the agency that supplies one of the largest sources of revenue, I thought it was important to actually get in the classroom."
Bush came into the class with a lesson plan as students looked at a pair of state energy maps and then talked with Bush about their findings. The lecture was nothing new for Bush. Last year he gave lectures on Texas history to fourth- and seventh-grade students. This school year his focus has shifted to talking about energy with older students.
More than a Tour
"For us to be able to bring the energy business to them into the classroom, it helps give the teacher a day off, but also it gives the kids a different insight into the world of energy," said Bush, who taught ninth-grade world history at Homestead High School after graduating from Rice University. "Last year we taught 50 Texas history classes and we decided to continue that."
After leaving the macroeconomics class Bush visited a STEM biomedical studies class, an aerospace engineering class and a computer science class. He talked with those classes on topics ranging from the coronavirus to time management.
Family History
Bush, whose uncle is former President George W. Bush and grandfather is former President George H.W. Bush., was spending the morning in Tarrant County. His tour of the school included Martin Principal Marlene Roddy, Arlington ISD Superintendent Dr. Marcelo Cavazos and Texas Lottery Commissioner and former Arlington City Councilman Robert Rivera.
"It's a great experience for our students to get some unique insight," Cavazos said. "He was very hands-on to actually teach a lesson. It was also great to see our students interact with him and ask important and thoughtful questions."