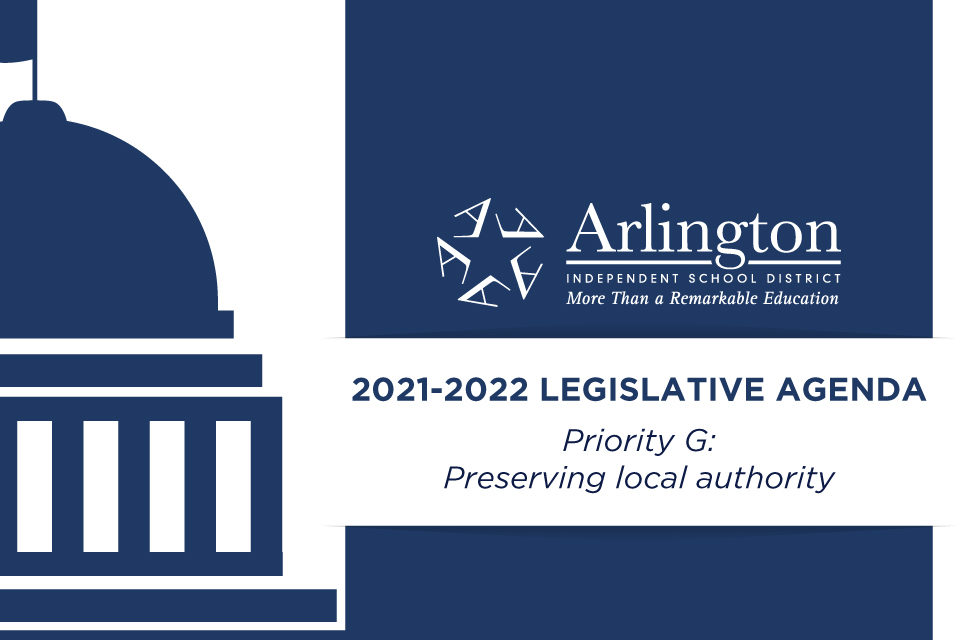 The 87th Texas Legislature convened on Jan. 12, 2021, and will adjourn May 31, 2021. The legislature meets every two years to set the state's budget and consider and implement new legislation. For each legislative session, the Arlington ISD issues a legislative agenda with a series of priorities that are important to the district and public education in Texas. The district shares the agenda and priorities with our elected officials and seeks their support.
 The article below is the fifth in a series designed to share and explain the district's legislative priorities with our stakeholders. This story addresses Legislative Priority G. For more information on all the priorities and to read the entire legislative agenda, please visit aisd.net/district/legislative-agenda.
Arlington ISD Legislative Priority G
Ensure the clear direction about governance and authority for decisions in Texas public schools as established in the limitation on authority section in Texas Education Code § 7.003 that states "An educational function not specifically delegated to the agency [Texas Education Agency] or the board [State Board of Education] under this code is reserved to and shall be performed by school districts or open-enrollment charter schools" is respected in all proposed legislation
Arlington ISD believes that school districts in Texas should be run and managed at the local level. Protecting local authority empowers school districts to find and implement policies and solutions that work best in their area.
State and district roles
The state does have an important role to play in education. That role is performed by the State Board of Education (SBOE) and the Texas Education Agency (TEA). The SBOE's function is to set statewide policy by adopting the curriculum, assessments and programs for the state. The TEA's job then is to implement and administer the curriculum and policies established by the SBOE.
Their role is not to micromanage or govern districts. That responsibility belongs to the democratically elected board of trustees and administration for each school district.
"Historically, local school districts have had the biggest say in how education is conducted in their communities," said Justin Chapa, Arlington ISD trustee and the chair of the Board's governance committee.
Districts are all different
There is good reason for letting local school districts govern themselves. No two school districts are exactly the same.
Districts vary in numbers of students and their physical settings – urban, suburban or rural. They have differences in population demographics, socioeconomics, resources, needs, weather and more. The unique characteristics of each area shape the school districts, their students and staff. The challenges and realities Arlington ISD faces are not identical to those in Houston, El Paso, Midland or even our nearby neighbors like Dallas and Fort Worth. And likewise, the best policies and most effective solutions for Arlington ISD are often not the same as those in other districts.
"There's almost 1,100 school districts in Texas and we're different than the vast majority of them," Chapa said. "It is helpful for us to be able to determine more things in terms of how it affects us as opposed to a one size fits all solution."
In most cases, the local school board and administration understand their district's unique characteristics, their students and staff, and their challenges and opportunities better than anyone at the state level. They are therefore best suited to guide and direct their own schools.
Local authority under attack
This principle of local authority is widely recognized and even codified in Texas law. Texas Education Code § 7.003 states, "An educational function not specifically delegated to the agency [Texas Education Agency] or the board [State Board of Education] under this code is reserved to and shall be performed by school districts or open-enrollment charter schools."
However, there are bills every legislative session, along with moves made by the Commissioner of Education – who heads the TEA – that aim to take some control away from districts and give it to the TEA.
"What we're facing now, and what I think has been a trend over at least the last 10 if not 20 years, is a gradual chipping away at school districts' authority to do a whole host of things, from the relatively benign to some pretty substantive matters," Chapa said.
Arlington ISD's legislative priority G comes out of this concern and asks the state legislature to honor and protect the principle of local authority for school districts. Taking control away from the local district, where the problems, dynamics and solutions are best understood, can actually impede progress and introduce new problems.
Local authority in Arlington ISD's legislative agenda
Our legislative agenda includes seven ways the legislature can protect local authority:
Recognize TEC § 7.003 as the statutory basis for governance and authority for decision-making in Texas.
  
Review administrative rules established by the Commissioner of Education to ensure alignment with legislative intent and limit the authority of the Commissioner of Education to unilaterally establish administrative rules, guidelines and procedures.
  
Prohibit the Commissioner of Education from unilaterally displacing local elected school boards, except as may be temporarily necessary to address cases of severe, system-wide misconduct.
  
Reject legislation that expands required ballot language, mandates November election dates or requires a super majority for school bond and tax rate elections.
  
Reject legislation that would limit the ability of districts to join organizations that advocate on behalf of school districts or other public entities.
  
Provide relief from existing unfunded state mandates and reject new unfunded state mandates.
  
Amend the Texas Open Meetings Act to permanently allow local boards or individual trustees to attend meetings virtually through mechanisms found to be effective during the COVID-19 pandemic.
The local board of trustees, working in line with state standards and in partnership with the SBOE and TEA, is most often best suited to govern and manage the school district, identify local challenges and issues, and implement solutions and policies that work best for its local population. The Texas legislature should ensure the principle of local authority is protected.