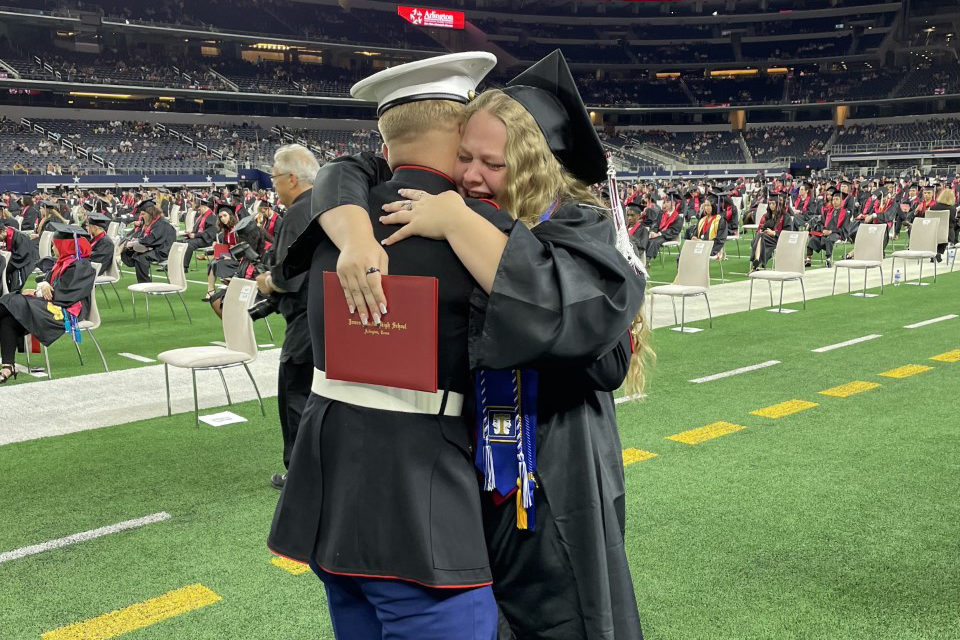 Allie Shaffer, a new graduate of Martin High School, understands the hardships that deployment of a loved one can bring. Her older brother, Triston Shaffer, has served as a U.S. Marine for the past three years. Becoming a Marine had always been his dream since he was a kid. 
Allie and her family hadn't seen Triston, currently a lance corporal stationed in California, since Christmas of 2020. On Allie's graduation day earlier this month, she called and texted Triston about how she wished he could be there with her on her special day.  
Well, he was! 
After walking across the stage at AT&T Stadium to receive her diploma, Allie stood to have her picture taken. Heading back toward her seat Allie was stopped in her tracks when she heard a familiar voice. 
Her brother. 
A tearful Allie embraced the Marine as he planted a kiss on her forehead.
"I am proud to call him my brother every time I see him in his uniform," Allie said. "Not every day do military families get to see their soldier come home. What I admire most about him his determination. He has always wanted to be in the military. He never let anyone talk him down or stop him!"  
Allie plans to attend Tarleton State University in the fall to major in theater with a minor in education. Allie dreams of making it big on Broadway. She also knows she would like to teach theater to junior high school students in the future. 
Words of wisdom Allie gives to fellow students struggling with the deployment of a sibling is that saying goodbye will never be easy, but you're not alone. Never forget the fun times you've had with them because those may be the things your siblings need to hear when they are gone.