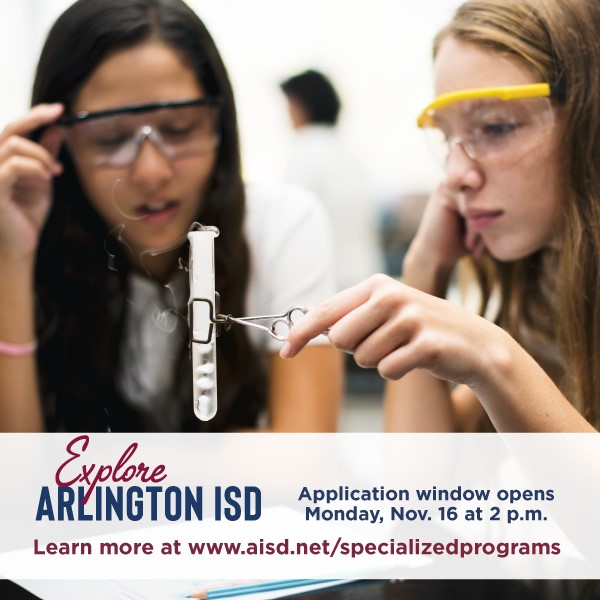 One of a kind. 
That's the kind of opportunity the Arlington ISD students receive at every one of its campuses. 
It's the kind of opportunity students will have in the fall of 2021 if they go to P-TECH at Bowie High School, which opens for freshmen for its first class.
New Offering in Health Sciences 
P-TECH is short for Pathways in Technology, and the school will be the second school within a school in the Arlington ISD, joining the STEM Academy at Martin High School. The P-TECH at Bowie High School sets students up for their future through academic, technical and workplace skills. This school will focus on the health science pathway. 
Students can apply to one of our five specialized program elementary schools and four specialized high schools through Feb. 5, 2021. Each of the schools sets a student on a path for college and career success, with P-TECH at Bowie High School being the newest. 
Bang for your Buck! 
"The new P-TECH program gives you a big bang for your buck," said Bowie High assistant principal Brandi Johnson, who will oversee the P-TECH operations at Bowie. "You get the high school experience, the technical experience, the college experience and the career experience. Once you graduate, you're ready for whatever route you want to go and be part of a traditional high school setting. But P-TECH students will also get the benefits students at Arlington Collegiate High School and Arlington College and Career High School have, earning up to 60 hours of college credit for free from Tarrant College College-Southeast.
Four Pathways Available
Students also have the opportunity to explore four career pathways in the medical field. That way if they decided that after earning their high school diploma and a chance at up to two years of college credit, they'll have the certifications to do so. For free. And the certifications aren't for just any career, they are for those in high demand. Students at P-TECH can choose pathways in central sterile processing, health information systems, ophthalmology or pharmacy technician.
 Why are those the first four pathways being offered? Because like everything in the Arlington ISD, we're trying to set our students up for success. These four pathways do just that.
"We have worked with the Texas Workforce Commission," Johnson said. "They tell us what career fields will be popular in four years. We have chosen the pathways that will grow exponentially. We don't have the professionals now to fill these roles. We're making sure that we do in the future."
Medical City Arlington Partnership 
P-TECH students are also getting a foot in the door thanks to P-TECH's partnership with Medical City Arlington (MCA). That means that in addition to traditional high school opportunities like prom and Homecoming, P-TECH students will have options for internships with MCA. MCA, which is part of the P-TECH leadership team, will also prioritize P-TECH students when job opportunities arise after they graduate from P-TECH.
One-of-a-kind opportunities indeed.
The plan is to have around 125 ninth graders in the fall of 2021 when P-TECH at Bowie High School opens. Johnson said the school received around 80 inquiries from students even before the application window opened.
If you want to get into P-TECH at Bowie High School or any one of our specialized programs, you need to act now by applying today.