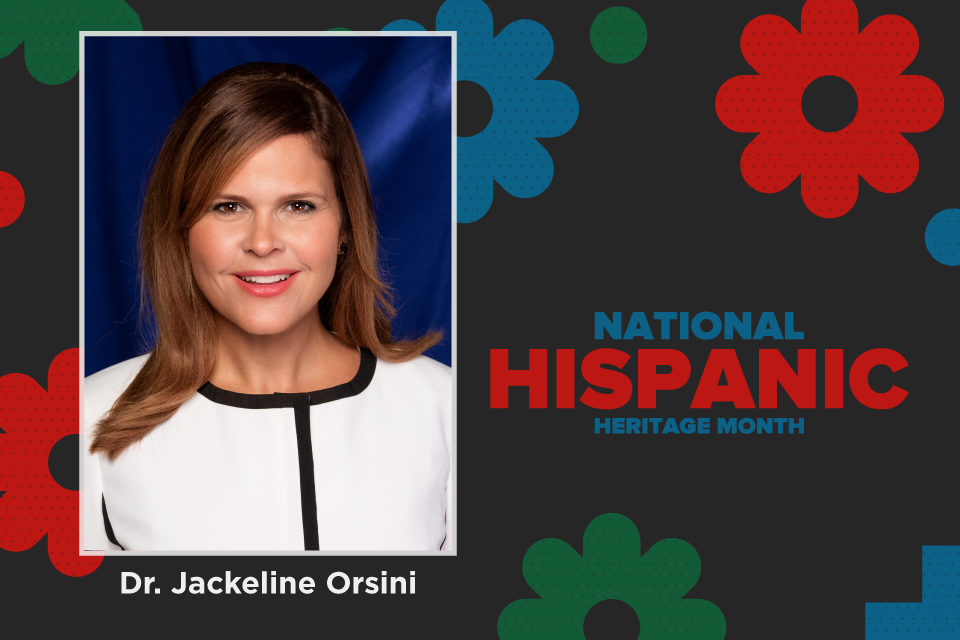 Dr. Orsini hails from Puerto Rico
During National Hispanic Heritage Month the Arlington ISD is spotlighting several staff members about their Hispanic Heritage. Today we're talking with Dr. Jackeline Orsini, our director of early childhood learning.
〉What does your Hispanic heritage mean to you?
It's about celebrating my culture, being proud of my roots and remembering where I came from. It's also about celebrating other people's culture too by honoring their respective traditions and the history behind them. Hispanic Heritage Month is a period for acknowledgment, appreciation, education and celebration.
〉What is something people might not know about your culture?
Being Puerto Rican means having an enriched heritage of Taino, Spaniard, European and Americans. Therefore, the diversity just within families is amazing. Puerto Rico has a population of around 3.5 million people, and there are more than five million additional boricuas residing in the mainland United States. Puerto Rico ranks always as one of the happiest places in the world. We don't need to wait for the weekend or a holiday to celebrate or have a party. Puerto Ricans are cheerful and move their hands a lot when they talk to express their emotions with intensity and passion. Puerto Rico is the home of amazing sandy beaches, some of the few bioluminescent lagoons in the world, historic squares lined with Spanish colonial architecture, natural caverns and El Yunque, the biggest tropical rainforest in the U.S. National Forest Service.
〉What's your favorite thing about your culture?
Mi gente (My people). Puerto Ricans are extremely sociable, family-oriented and friendly people. When you go to "La Isla del Encanto" you feel like part of a family right away. We have the best food: arroz con gandules, arroz con pollo, mofongo, bistec encebollado, bacalao, asopao, sancocho, chicharrón, pasteles, tostones, empanadillas, flan, limber, piragua, and coquito, just to name a few. Our island, the smallest one in the Antilles, is also a world leader in boxing and beauty pageants. Supreme Court Justice Sonia Sotomayor, J.Lo, Ricky Martin, Michelle Rodriguez, Lin-Manuel Miranda, Rosie Perez, Roberto Clemente, Rita Moreno, Iván Rodríguez, Roberto Alomar, Alex Cora, Yadier Molina, Marc Anthony, Gina Rodriguez, Benicio Del Toro, Carmelo Anthony, Daddy Yankee and Bruno Mars all have Puerto Rican blood. 
〉How do you celebrate Hispanic Heritage Month?
As a former school leader, I used to celebrate Hispanic Heritage and other cultures to honor the heritage of all students in a very special way. Now, as mom and educator, I celebrate Hispanic heritage with my twins. I celebrate and honor the beauty, history and culture of the country in where they were born but also the Hispanic heritage that runs in their blood.
Learn more about National Hispanic Heritage Month.