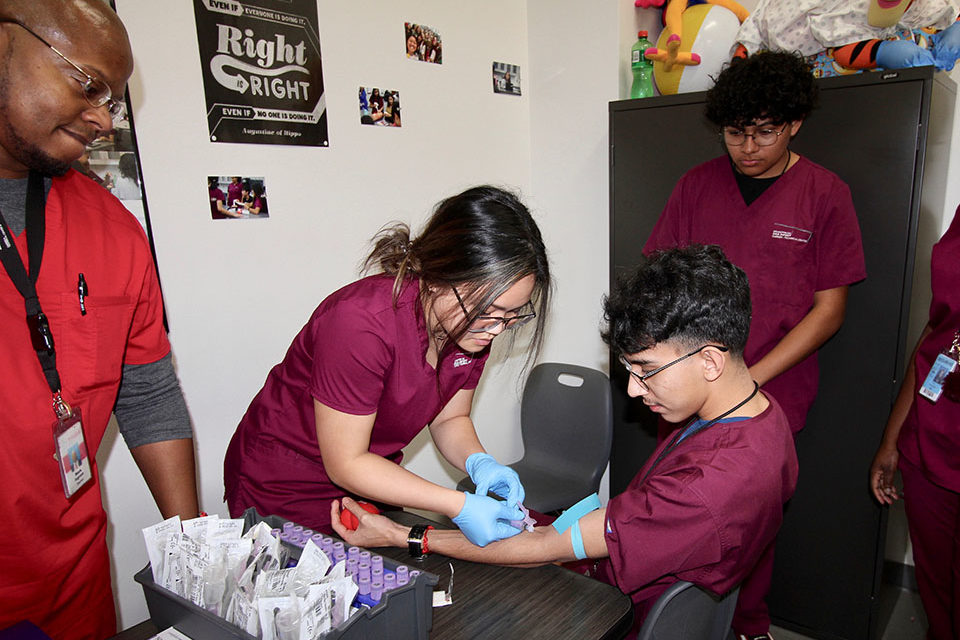 The legacy of African American Dr. Charles Drew is flourishing in the phlebotomy program at the Arlington ISD Dan Dipert Career and Technical Center thanks to teacher Mark Ingram.
Drew, known as the "father of blood banks," was a pioneer in blood and transfusion research and developed methods for collecting, preserving and processing blood plasma. In 1940, he directed the Blood for Britain project, which broke new ground in preserving and sending thousands of liters of blood to England during WWII. He followed that success by serving as medical director of the American Red Cross' pilot national blood banking program in 1941. However, he left the Red Cross a year later because of a policy to racially segregate blood.
Drew's legacy of saving lives and helping people, along with his unwavering commitment to what was right, is remarkably similar to how Ingram approaches his class. Ingram does much more than just teach students how to draw blood.
"I can teach them content till I'm blue in the face," Ingram said. "But I'm after their hearts."
Those hearts belong to the students in Ingram's Health Science Theory and Lab, which focuses on phlebotomy and EKG. The students are working toward certifications in both disciplines by the end of the school year.
See photos from the phlebotomy lab.
But Ingram doesn't think of them merely as students.
"This is not my class, this is my family," he said. "These are my kids."
His kids – juniors and seniors from all of AISD's high schools – see it that way too … now.
"No one believed him at first," said Nayeli M., a senior from Arlington High School, when Ingram expressed how much he cared about them and predicted that they would soon become family.
"Since the beginning we were taught to think of each other as family," said Veronica B., a student from Lamar High School. "He taught us we had to count on each other."
"They think I'm corny at first," Ingram said.
It may be corny, but it's real.
"Look at us now," Nayeli said. A family.
One look at the class reveals that what Ingram started preaching in August has come to fruition. The lab where people get stuck with needles seems to be the happiest room in the building. Students work together, "sticking" each other – and volunteers – as they work to get the 30 sticks required to sit for the phlebotomy certification test. Ingram looks on, offering encouragement while strictly ensuring students follow the correct procedures. And when the students have a free moment, they joke around and enjoy each other's company.
"It feels like I'm welcome here, like they want me here," Javier R., a Sam Houston High School junior, said.
And Javier wants to be there. Once, when he missed the bus from Sam Houston to the CTC, he walked to the CTC because he didn't want to miss the class.
Blaine P., a senior from Arlington High School who plans to work as a phlebotomist while in college, explained that students, led by Ingram, all support each other and will even stop class if someone is going through something difficult and needs some extra support.
"It's kind of a natural thing to cry in this class," she said.
The family atmosphere, support and mutual respect that exists inside the classroom has a purpose beyond making the students feel welcome. Ingram teaches his students to treat patients the same way.
"I got really lucky having Mr. Ingram," said William C., a junior from Arlington High School. "This course isn't just about phlebotomy, it's more about life. He's taught me compassion, empathy and respect."
Ingram preaches those values, in his words and in the way he treats students, and implores his students to treat their patients – and others – that way.
"You have to have a heart for your patients," said Allison, a student from Martin High School.
"He tells us we're there to be a ray of sunshine for our patients," Blaine added.
Ingram, a nurse for 30 years before starting his teaching career at the CTC in 2017, admits he was not always that ray of sunshine. It was a lesson he didn't learn until many years into his career.
That lesson transformed his outlook and changed his career path.
Now he is that ray of sunshine for his students, preparing them not just for a career, but for a life that touches others.
Just as Drew's medical research saved lives for generations to come, Ingram's work in the classroom is preparing students to change lives by treating their future patients – and everyone around them – with compassion, empathy and respect.
"Whether they become physicians, nurses, technicians or assistants," Ingram said, "after I'm long gone – they are the legacy which I have left behind to change a world lacking what is sorely needed: grace and love."