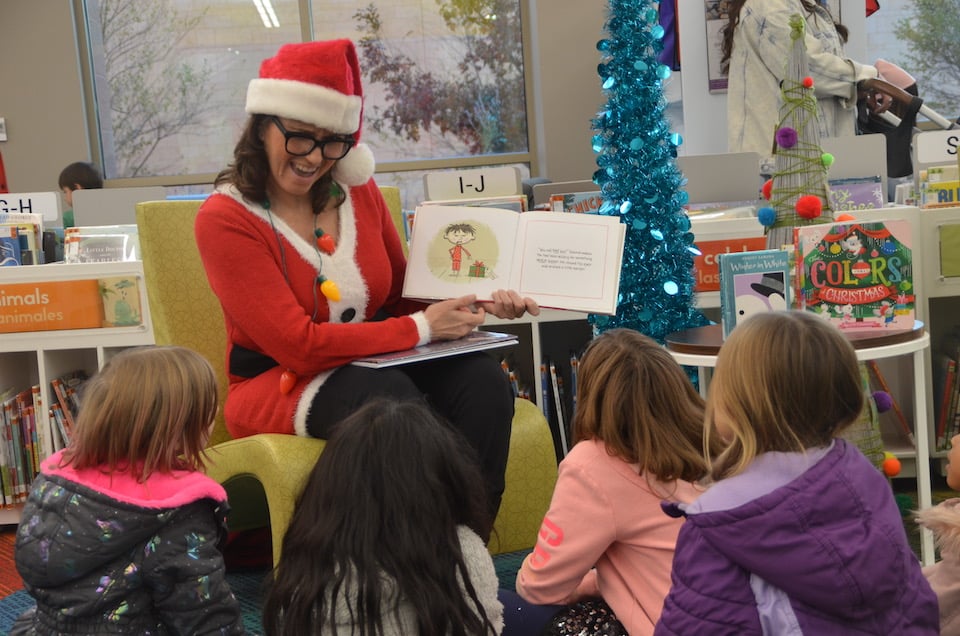 Holiday Spirit Galore
Carin Tufts of Burgin Elementary School arrived with a tiny snowman dangling from the top of her head, and Celina Kilgore from Pope Elementary School showed up in a red and white Santa Claus suit dress complete with a Santa cap. And Clarita Thompson of Sherrod Elementary? Draped with lights, she looked like a walking Christmas tree.
All three Arlington ISD principals came prepared to do more than simply read to children as part of the Arlington Parade of Lights' Reindeer Games at the George W. Hawkes Downtown Library last weekend.
They came to make the words come alive.
This array of guest readers, which also included principals Grecia Lopez from Johns Elementary School, Beth Anne Woodard from Little Elementary School, Manuel Trevino from Wimbish World Language Academy, Katina Martinez from Short Elementary School and Cindy Harbison from Duff Elementary School, were part of a whirlwind day of family activities that included arts and crafts as well as snapshots with Santa.
Shelly Osten, one of Arlington ISD's executive directors of elementary schools, who organized and oversaw the reading portion, figured elementary principals were perfect to fill a couple of hours as guest readers, partly because the patrons who congregate in the library's children area is an elementary principal's target niche.
The Fun Begins
Beginning at 3:30 p.m. and ending around 5:30 p.m., each principal was allotted 15 minutes to read library books or share with the children some of their favorites brought from home. They sat in a big, comfy chair sandwiched between a pair of tinsel Christmas trees. A small table full of holiday books was right there within reaching distance.
The 15 minutes was enough for each principal to read at least two books, depending on how much they got into character, bantered with their audience or asked pointed questions, which many of them – being educators and all – did from time to time.
"I'm a former pre-K through second-grade teacher, so it comes out," Woodard, dressed in a sweatshirt that said Santa, Santa, Santa, said of how she approached her reading.
 "They are on video games. You got to keep it going and keep them engaged. But for children, it's just natural for them to love language and learn from it. If you have characters like Pug the Pig and Llama Llama Red Pajama, they love that."
"Plus," Woodard added, "I think the important thing is that they will remember books more when they hear the intonations of the story and they make meaning from it, too. No one wants to sit there and listen to a story that's just so monotone that it puts you to sleep."
Teacher Favorites
That's how Thompson felt. Reading "I Wish It Would Snow," a witty picture book about a rabbit's wish that the world becomes a winter wonderland, and "Bulldozer's Christmas Dig," about a bulldozer that digs up an unexpected Christmas gift for friends, Thompson's expressions were priceless.
"I haven't done this in a while," she said of reading aloud. "I read to one person in a class a couple of months ago, and that was it. Mainly I just wanted to have a good interaction with the kids because it makes a difference when you're reading to them."
Tufts brought a book that's part of her children's favorite series. She loves the "Pig the Pug" series because it offers up lessons on everything from greediness to selfishness.
"This is kind of like the new Dr. Seuss to me," Tufts said of the series. "Everything is rhyming, and the kids really like the rhyming words."
Tuft, like many of the other principals, signed up for reading duty because she understands the importance of reading early.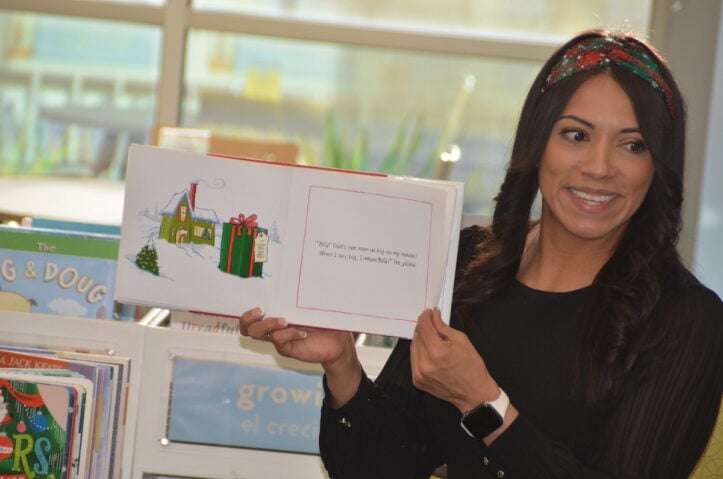 Why We Read
"It helps them get excited about reading," Tufts said. "When we do academic reading, it's not the most exciting, and they don't necessarily fall in love with reading. It's not something they picked to do. But if you instill the love of reading to them at an early age, with books they love, then they want to read on their own. They can't wait to go to the library and pick out a book."
Lopez was that kid. For her, reading was like breathing.
"I was on a Battle of the Books team at school," Lopez said. "I did that from second grade through eighth grade. I was the captain for several years.
"I think events like this are important because it's a fun event, first of all, but it's really important that kids see how reading can be fun, not an assignment, not a to-do, just to really cultivate that love of reading. Let them see literacy in a different light."
Unlike Lopez, Thompson wasn't a big reader early on.
"It wasn't until probably after college when I was able to read whatever I wanted," she said. "That's when I found the enjoyment of reading because I found some authors I enjoyed. But I'm a firm believer that reading is the foundation of learning and the continuation of learning. It's everything."
This is why Thompson and the others volunteered their time.
"I want to make a difference and give back," she said, "I mean, reading two books. How hard is that? And it was fun."