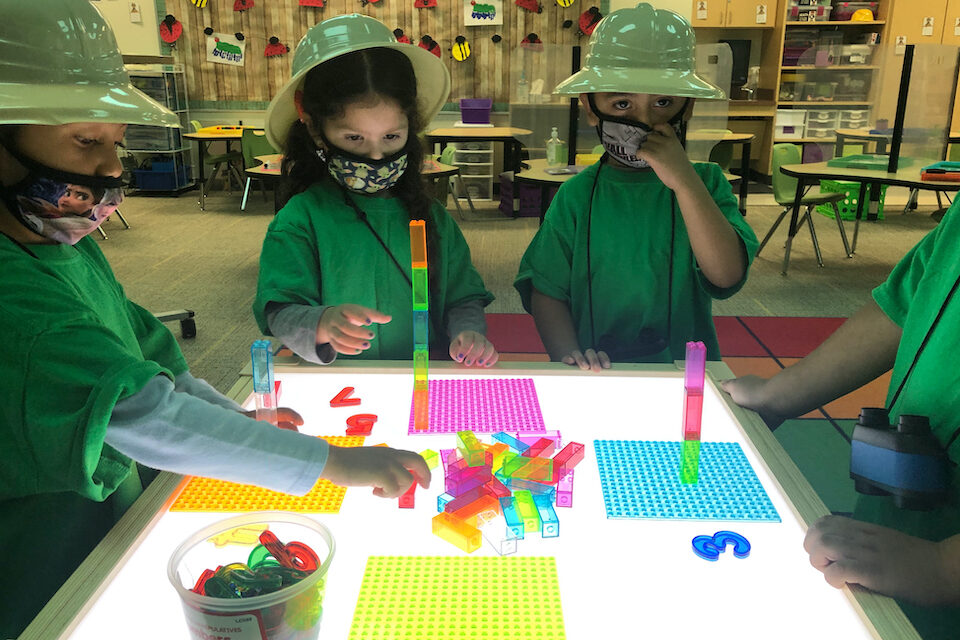 The first day of pre-K is now less than two weeks away! Several Arlington ISD teachers and administrators have tips to help you help your child be ready for pre-K.
If you haven't enrolled your future little learner in pre-K yet, that's the first step. Visit aisd.net/prek to get started.
Dr. Hildelisa Díaz, Early Childhood Coordinator
Starting prekindergarten marks the beginning of a new phase in your child's development and many parents ask themselves, "Is my child ready for prekindergarten?" The answer is, "Yes!". This early start sets your child on the path for later school readiness and success. During the next few months, your child will learn new skills, make new friends, and gain independence and confidence. By simply reading, playing and exploring together, you are helping your child get ready for this new journey into pre-K.  We ask parents to be involved in this important transition as this new environment may bring anxiety to the child. Children develop independence at different rates with some children being able to separate easily from parents while others need extra support. Communicate with the teacher of your child if you need support in this area. Our teachers have a lot of experience with this type of situation and can help you develop a plan! Prekindergarten is a time of incredible growth and with just a little preparation, and connection with our campus leaders and teachers you can make this transition a confidence-building experience for both you and your child here in Arlington ISD!
Connie McKay, Sherrod Elementary pre-K Teacher
The first tip I would tell parents is to relax. If they are nervous or anxious, their child will pick up on those feelings. Instead, parents should tell their child how exciting and fun school is going to be. There will be fun activities every day and teachers will take care of all student needs. A quick kiss at the door and a goodbye will give students confidence.
Here are some additional tips for parents:
Read to your child every day.
Count everything – stairs, snacks whatever is available.
Help your child learn to put on a jacket independently.
Students should wear tennis shoes every day and they should be shoes that can get dirty. 
Include a change of clothes in a baggie in their backpack. Because accidents happen.
Cindy Brown, Fitzgerald Elementary principal
Getting a young child ready to go to school means getting them excited and comfortable. Practicing opening lunch items, opening and closing backpacks, and zipping zippers or unbuttoning buttons will build confidence and independence in your child. Role playing things like saying hello to their teacher, visiting the campus, talking about what they hope they will get to do at school and sharing stories of your own early learning memories will help your son or daughter transition smoothly to their own pre-K experience!
Ken Foster, Early Childhood Instructional Specialist
My first suggestion is very simple, but very powerful. I'd start by daily talking with your child about school, asking them:
Where is the school located? How will you get there?
Who else goes there?  Do you know other friends who attend this school?
What do you do at school? Where can you play outside?  Where do you go when you want to read lots of books?  Where do you think you'll go to eat?
Take time to discuss each of these in detail to help them create mental pictures of school. There are PLENTY of books about first days at school. My favorite is Eric Litwin's Pete the Cat: Rockin' in my School Shoes. It addresses the above questions in a very fun way!
I'd also encourage parents to take them to any activities the campus holds before the start of the school year. Meet the Teacher night is an important event that helps establish a connection with teachers, students and their families. It will help ease anxiety in a first-time pre-K student, too.
Finally, I'd encourage parents to begin, if not already, introducing alphabetic and numeric concepts to their child. Pre-K classes will spend a lot of time with these concepts, learning all the related foundational topics. Doing so will help to build a strong home-school connection and set the expectation that learning doesn't just happen at school.