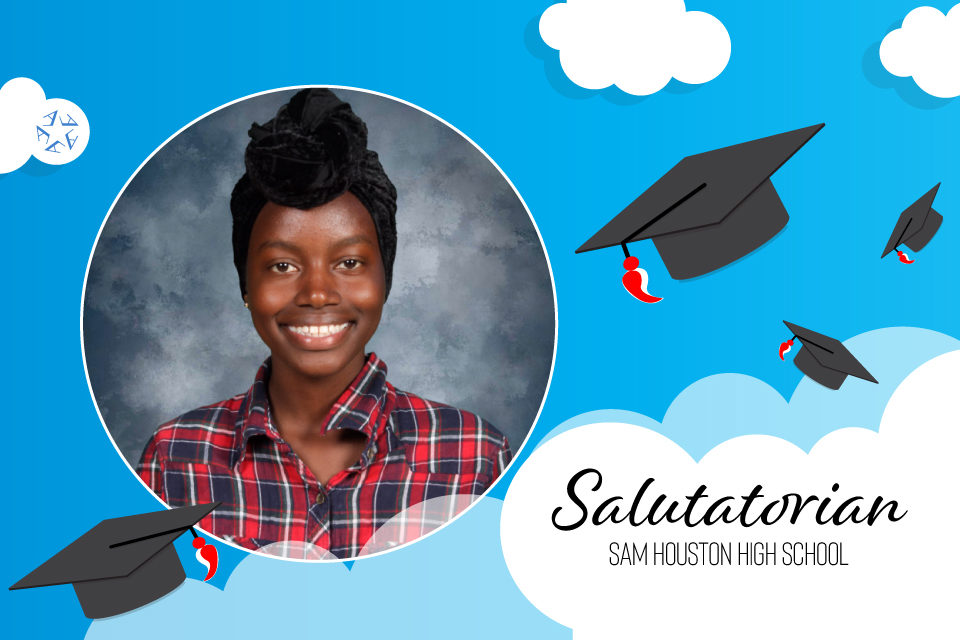 In the weeks leading up to Arlington ISD graduations June 3 and 4, we will be celebrating the Class of 2021 valedictorian and salutatorian for all seven Arlington ISD high schools.
NAME: LESLEY OMENGE, SALUTATORIAN
       School: Sam Houston High School
       College attending: University of Southern California
       Intended major: International Business Administration
       Attended Arlington ISD schools since: 2nd-6th grade; 9th-12th grade
What advice would you give students entering high school?
Don't be afraid to get involved even as a freshman. There were many clubs where I was the only freshman, and I had a great time meeting upperclassmen. They were welcoming, funny and gave amazing advice.
What was the most difficult lesson you've learned while in school?
The most difficult lesson I learned in high school is that your health should supersede academics. If you put your physical, mental, emotional, spiritual, and/or relational health second, you and your academics will suffer as a result.
What's the most meaningful moment you will take from this school year?
The most meaningful moment that I will take from this school year is when I finally got to see my friends and teachers in person in late April. It was at this moment that I fully realized what I had really lost senior year. However, it also made me appreciate the last month that we had left. Being able to walk through the hallways and just be in the presence of my community was so fulfilling.
What makes you the proudest about experiencing your senior year in COVID-19?
My growth spiritually, mentally and emotionally is what makes me the proudest about experiencing my senior year in COVID-19. It made me realize what really matters to me. It also equipped me to be able to find new ways to deal with adversity.
What do you see yourself doing 10 years from now?
Ten years from now, I see myself living abroad and starting an organization that focuses on helping impoverished children attain essential and educational resources.