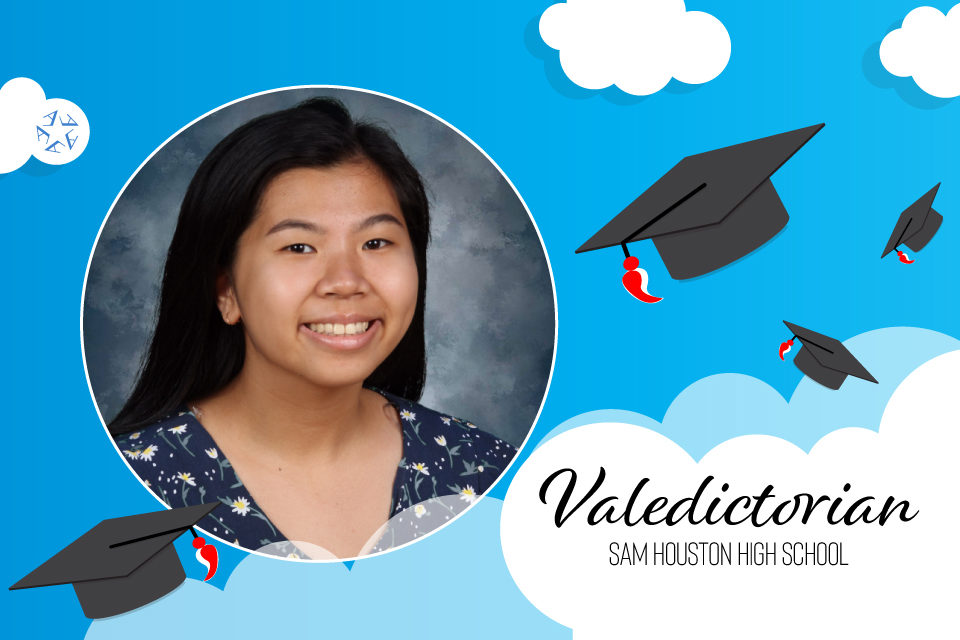 In the weeks leading up to Arlington ISD graduations June 3 and 4, we will be celebrating the Class of 2021 valedictorian and salutatorian for all seven Arlington ISD high schools.
NAME: JENNIFER HA, VALEDICTORIAN 
     School: Sam Houston High School
     College attending: Texas A&M University – College Station
     Intended major: Chemical Engineering
     Attended Arlington ISD schools since: Pre-K
What advice would you give students entering high school?
To incoming freshmen, make connections! Reach out to students, teachers and staff. You never know what opportunities you can find if you do not get out of your comfort zone.
What was the most difficult lesson you've learned while in school?
The most difficult lesson I've learned while in school was that perfectionism is a hindrance to success. I use to only try to find the "right" answer and the "perfect" solution or else I would not partake in anything. This fear of failure did not let me take action without knowing 100% that I will "succeed". I had to learn the hard way that this mindset will only hold me back from my opportunities and aspirations.
What's the most meaningful moment you will take from this school year?
One of the most meaningful moment was near the end of year when the students were able to see each other again. Getting to see everyone again one last time was needed to end the year off lively.
What makes you the proudest about experiencing your senior year in COVID-19?
Experiencing senior year during the pandemic taught me many lessons. I am most proud of being able to adapt to online school without losing too much normalcy in the process. It taught me useful skills like how to self-teach and how to organize my time accordingly. This year also taught me to cherish in-person interactions and relationships.
What do you see yourself doing 10 years from now?       
It is unpredictable to plan for the next week, let alone 10 years from now. Whatever path of life I decide to choose, I know I will be happy and proud of the work I have done to get there. In those 10 years, I hope to pursue my ambitions, build meaningful connections, be successful in my career and personal life, be my family's pride and lastly, live a worthwhile life.