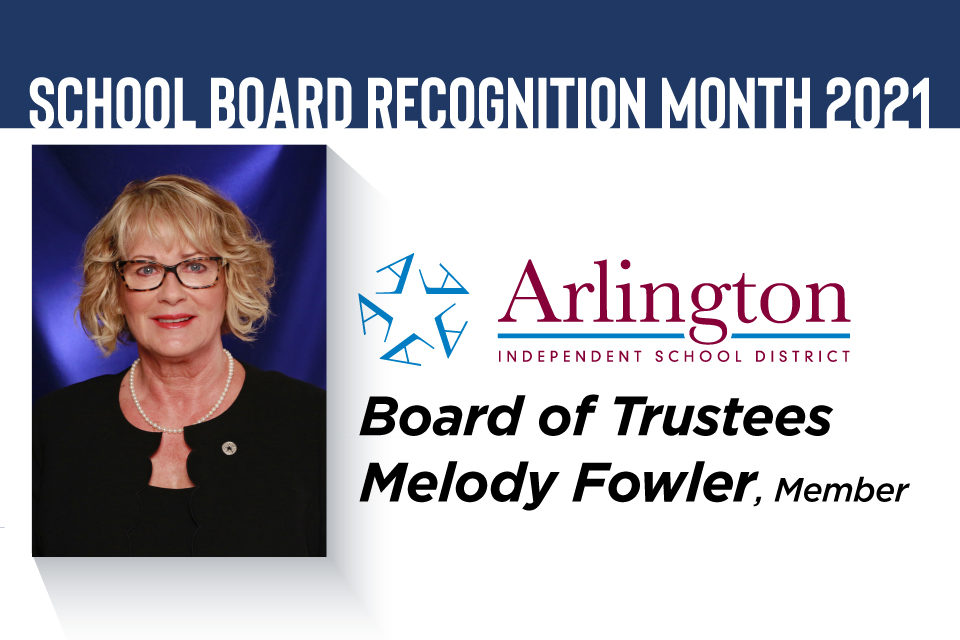 Fowler is a former PTA/PTSA president
January is School Board Recognition Month and fittingly the theme is Navigating To Success. The Arlington ISD Board of Trustees had to navigate through some uncharted waters in 2020. We wanted to get their thoughts on the year and what they've learned in helping lead a district of nearly 60,000 students and more than 8,000 employees through a pandemic.
Name: Melody Fowler
Board member since: 2018

〉Ties to Arlington ISD:
My son went through Arlington ISD K-12. I also served as PTA/PTSA President for Young Junior High and Martin High. My sister is a 25-plus year teacher in Arlington ISD.
〉What's been the toughest part about being a board member during a pandemic?
The toughest part is not being able to please everyone.
〉What have you learned about yourself in the last year?
I have learned to be more flexible while listening more and talking less.
〉What's helped you get through the last year?
The Superintendent and my fellow Board members have helped me get through this last year.
〉The theme for the month is Navigating to Success. What do you think has made the Arlington ISD a success?
I believe our teachers, administrators, students and parents pulling together has led to success.
〉How have you seen Arlington ISD students rise to the challenges presented to them over the last year?
Our students have been absolutely amazing. The ways they have adjusted is nothing less than remarkable. They have jumped in and mastered virtual learning and made the best of some really hard and frustrating times. I could not be prouder of our teachers, students, administrators and parents.
Learn more about our Board of Trustees.