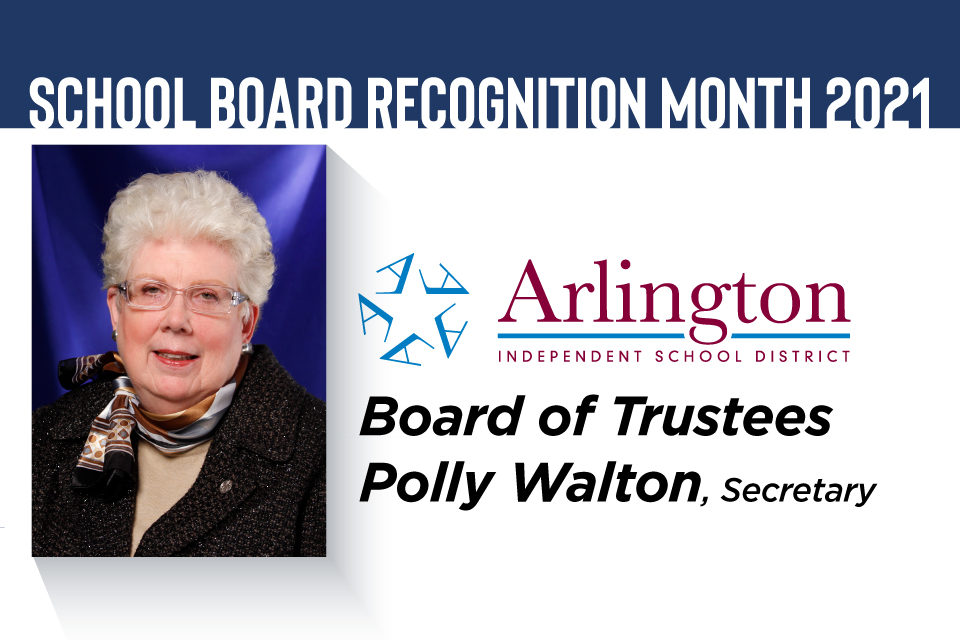 Walton began Arlington ISD career in 1971
January is School Board Recognition Month and fittingly the theme is Navigating To Success. The Arlington ISD Board of Trustees had to navigate through some uncharted waters in 2020. We wanted to get their thoughts on the year and what they've learned in helping lead a district of nearly 60,000 students and more than 8,000 employees through a pandemic.
Name: Polly Walton
Board member since: May of 2015
  
〉Ties to Arlington ISD:
Mr. Woodrow Counts hired me in 1971 and I taught third grade at Short Elementary, kindergarten at Crow Elementary and was librarian at Speer Elementary and Swift Elementary before retiring in 2014. My children are graduates of Lamar High School, and my grandkids are in Arlington ISD schools.
〉What's been the toughest part about being a board member during a pandemic?
To stay strong and continue to carry on. To maintain faith that we were all doing the best we could to keep our students, staff members and community safe. Finding words to answer all the emails from staff and parents. The emails from worn-out teachers who were in despair were especially difficult for me to find the right responses of encouragement.
〉What have you learned about yourself in the last year?
Age helps with wisdom. I have learned I am loved by a great family and a wonderful group of friends and neighbors who have all lifted me up with support and prayer.
〉What's helped you get through the last year?
Wisdom and love have enabled me to be a strong contributor to good decisions made for our district. As a board member, I found myself in a position to lead, along with the other board members and Dr. Cavazos, through a critically important time in which to navigate. It is so important to all of us to give the effort our all. A great deal of prayer is also critical.
〉The theme for the month is Navigating to Success. What do you think has made the Arlington ISD a success?
Dr. Cavazos at the helm. Strong servant leadership throughout our leadership team. Having good, well-informed, well-trained people at all levels. Staff members and teachers who all jumped on board and worked huge amounts of hours and pulled together toward the goal to keep everyone safe, fed, transported and educated; every job with vastly changed rules of operation.
〉How have you seen Arlington ISD students rise to the challenges presented to them over the last year?
As I haven't been out to our campuses to see students, this is a difficult question to answer. I do believe most of our students have adapted to huge changes in their young lives. They continue to be flexible, resilient and focused; and move forward with their educations.