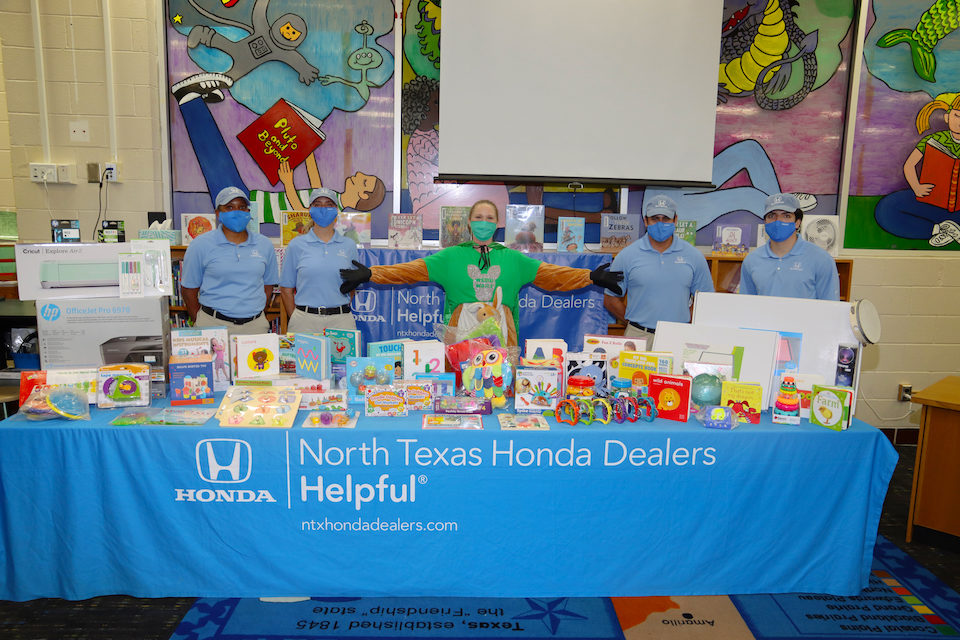 Candice Keller is also Webb's wallaby mascot
Webb Elementary special-education teacher Candice Keller is already a superstar at her campus.
You can tell that by the way her students interact with her. And, of course, the fact that she's the school's mascot and wears a wallaby costume while doing cartwheels and splits doesn't hurt her star status either.
But Tuesday morning Keller's status was elevated to another level when she was surprised to be honored as one of North Texas Honda's Teacher Appreciation honorees.
Keller walked into the library in her wallaby outfit expecting to pump up a staff meeting. Instead, she was met by her students, family, television crews and Arlington ISD administrators for the surprise.
For her efforts, Keller received $5,000 worth of supplies for her classroom, much of it on display in the library for everyone to see.
"It makes me feel like I'm supposed to be here," said Keller, who is in her third year of teaching after making a career change out of the restaurant industry. "It makes me feel like all the arrows are pointing in the right direction and what I'm doing is right and someone is watching out for me from above. It makes me proud to know as a special-education teacher we still get recognized for what we do. It just makes me proud that I get to be the person, the voice for all of our students, their families, my team. I love representing Webb Elementary."
Keller was nominated for the honor by Webb principal Elena Lopez. Lopez didn't want the district to miss out on the opportunity to nominate someone and felt like Keller was the right choice.
In her nomination Lopez wrote about everything Keller does for her students and how she approaches challenges with a growth mindset. She has never changed her expectations for her students and has a true love for her work, in and out of her wallaby outfit.
That love was on full display after Keller was honored Tuesday as she went around and greeted every person in the room. Every person.
She also couldn't stop gushing about her students.
"I learn from all of you," Keller told them. "I love you guys."
Those kinds of actions made the nomination process an easy one for Lopez.
"It just doesn't seem real," Lopez said of Keller's honor. "I couldn't submit an application and not nominate her."
Keller got a brief look at some of her gifts, which included everything from books for her classroom to new furniture. She can't wait to start using it with her students and sharing it with other Webb staff members.
Her decision to get into teaching is the district's gain, and it's something she could see herself doing forever.
"I love education," she said. "I love challenging myself. I love non-stop learning. Becoming a teacher was a no-brainer. People just kept telling me I should teach. It has been the absolute right decision I have made. Every day has just been amazing, and I see it through my relationships at the school. This has been the best decision I ever made. I'm a lifer."