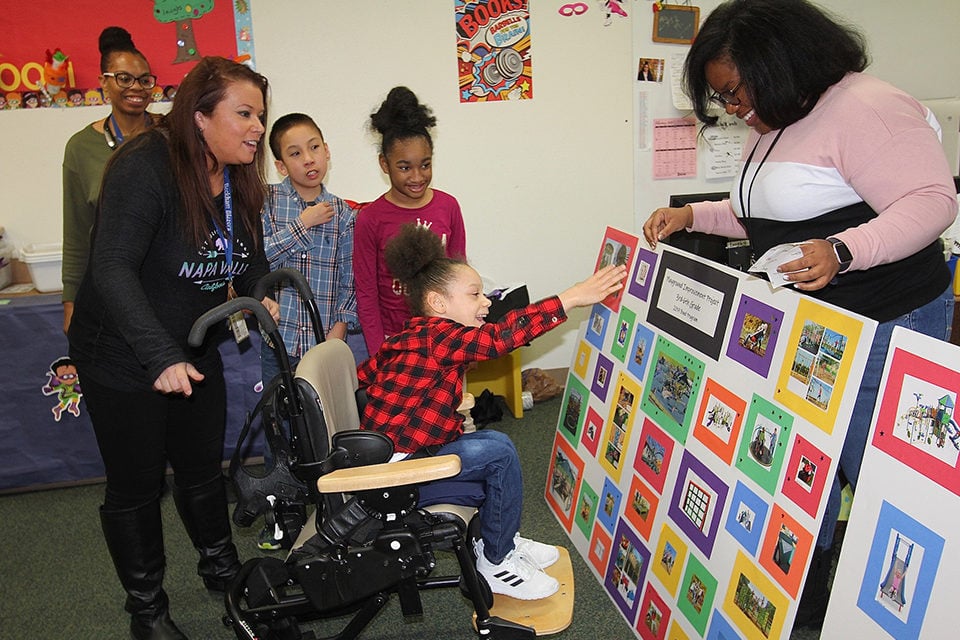 The Arlington ISD brought in the experts to help design new playgrounds for all district elementary schools.
The future playgrounds' users, the elementary students themselves, gave their feedback and input last week, and let AISD staff know what kinds of equipment they want on their playgrounds.
The student experts included many special education students from 11 elementary schools. Their input is critical as one of the primary goals for the new playgrounds is to ensure true accessibility for all children, including those who use wheelchairs.
The future new playgrounds are part of the 2019 Bond program, approved by voters in November 2019. The plan calls for two new playgrounds at each elementary, one for ages two-five, and the other for ages five-12. The playgrounds will include shade structures and accessible play equipment and surfaces.
"The size and scope of the district's playground improvements project is significant and will completely transform the form and function of exterior play spaces for the students of the Arlington ISD," said Kelly Horn, AISD executive director of Facility Services. "The improvements will provide greater safety, equity, access and inclusion for all students. The playground spaces will have new equipment set on new foundations with a durable rubber surface and solar canopies overhead for protection during periods when the weather conditions are harsh."
Most of the districts' current playgrounds are aging, and few are accessible. Little Elementary's playground is just one example.
"The playground at Little is not inclusive to my students," said Sara Steele, an alternative curriculum teacher at Little. "The ground is too rough for wheelchairs and students who have trouble walking. We have to have recess on a concrete courtyard because it's the only place all of my students can play. My class is looking forward to a playground where children of all abilities can play together!"
Planning for the new playgrounds began as soon as the bond passed in November 2019. Horn immediately established a planning committee comprised of PE teachers, principals, alternate curriculum faculty, district administrators and community members.
"They helped to develop ideas that benefit every student," Horn said.
At the committee's second meeting in January, committee members flipped through playground catalogs, discussed the various types of equipment and cut out images of the playground equipment they liked best.
"The procurement and installation of the new equipment and surfacing is the easy part," Horn said. "Making sure that we select the right equipment is the greatest challenge. As a result, the district has gone to the experts … our students!"
The AISD facilities team compiled all the playground equipment images that the committee selected out of the catalogs and pasted them onto large poster boards. The poster boards were then taken to 15 elementary schools, during the week of Feb. 3, where boys and girls from each grade got to examine the options. Each student was given five stickers to put next to the playground options they liked best.
"Our students were really excited when I told them that we were going to get new playground equipment, and they were going to help choose it," Pearcy STEM Academy Principal Codi Van Duzee said. "We had approximately 65 pre-K-6th grade students and 10 staff members vote on what they felt would be the most fun to play on."
Kelly Hunt, a lead physical therapist for the AISD, took the playground poster boards to special education students and solicited their feedback. At Fitzgerald Elementary, a first grader who has a progressive neurological condition and is unstable on his feet studied the boards at length and told Hunt, "I like this ramp because I feel scared on the stairs that someone will knock me over."
"I'm constantly reminded that our special needs students are so thoughtful and have to be overly concerned with their own safety at all times," Hunt said.
A third-grade student at Key Elementary, who also has a progressive neurological condition, carefully selected options that would be fun for everyone.
"I want to pick something I can play on, but that my friends will also enjoy so I don't have to play alone," he said.
The students' input is now being compiled and will be used by the planning committee to continue the playground design process.
"We are excited to see what they choose and how it will inform the final designs," Horn said. "In the end, we will have some very special play spaces that will serve our community for a very long time."
Horn plans to complete the playground design and report to the AISD Board of Trustees by April 2020. Installation of the new playgrounds will then be phased over the first three years of the bond program, with the first projects slated to begin this fall.