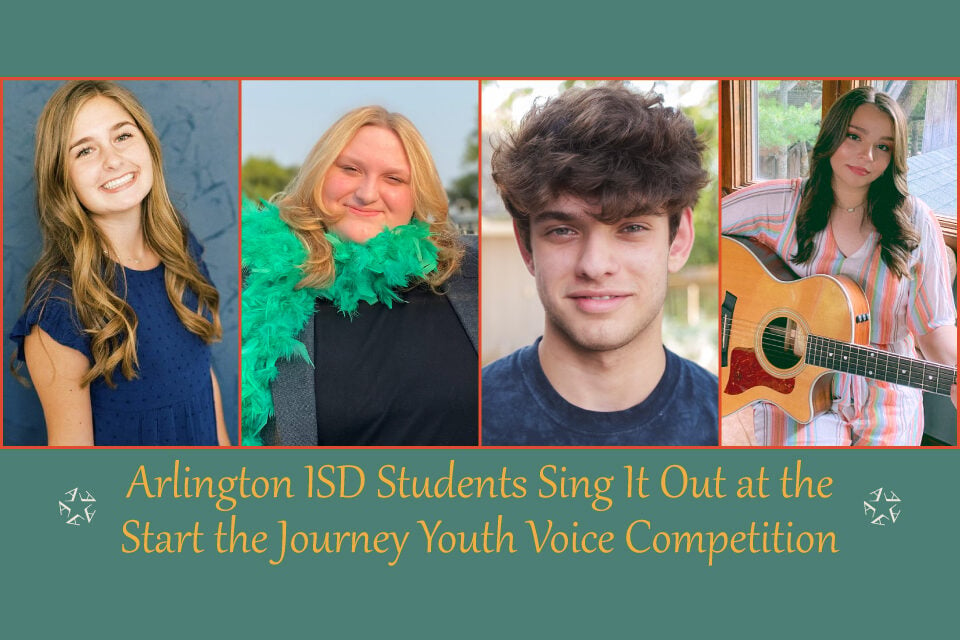 Four Arlington ISD students are looking to bring home the title of the Start Your Journey Youth Vocal Competition at the Ramblin' Roads Music Festival. Among the 16 finalists from across the metroplex are Martin students Camille Breitenstein, Dylan Dalton and Kiara Mullin and Lamar's Mallory Rose Gomez.
All finalists will perform Sunday, Oct. 3 at 2 p.m. in front of a live audience at the Arlington Music Hall. The grand prize winner will receive a $500 cash prize, a recording session at The Cove Studios and the opportunity to perform as an opening act on downtown Arlington's Levitt Pavilion stage.
Finalists will be broken into four groups by genres: pop, urban, country and rock. A finalist from each genre will be chosen as "Best Vocalist," and of those four winners, a grand prize winner will be selected. A "Fan Favorite" winner will also be chosen by the audience. Every group winner will receive a cash prize of $250 and a recording session at a professional recording studio.
Arlington ISD teachers, families and students are encouraged to attend the voice competition and support the district's vocalists from 2:00 p.m. – 4:30 p.m. Admission to the event is free, and no tickets are required. For ticketed concerts for the weekend event, use the code "RRMFSTJ25" for a 25% discount.
The downtown music festival is a celebration of diverse music and will run today through Sunday at multiple locations throughout the city, including Levitt Pavilion, Arlington Music Hall, Texas Live! and more than 15 other venues. The three-day festival will also include other events such as the Classic Car Show, Urban Artisan Market and Sunday Gospel Brunch. From jazz to eclectic, there will be live performances and events for music lovers of all kinds to enjoy.
For more information about the festival or schedule of events, check out the Ramblin' Roads Music Festival website.