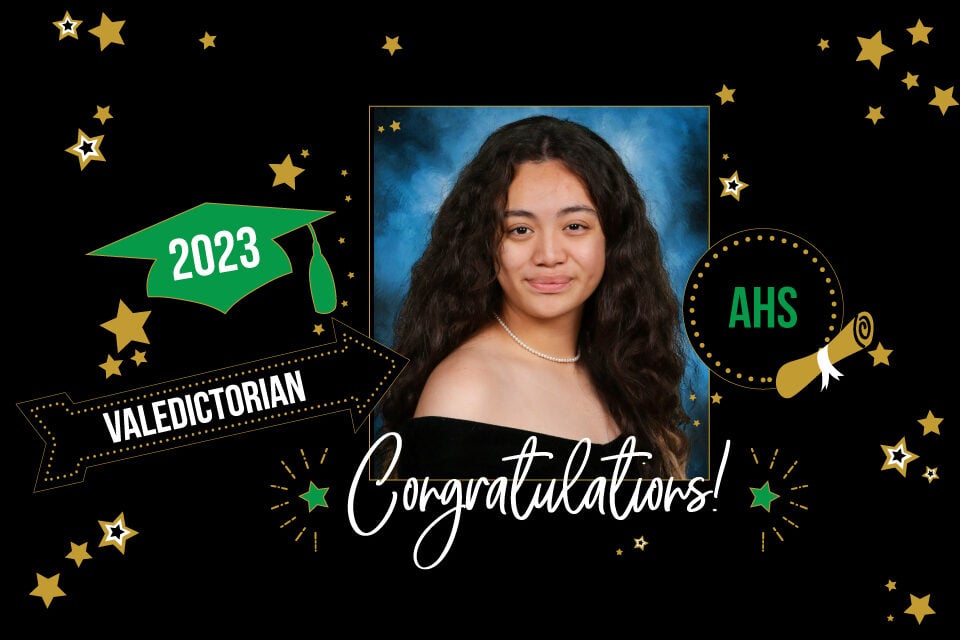 AHS valedictorian Stasia Vaituulala
It's graduation season and we are celebrating the Class of 2023 valedictorian and salutatorian for all eight Arlington ISD high schools. Meet Arlington High School valedictorian Stasia Vaituulala.
 NAME: Stasia Vaituulala
SCHOOL: Arlington High School
COLLEGE: Stanford University
INTENDED MAJOR: Symbolic systems
What is your dream and how do you plan to make it come true after graduation?
My big dream is to be in a steady enough of a position to support my family.
Who inspires you the most?
My parents. They did everything they could to make my dream successful for me. They were there for all the late nights and the stress. It's what inspires me to do what I've done so far.
What is one piece of advice you would give an incoming freshman?
I have two. Come in with some goals set for yourself. The way to make that goal happen is to surround yourself with like-minded people who will inspire you. Find people who inspire you and stick with them.
What's been your favorite high school memory?
It was senior teach day. One of my best friends, Jack Kozack, and I were shadowing our principal Stacie Humbles. We got to announce our top two percent students. I got to announce Jack as the salutatorian and Jack announced me as the valedictorian.
How do you plan to make an impact on society in the future? 
My overall goal is to go into neonatology. My real goal is to be a doctor in Tonga, which is where my family is from. The healthcare there is awful. I want to be able to give back to the place I raised my parents.
What her teacher said:
As an eighth grade teacher, I've had the privilege to witness the growth and transformation of this remarkable young woman. I am filled with immense pride and joy. Her journey has been a testament to her unwavering dedication, relentless pursuit of knowledge and the boundless potential that lies within her. May her accomplishments in academia and music serve as a beacon of inspiration to all, reminding us that with passion, grit and the right guidance, we can conquer any obstacle and achieve greatness. 
– Hector Santiago, Stasia's eighth grade history teacher