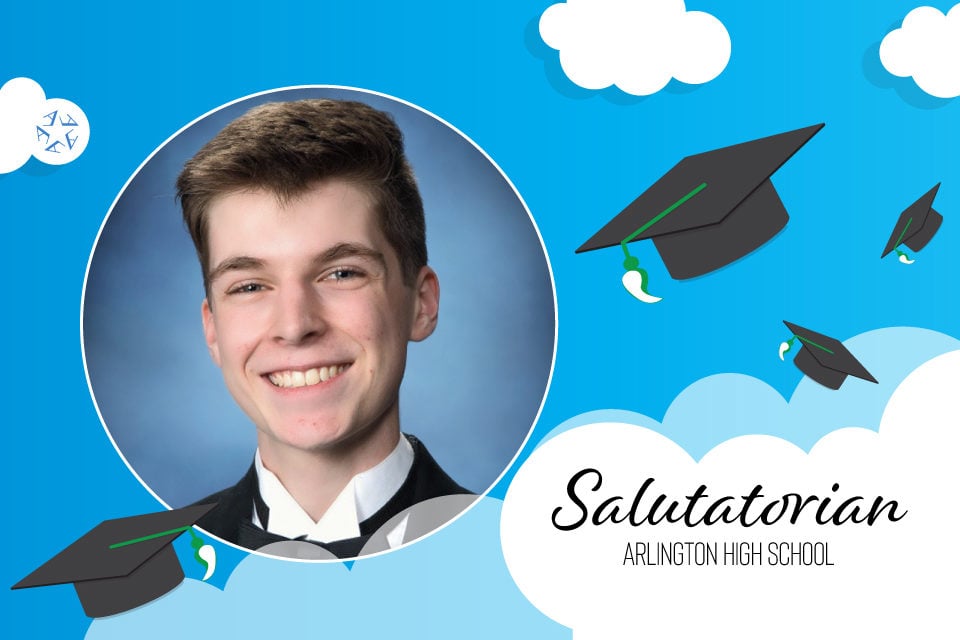 In the week leading up to Arlington ISD graduations June 3 and 4 at AT&T Stadium, we are celebrating the Class of 2021 valedictorian and salutatorian for all seven Arlington ISD high schools.
Name: Caleb Crider, Salutatorian
School: Arlington High School
College attending: Dallas Baptist University
Intended major: Finance
Attended Arlington ISD schools since: Kindergarten
What advice would you give students entering high school?
Be thankful and embrace your time in high school. Take time to meet new people and enjoy every moment with them to build friendships that continue after graduation. When school seems busy and overwhelming, it is okay to take a break and go outside for a little while before continuing with schoolwork.
What was the most difficult lesson you've learned while in school?
The most difficult lesson I learned was that you cannot get time back. There are so many good memories I have from high school, but now I'll be moving forward and making new memories along the way.
What's the most meaningful moment you will take from this school year?
At senior awards, it was amazing to see so many classmates in one place celebrating our four years at Arlington High. I will never forget seeing everyone so excited to enjoy time together and conclude the year in a memorable way.
What makes you the proudest about experiencing your senior year in COVID-19?
It was incredible to see how the teachers helped us persevere and prepare for AP exams, so we are ready for college in the fall. Moving forward with confidence is something that I want to strive for, especially following this difficult year.
What do you see yourself doing 10 years from now?
In 10 years, I see myself in a finance career either as an actuary or an accountant. I hope to raise a family in Arlington, because this is where I grew up and I want my kids to enjoy it here just like I did.