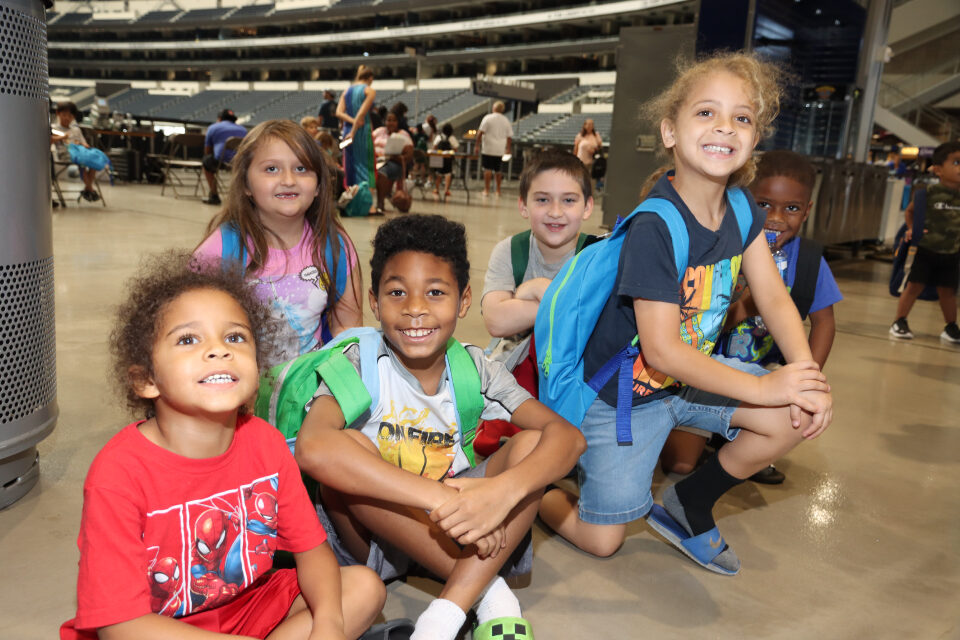 Let's head Back to School!
Everything is bigger in Texas, as the old saying goes. Whether it's cowboy hats, boots, wide open spaces or love for football, grand is the way to go in the second largest state.
That's exactly what Kanesha Jones – originally from St. Louis – is learning and saw this past Saturday while attending Arlington ISD's 8th annual Back to School Kickoff. Having moved to the area just two months ago, Jones and her 4-year-old daughter Morgan were among nearly 8,000 who flocked to AT&T Stadium for the event.
Held inside and outside of the venue, the four-hour fest included free health screenings and haircuts by students from Arlington ISD's Dan Dipert Career and Technical Center. Students in attendance received an array of school supplies. Dozens of Black fraternity and sorority members passed out backpacks. Parents also obtained loads of information from the district's 100 community partners, which set up under tents outside the stadium's south entrance.
Jones decided to attend the event after learning about it online.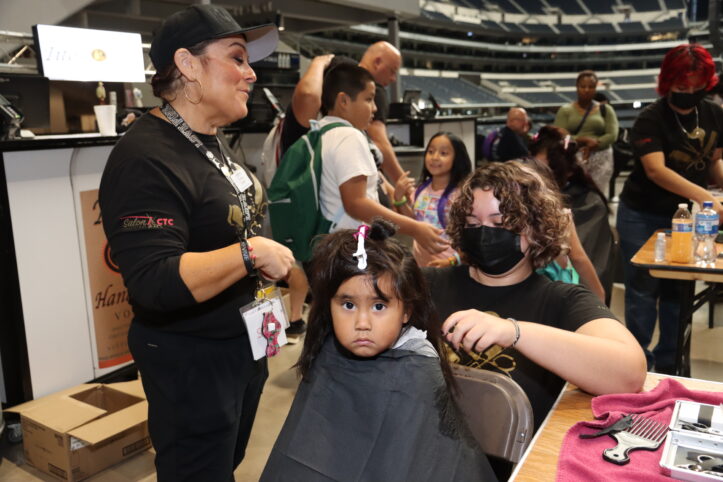 "It's cool!" she said, feeling her daughter's new backpack and supplies will help the new pre-K student's first year at Peach Elementary start off right. Morgan even took a picture with the Dallas Cowboy's mascot, Rowdy. Rowdy spent the morning hobnobbing with the kids who were running around and flipping on the turf field outside.
Cowboys partnership
Arlington ISD family engagement specialist Eric Phillips boasted about this year's bash, calling it "one of the best ones that we've had."
The event – which was manned by nearly 800 volunteers – takes about 10 months to plan, he said. Before committees finalized the activities that would be featured, Phillips said they spent countless hours seeking donations and grants.
"A large portion of this is just getting the financial resources. It pays for itself. This is nothing that the district gives us money for," Phillips said, crediting the Gene and Jerry Jones Family Arlington Youth Foundation as the event's largest donor.
For the past 32 years, Jerry Jones and his family have owned and operated the Cowboys – all while committing to community outreach. Phillips is thrilled about the partnership between Arlington and the football team.
"(The Cowboys) have been an asset in helping us provide this for our students and families," Phillips said. "Their contributions each year, as well as the use of the stadium, gives us a great atmosphere where it is celebratory."
Phillips feels that the hard work is well worth it. "There are many families within our district that find it very difficult at this time, especially right now with the economy being the way it is," he said.
He considers the backpacks they annually give out to be "morale-boosters."
"It gives them that good feeling of going to school with something new."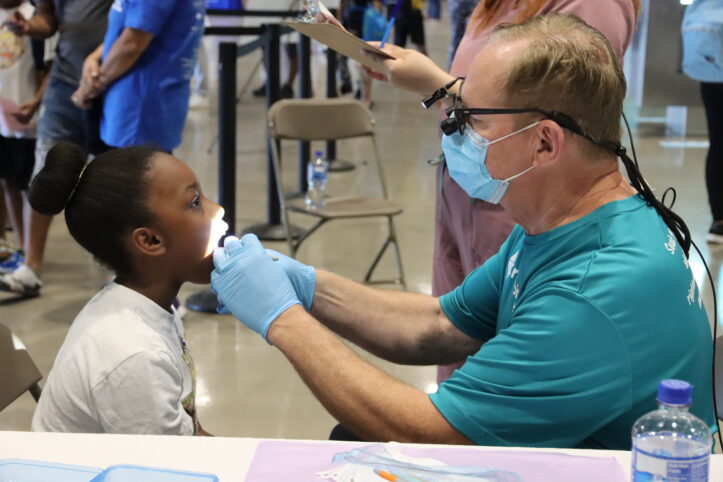 All together
Due to the rising costs of basic family needs, Ashley Tatom wanted to take advantage of the support given by Arlington ISD and its supporters. She took her daughters – 12-year-old Ryleigh and Callie, 10 – to the kickoff for the first time. This year, Ryleigh be a seventh-grader at Young Junior High and Callie will be a fifth-grader at Little Elementary.
"We decided to come check it out and see what all we could get," Tatom said.
The girls received backpacks and supplies and underwent dental screenings. They waited a long time to get free hair trims, but they didn't mind. They were able to avoid the beaming sun because the styling stations were located in the stadium's lobby.
"It's awesome!" Tatom said, explaining that she wanted to "spruce" her girls up before school began.
They weren't the only first-timers who basked in the experience. Uyen Nguyen and his wife, Tran, moved from Wyoming to Arlington last year and have become diehard Cowboy fans. After picking up school supplies, the couple and their sons – who will attend Martin High School and Moore Elementary this year – marveled at the field. They were overwhelmed by the kickoff as a whole.
"It's beautiful!" Nguyen said. "And it's a community event, and we're all together."