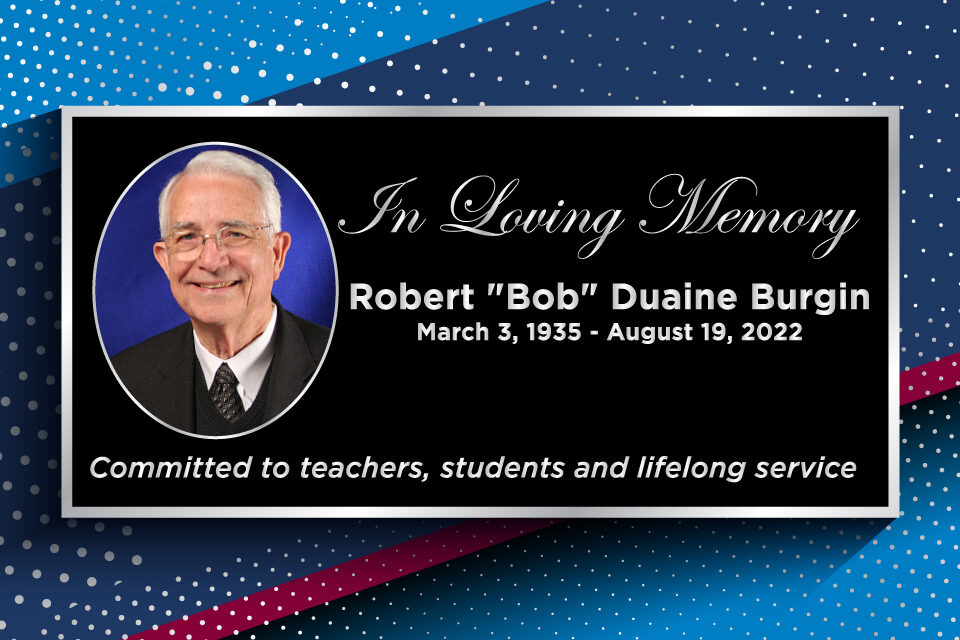 Robert "Bob" Burgin
Arlington ISD namesake Bob Burgin, whose ties to the district go back seven decades, died Friday at 87.
Burgin, who shares the namesake with wife Tillie Burgin at Burgin Elementary School, was a Texas native born in Jewett.
Bob Burgin began his Arlington ISD career in 1960 as a math teacher at Carter Junior High. He later taught at Arlington High School before moving to Korea. Upon his return to the United States in 1975, Burgin was an assistant principal at Hutcheson Junior High for one year, Gunn Junior High for four years and Nichols Junior High for three years.
He was named the principal at Nichols in 1982. In 1989 he was named the principal at Arlington High School, a role he held until 1993 when he retired. Even though he was no longer a full-time district employee, he worked part-time for the district in the personnel department. Burgin Elementary opened in 2000.
"Bob Burgin has left an indelible mark on our district and the community," Arlington ISD superintendent Dr. Marcelo Cavazos said. "As a teacher and administrator, he helped shaped the minds of students and staff throughout the city. The work the Burgin family has done outside the district is impossible to measure. His death will be felt by so many in the community and the region."
Burgin's work in Arlington continued after he left the district with the efforts of the Burgin family at Mission Arlington, which the family started in 1986. Bob Burgin served as pastor at Parkview Fellowship and volunteered at Mission Arlington.
Burgin is survived by his wife of 65 years Tillie, two sons Rick and Jim, five grandchildren, two great grandchildren and two siblings.
There will be a visitation Wednesday, Aug. 24, at Wade Family Funeral Home from 6-8 p.m. The funeral is Thursday at 1 p.m. at Parkview Fellowship Church.