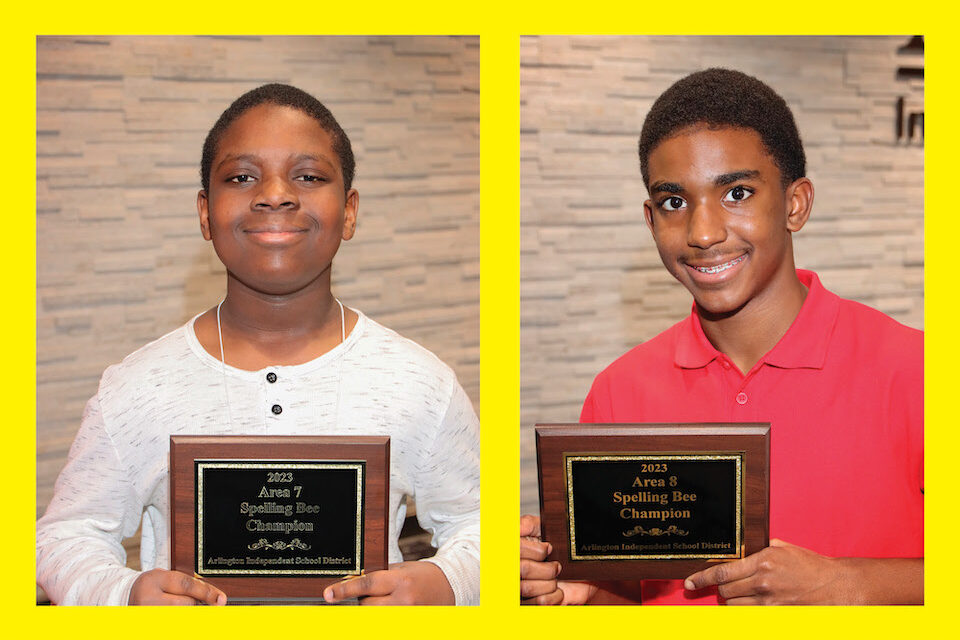 Spelling champs move on to regional bee
Have you heard of the words frison, sepulchral or vexatious? 
If your answer was no, that's ok. Most people don't know what those words mean or how to spell them. But several students in the Arlington ISD were not stumped when they heard those words during the Arlington ISD Area Spelling Bee. 
Richmond Agyei from Ashworth Elementary School (Area 7) and Terrance Williams from Shackelford Junior High (Area 8) were crowned the district's top two spellers out of 61 participants. Williams now holds back-to-back championship titles after taking home the crown in the 2022 competition as well. 
Both winners will advance to the regional bee in Fort Worth at Texas Christian University on March 7. 
Agyei, a sixth grader, won the competition by spelling nicoise, which is a French salad with tuna, green beans, hard-boiled eggs, tomatoes, olives and potatoes. He remembered seeing the word on one of his spelling packets, and the rest was history. In a stiff competition, Agyei topped Anthony Vo, a fourth grader from Ditto Elementary, after 12 rounds. 
"At first I didn't recognize the word, but then I just went with my gut," said Agyei. "It's like a dream. When I came to my first spelling bee, I didn't do well, so I wanted to pursue the dream of coming here one more time. I'm glad I overcame that fear." 
Agyei is taking advantage of technology by using a mobile app to practice spelling every day. He even uses flashcards to study two packets of words, too. 
Williams, the reigning champion eighth grader, claimed first place over eighth-grader Leonardo Arroyo from Boles Junior High after 13 rounds. For a while, the competition seemed like déjà vu, because the duo included the last two standing in last year's competition, too. 
Williams won the competition by spelling arsenic, a chemical element that occurs in many minerals. 
"I thought the word would be a lot harder considering how many rounds it took for people to get out," said Williams. "Anybody can spell if they take the time to learn and practice. This just makes me want to try harder at everything else I do because I know I can get better at them." 
The spectacular speller studies words with his mom daily for about 90 minutes, then they review on the weekends. He was even tempted to quit the spelling bee at one point, but after some encouragement from his dad, he realized he couldn't let all his studying go to waste. 
It's safe to say the studying paid off.