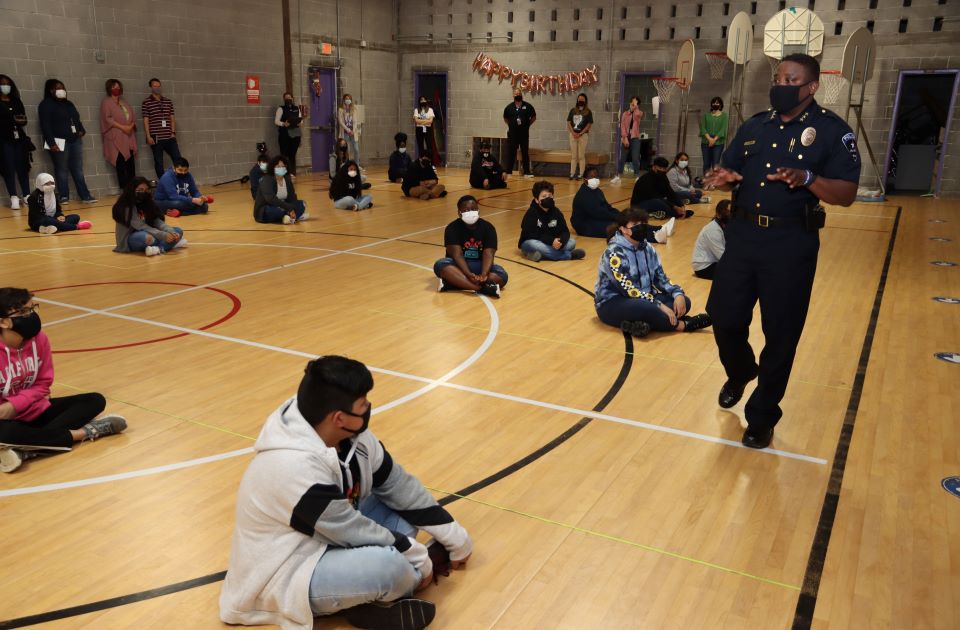 Police chief visits Crow Leadership Academy
While the school year is coming to a close, taking safety precautions should be never-ending for students and members of the community. Arlington Police Chief Al Jones and Arlington ISD Superintendent Dr. Marcelo Cavazos joined forces to remind Crow Leadership Academy sixth graders to stay safe during the summer break.
Through the "Take 25" campaign, Arlington Police Department encourages students to read for at least 25 minutes per day. With just days remaining before the summer break, Jones and other APD officers are also challenging students to create a safety plan with their parents and guardians for activities such as trips to the neighborhood parks, amusement parks, movie theaters and malls.
"It is imperative that students, as well as parents, pay attention and take preventative measures to ensure safety," said Cavazos. "Take some time to talk about safety and ask hard questions, because the more you have these conversations, the better prepared you are."
The chief and his team of officers urged students to call 911 not only when there are notable emergencies but also when people look suspicious.
"If you see something suspicious or someone is making you uncomfortable, say something. Call us so we can come check it out for you," said Jones.
Jones, who took over as chief in January, shared his heart for being active in and providing service to the community.
"Our job as police officers is to make sure we're providing community service to everyone every day," said Jones. "We want you to be successful in school and safe at all times. Every single person in a blue uniform is your friend, and we want to help you succeed."
Crow Leadership Academy emphasizes leadership to its students through school projects and engaging lessons about integrity, honor and service.
"Caring, balanced, risk-taker and communicator are all words we try to instill in students' character, and it was really fun for them to see those attributes exemplified in Dr. Cavazos, Chief Jones and his officers during their presentation," said Principal Jamie MacDougall.  "Of course, we want our kids to excel in academics, but we also want to grow them as people, too. It's exciting to have our police officers here today to help the students see what it looks like to serve the community and use their gifts for good."
Jones and MacDougall are in accord when it comes to molding great students into better leaders. 
"These are the types of events I love, because we have to be engaged in the community constantly," said Jones. "We have to keep having these conversations, so students will know and understand how to make good decisions and be good citizens of the community."
Arlington is one of the few cities in the nation whose department requires all officers to obtain a bachelor's degree before joining the academy.
"Getting your education should be your main priority. We want you to grow up and serve your community with us one day," said Jones. "Until then, you can still be a community partner with us by letting us know when crimes are being committed and providing helpful information to help us solve cases."
Arlington ISD has a partnership with the police department for students interested in working in law enforcement.  Students may begin taking courses at the student police academy in 11th grade and have the opportunity to interview with Arlington Police Department after obtaining their bachelor's degree from UT-Arlington. For more information on the student police academy, please visit aisd.net/career-technical-center.