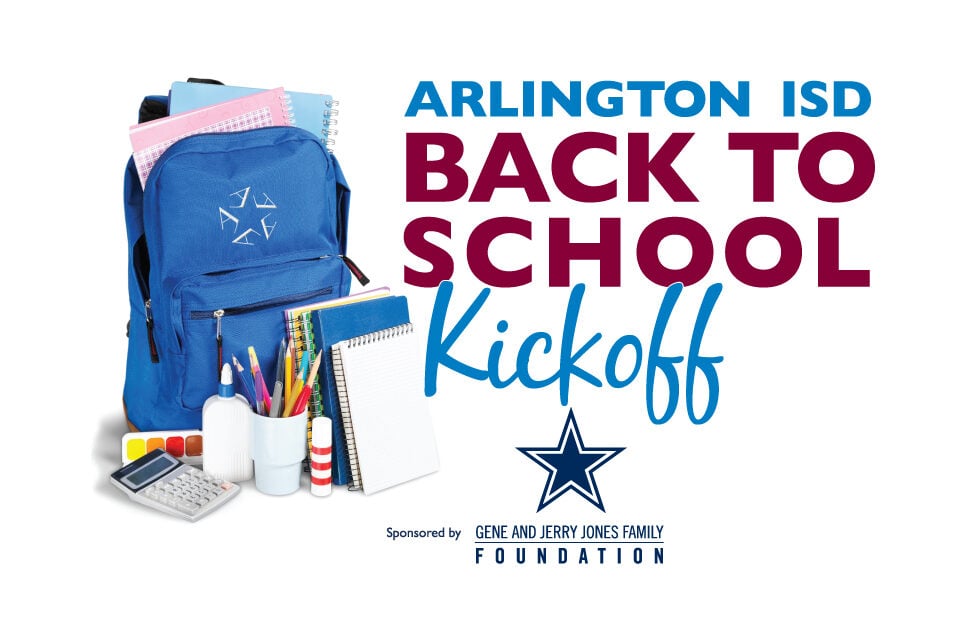 The eighth annual Arlington ISD Back to School Kickoff is returning to its roots with an in-person event set for Saturday, Aug. 6, at AT&T Stadium, from 8 a.m. until 12 p.m.
This is a chance for students to get a head start for the 2022-23 school year by getting a backpack full of age-appropriate school supplies to set them up for success for the school year.
You can register for the kickoff here.
The event, sponsored by the Gene and Jerry Jones Family Foundation, will also include haircuts, dental and health screenings, booths with information about available community resources and information about immunization opportunities.
"We're so excited about being able to return to our kickoff in a face-to-face setting," said Aaron Perales, Arlington ISD's executive director of engagement, equity and access. "Seeing the look on a student's face when they get their backpack brings joy to all that take part in the event. With great partners and sponsors, this is a wonderful opportunity to get our students ready for the first day of school."       
There will be 10,000 backpacks available at the event for families who are eligible for free and reduced lunches at school.
When you register, you will be asked to select a time slot to attend the event. You can keep up with all the latest news on the Back to School Kickoff here.
The kickoff also provides volunteer opportunities for individuals and groups. Volunteers can do everything from hand out backpacks to check in students. You can sign up to volunteer here. There are also sponsorship opportunities available for the event. Find out more information about sponsorships here.