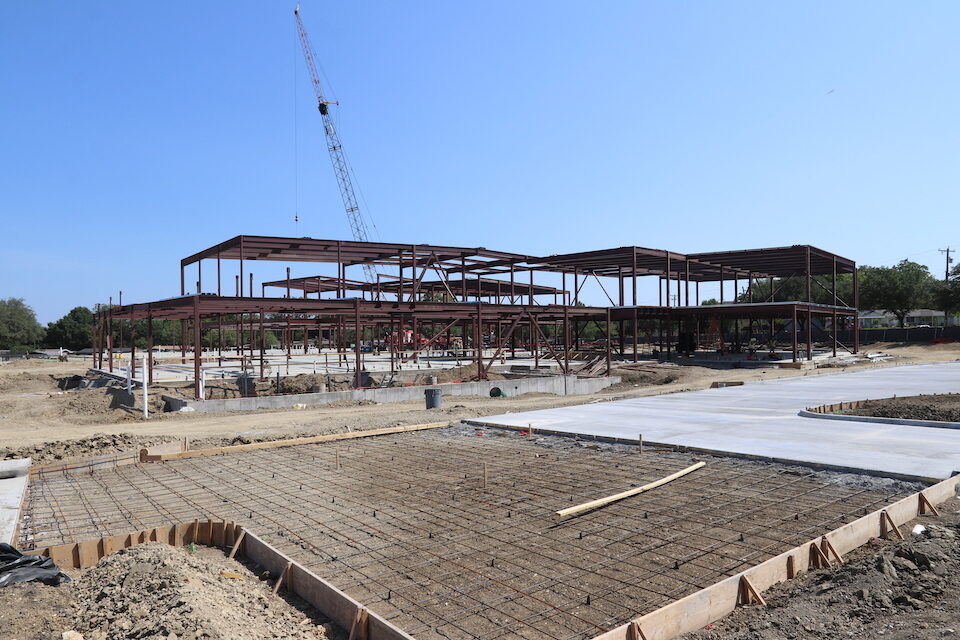 The future Berry Elementary School has gone vertical.
That means the steel is now being erected for the frame of the facility. After lots of preparations – grading, installing utilities, drilling piers, pouring grade beams and more – it's starting to look like a real building.
The original Berry, which first opened in 1955, was demolished last fall to make way for a new building. Berry's students and teachers have been housed this past school year and next in a temporary location – the former Roark Elementary – until the new building is ready to open in the fall of 2023.
The New Berry
The future Berry is one of four school replacements funded by the 2019 Bond, an effort to modernize the district's schools and revitalize their neighborhoods. It's all about providing generations of students with the opportunities they need to succeed in the 21st century.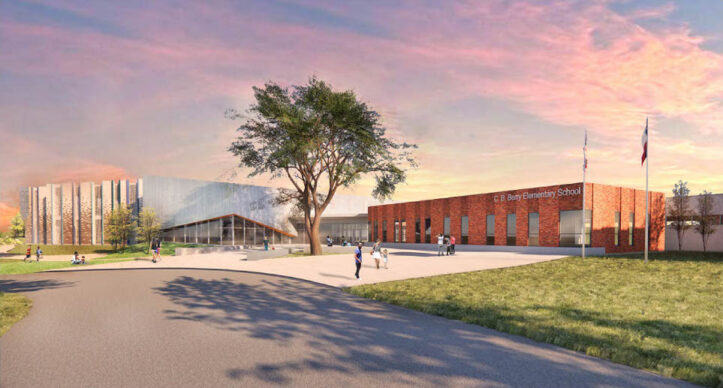 "We are excited about what this is going to bring to our community," said Berry principal Rose Ravin, "not just for our district but especially in our east Arlington area. We know this building will provide opportunities for our east Arlington students. We are excited because they will be a part of making new history, new memories, new learning, new designs and new creations."
The new building will indeed provide many opportunities for students because of its purposeful design. It was carefully planned by HKS Architects with input from Berry teachers and staff, students and parents. The two-story school building with nearly 105,000 square-feet will feature five classrooms for each grade (pre-K-6), a media center, fine arts classrooms, STEM labs, makerspace, collaboration spaces, outdoor areas and more.
"It's for you," Arlington ISD Superintendent Dr. Marcelo Cavazos told fourth-grade Berry students at the groundbreaking ceremony in December. "It's for your future. We know that if you have the right spaces and the right environment and the right teachers, nothing can stop you."
Upcoming construction work includes installing electrical and plumbing, hanging a lot more steel and pouring a lot more concrete. The new elementary is being built by Joeris General Contractors on the site where the original Berry stood and is scheduled to open for the beginning of the 2023-2024 school year.