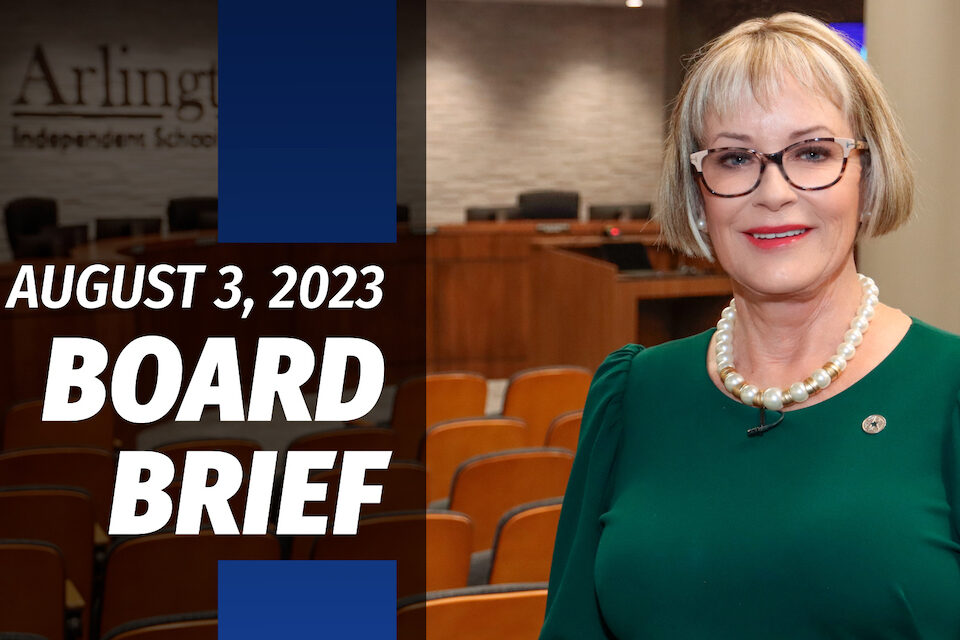 Board hears update on TEA accountability changes
Arlington ISD's Board of Trustees meeting on Aug. 3, 2023 – the first meeting of the 2023-2024 school year – is in the books, and here are a few of the highlights.
This is an exciting and busy time of year. With the first day of school – August 16 – just days away, a lot of the board business had to do with approving new hires and making purchases for the school year.
The board also re-approved an interlocal agreement that the district has with Tarrant County College and the Arlington Fire Department. These partners help Arlington ISD offer our outstanding Fire Academy program for 11th and 12th graders. The academy provides a rigorous academic model and curriculum that gives students the opportunity to earn their Basic Fire Fighter's certificate and dual credit. We're so grateful for our partners, TCC and AFD, for helping make the Fire Academy possible.
The board also received an update on the 2019 Bond program from Kelly Horn, assistant superintendent for facility services. The 2019 Bond program is a $966 million five-year capital program that includes new construction, renovations and facility condition improvements, along with capital purchases for technology, fine arts and transportation. Much of tonight's presentation focused on all the construction and renovations going on this summer at schools across the district. And the big highlight is the two new elementary schools that are opening this month – the new Berry and the new Thornton.
Finally, Dr. Christi Buell, interim chief academic officer, and Dr. Natalie Lopez, assistant superintendent for research and accountability, gave the trustees an update on the changes that are coming to the state's A-F accountability ratings. This is the system that the state of Texas uses to grade the performance of public school systems. The Texas Education Agency – or the TEA – has been working on a plan to refresh the system but won't release all the technical details of the overhaul until next month. Until then, this presentation outlined the general changes we can expect and how they will impact the district and our schools.
Those are just a few of the highlights from tonight's meeting. If you would like more details on any of these, or any of the items not covered in the Board Brief, you can watch the entire meeting here.
Thank you and have a great start to the new school year!