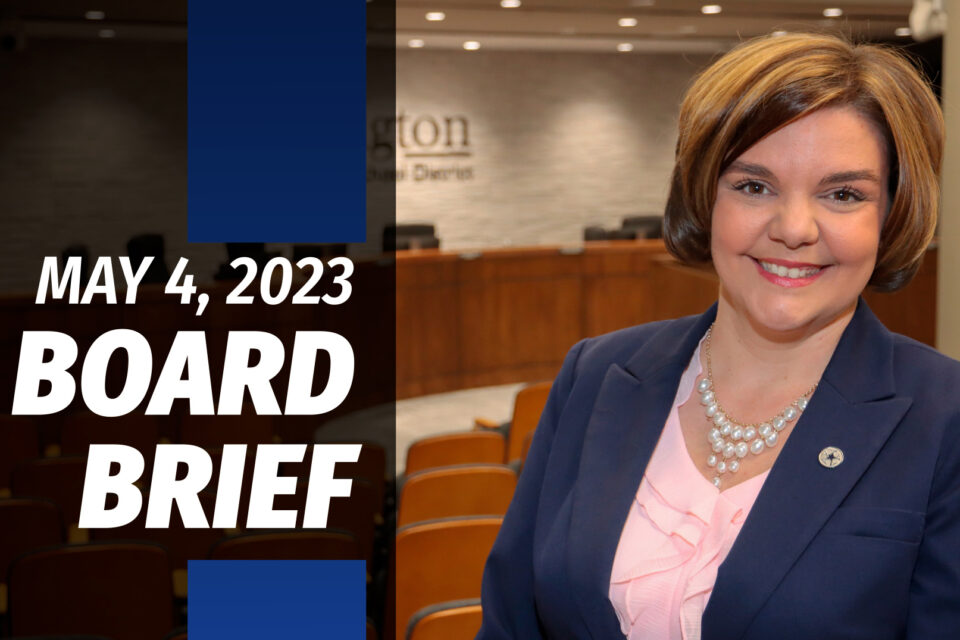 Arlington ISD's Board of Trustees meeting on May 4, 2023, is in the books, and here are a few of the highlights.
The district has been celebrating the 50th anniversary of its strings program this year, so the meeting started with a performance from some of the region's most elite junior high musicians – Arlington ISD students, of course. The nearly 40 students performed a selection from their regional concert conducted by Don Sibley, the head director of orchestras at Gunn Junior High and Fine Arts and Dual Language Academy.
Then the Board of Trustees honored the student of the month, Jeffrey Baird, a senior at Venture High School. Jeffrey has pushed through many challenges during his high school years, but he has put in lots of hard work and persevered. The staff at Venture quickly learned that when Jeffrey puts his mind to something, you'd better believe he's going to get it done. And that includes graduating this August. Congratulations, Jeffrey.
As everyone knows by now, Arlington ISD superintendent Dr. Marcelo Cavazos is retiring. The district is so grateful for his leadership and the love he has poured into everyone in Arlington ISD. He certainly leaves big shoes to fill, but the board is confident it will find a great new superintendent. And tonight, the trustees announced that they have selected their lone finalist, Dr. Michelle Cavazos, no relation to current superintendent Dr. Marcelo Cavazos. (Read more.)
After the big announcement, the trustees moved on to normal business items, including approving the general contractor for the Bond 2019-funded renovations and addition projects at South Davis and Duff elementary schools.
The board also received a progress update from Chief Academic Officer Steven Wurtz on implementation of the district's strategic plan for 2022-2027. The five-year plan – Powered by Possibilities – is about providing outstanding equitable programming for all students and meeting the needs of students and staff within the context of unfinished learning. Tonight's presentation provided a progress update on the district's work in year one and details about focus areas for year two.
Finally, the board took time to thank its two outgoing trustees, Kecia Mays and John Hibbs. They have been pillars on the board for so many years and have given so much to this district. Thank you, Kecia and John.
Those are just a few of the highlights from the meeting. If you would like more details on any of these, or any of the items not covered in this brief, please click here to watch the entire meeting.