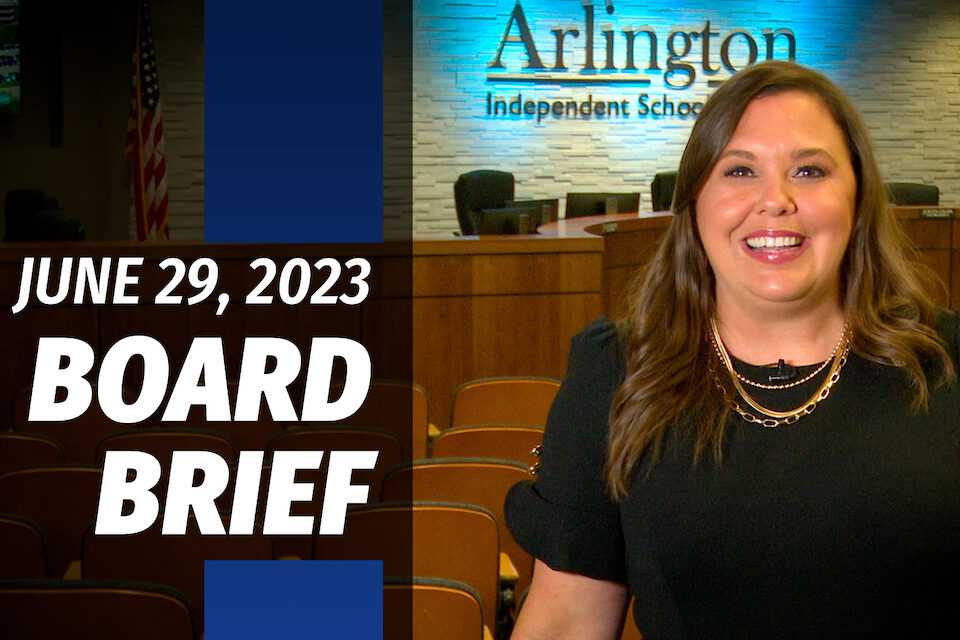 Last board meeting of 2022-2023 fiscal year
Arlington ISD's Board of Trustees meeting on June 29, 2023, is in the books, and here are a few of the highlights.
Up first was a report from the Citizens Bond Oversight Committee. The CBOC is a group of 11 community members appointed by the Board of Trustees to provide findings and recommendations to the Board relating to the 2019 Bond program. They meet quarterly to assess bond progress and expenditures and to tour bond-funded construction projects. Then they develop an annual report with their findings and recommendations. Watch the full board meeting to hear the report or visit our CBOC webpage in the coming days to read the presentation.
Trustees also received a financial update from Arlington ISD CFO Darla Moss on the budget for the 2022-2023 fiscal year, which ends at the end of the month. Then later the board approved the monthly financial report on operations and the district's investment activity report through May.
The board also re-approved an agreement with district partner Child Care Associates. Through this partnership, Arlington ISD offers the Head Start Pre-K 3 PLUS program at Kooken Education Center, a great program that provides resources and support to not only the students, but also to their entire families.
Finally, the trustees heard an update on the current 88th Texas Legislative Session, which was supposed to end in May. However, the governor has already called one special session and may call more. Public education will continue to be an important topic and new legislation could still impact the district's legislative priorities: school safety, school finance, human capital, learning lag and parental rights.
Those are just a few of the highlights from the meeting. If you would like more details on any of these, or any of the items not covered here, please click here to watch the entire meeting.