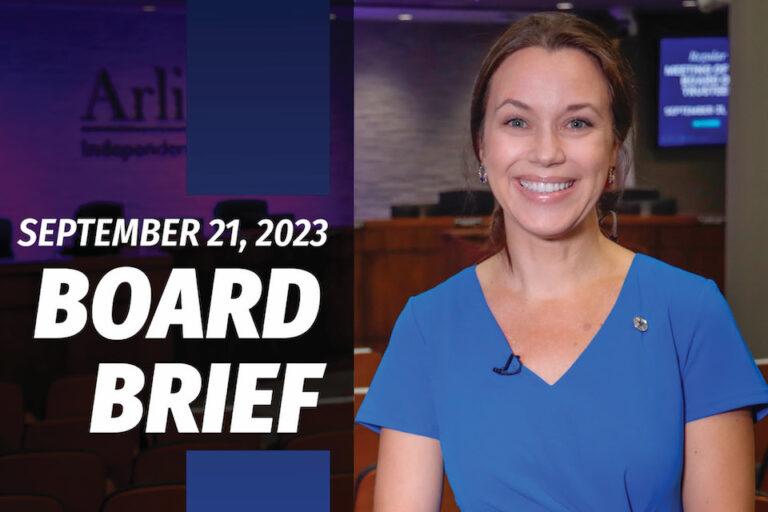 Trustees adopt new lower tax rate
Arlington ISD's Board of Trustees meeting on September 21, 2023, is in the books, and here are a few of the highlights.
The trustees were introduced to the new Student Leadership Advisory Board last night. This outstanding group of students includes the junior class presidents from each of the district's six traditional high schools, plus representatives from Arlington Collegiate High School and Arlington College and Career High School. These young leaders represent their classmates and share their perspective with the Board of Trustees.
Each year the board needs to adopt the school district tax rate. It's what provides the revenue for the general operating fund and debt service fund budgets. The rate is based on the 2023 property values and the Maximum Compressed Rate set by the Texas Education Agency. For this year, the board approved a total tax rate that is actually less than last year's. The new rate is $1.1156 per $100 valuation.
Keeping with finances, the board also approved the monthly financial report on operations and the district's investment activity report through July.
In these Board Briefs, the district's improvement plan is a regular item. Board policy requires the district to develop, evaluate and revise this plan annually. The plan's purpose is to guide staff in the improvement of student performance for all student groups in order to attain state standards. Last night, the board approved the 2023-2024 District Improvement Plan's goals and performance objectives after they were presented by Dr. Christi Buell, Arlington ISD interim chief academic officer.
The trustees also considered and adopted a resolution authorizing district administration to join current litigation against the Texas Education Agency. Arlington ISD is joining many other districts from both DFW and across the state in challenging how the TEA is implementing changes to the state's A-F accountability system for schools and school districts. The TEA intends to implement the changes and issue ratings next month. But it still has not given school districts all the rules for the new accountability system – which is in violation of state law.
Those are just a few of the highlights from tonight. If you would like more details on any of these, or any of the items not covered here, please click this link to watch the entire meeting.