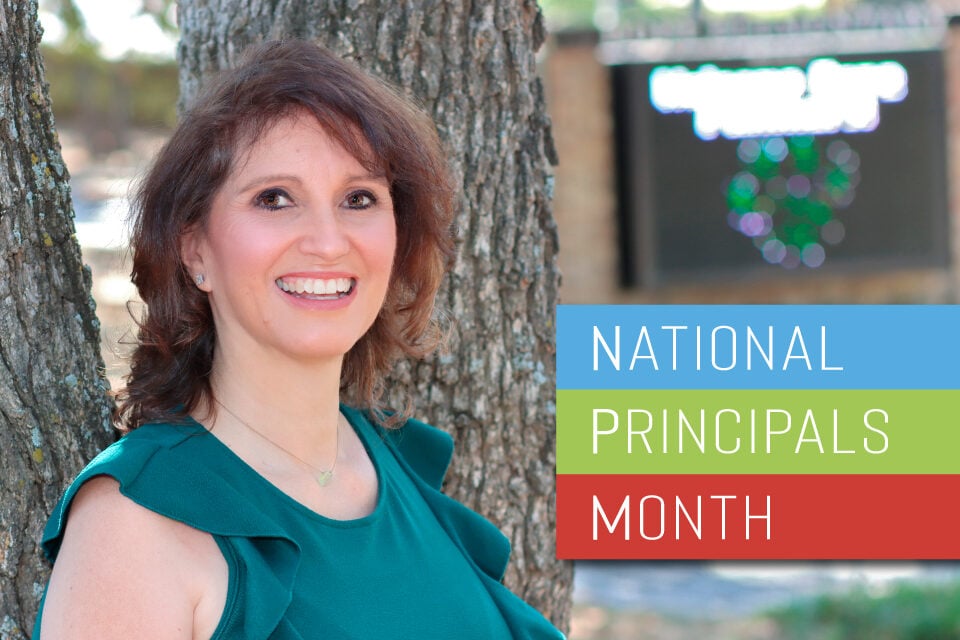 October marks National Principals Month, and we want to honor the 76 principals we have in Arlington ISD who work hard in our vision of making the Arlington ISD a premier school district and leader of education.
No principal has been at her campus in the district longer than Pope Elementary principal Celina Kilgore. Kilgore is in her fourth decade as principal at Pope, having started in 1999. She began her career in the Arlington ISD 32 years ago as a teacher at Blanton Elementary. As we highlight principals this month, let's start with the one who's our longest-tenured principal.
What was your childhood aspiration, and how does it align with your current position as a principal?
My mother finished her college degree and teaching certification when I was in third grade. I loved being able to help her in her classroom and decided that I wanted to become a teacher, just like my mother. It wasn't until after I started teaching at Blanton that my principal, John DeMore, and assistant principal, Connie Spence, encouraged me to work on my master's degree and consider administration. Connie and I used to talk for hours after school in her office and dream about becoming principals!
What's your most fulfilling part of every day or every year?
One of my most fulfilling parts of my day is the moment I receive unexpected hugs from kids. Whatever may be happening at the moment, a special hug from out of the blue reminds me how special every interaction with every kid every day is important and can instantly change the course of the rest of my day.  One of the most fulfilling times of the school year is the excitement of our "end of year" awards' assemblies. I absolutely love looking every child in the eye, shaking their hands and telling them how proud I am of each of their accomplishments. I look forward to them every year!
What's your favorite memory as a principal so far?
This is the beginning of my 23rd year at Pope so I have so many favorite memories that I could just write a book. I will share one from my first year and first day at Pope. Before my official first day, I had driven to and around the school numerous times to become familiar with the neighborhood and the school campus. I couldn't wait to get the keys and start meeting the staff. Jerry McCullough was the deputy superintendent, and I knew him well as he worked closely with assistant principals. On my first day, I drove into the front parking lot of Pope and gasped. I was extremely concerned and confused because I noticed the school marquee was missing. How in the world could this large, heavy structure be gone? I couldn't believe my eyes and walked over the space where it had been and could clearly see it was missing. I immediately called Mr. McCullough and he was just as confused as I was, so we decided I needed to make a call to security and ultimately consider calling the police. I was so nervous and upset that the marquee was missing and was worried about how I was going to explain this to the staff and the community. While I was trying to decide on next steps, I received a telephone call from the PTA president, Linda Black. She welcomed me to Pope and let me know that the PTA had contracted with a company to have some maintenance done on the marquee over the summer. I was so relieved and embarrassed when I called Mr. McCullough back to let him know the marquee had been located. He never let me live that down!
Who was your favorite childhood principal and what did you learn from them?  
I remember my school principals but truly connected with my teachers through all my elementary, middle and high school years. My favorite principal was John DeMore. Although he was not my childhood principal, he hired me as a teacher fresh out of college. He was positive, encouraging and challenged me to continue to push myself to my potential. We are still close friends today!
What legacy would you like to leave behind? How would you like to be remembered?
I would like for my legacy to be that students, staff and parents have positive memories about their stay at Pope. We work hard on academics, and we know that when students leave Pope, they have a strong academic foundation. We may not always remember how we learned to read or how we learned our multiplication facts, but we always remember special memories of people we encountered, special events and how someone impacted our lives. Former students, staff and parents return to Pope periodically, just to let me know about the memories they have of Pope, and I am always so proud to hear of the positive feelings they have of their time spent here. Pope holds a special place in my heart. I am the third of three principals. I have had the privilege of celebrating the 30th, 40th and 50th year anniversaries of Pope with this wonderful community. We have experienced so many highs and lows together. I would like to be remembered for leading with my heart, having high expectations for staff and students, and sincerely caring about my staff, students and community.