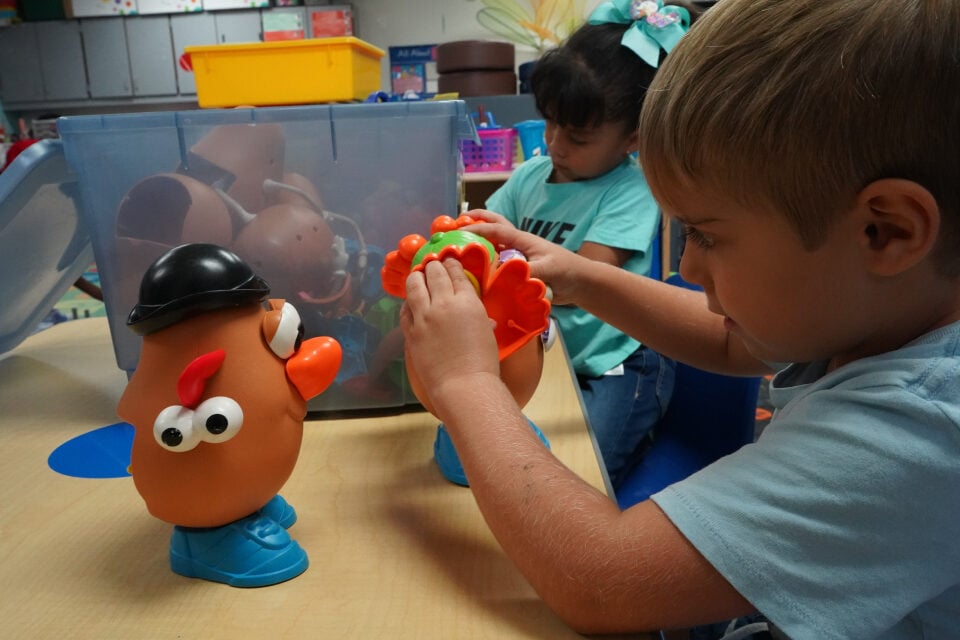 Who says Mr. Potato Head can't have feet for ears?
Certainly not the pre-K 4 students in Bobbi Nelson's class at Swift Elementary. Students are finding all kinds of ways to use their imagination as this year's curriculum takes them Full STEM Ahead! What's sparking their imaginations? Centergize!
What is Centergize?
Centergize time lets students choose from a variety of centers, or stations, in the classroom that pique their interests and allow them to explore independently or with fellow classmates.
"The students learn in a group setting how to get along and how to work as a team and share," said teaching assistant Linda Bradley. "We definitely want them to learn kindness."
Centergize uses the power of small groups to spark imaginations and develop a variety of skills.
"Small group instruction is designed to target a specific skill or standard that is either extended from a whole group lesson or introduced as an entirely new lesson," said Ken Foster, Arlington ISD early childhood learning instructional specialist. "The idea of small groups is to hone the skills required to be learned with trial and error.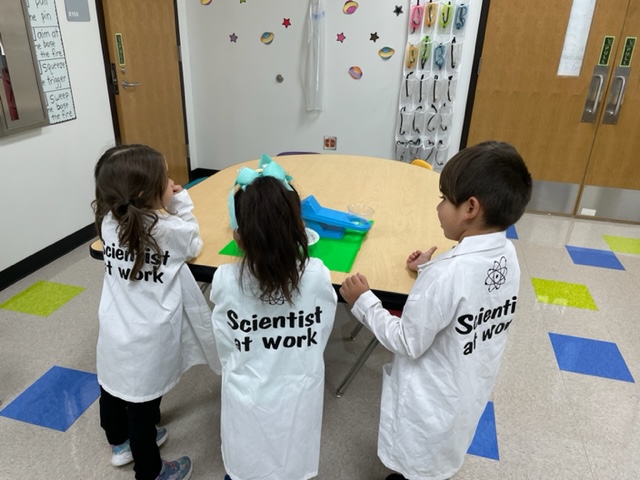 "Based on where the student is currently operating in terms of cognition and learning a skill, the teacher assists and facilitates the instruction accordingly to achieve mastery."
So many choices
Pre-K 4 students in Nelson's class can choose from a variety of Centergize stations. There is everything from sand and science tables to arts and crafts.
On a recent Friday, the most popular Centergize choices included the block station, scribble station, Play-Doh and clay station and the reading and listening station.
Block station
When students play with blocks, cars and trucks, they learn about the concepts of shape, size, length and location. This helps them to create and repeat patterns and to use their imagination while using the materials.
That's exactly what Tranell was doing as he played with cars while working on number recognition and learning his colors. Nearby, Ma'Riah played with blocks to work on her fine motor skills.
Scribble station
Over at the scribble station, Matias and Ellie were busy creating a masterpiece – and working on their hand-eye coordination. They also practiced their writing skills with markers and crayons.
Play-Doh and clay station
Mackenzie, James and Delanie looked like chefs in the making as they made colorful pancakes and cookies at the Play-Doh and clay station. Working with Play-Doh and clay helps develop small muscle skills. It also teaches students about shapes and relative size while encouraging creativity.
Reading and listening station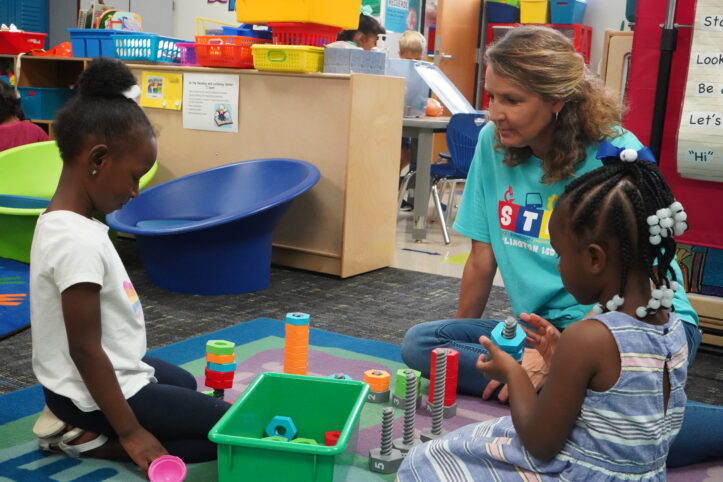 In the reading and listening stations, pre-K students learn about letter forms, words, phrases and stories. They learn new vocabulary and naturally improve their listening skills while enjoying new books.
Serious Fun
Centergize is yet another fun way that Arlington ISD's pre-K helps the littlest learners grow and thrive. While students just think they are playing, they are also laying the foundation for their future educational journey.
"We want to prepare all of our pre-K students for kindergarten," Nelson said. "We take that seriously. I want to ensure that all my children can follow directions and work well with others, so we work hard on that."
Registration is still open!
If you have not signed your 3- or 4-year-old up for pre-K yet, don't worry, you're not too late. You can start the registration process online here or visit the school your child will attend. Learn more at aisd.net/prek and feel free to contact the pre-K team at (682) 867-9418 or prekquestions@aisd.net with any of your questions.