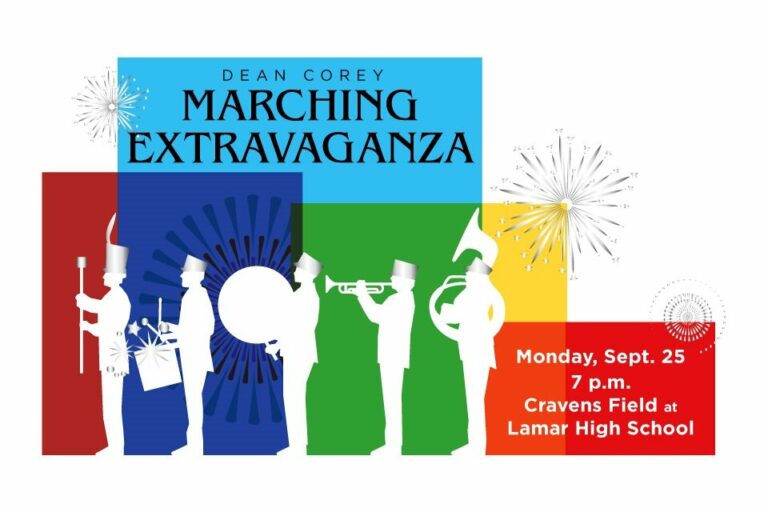 It's that time of year again!
Dean Corey Marching Extravaganza
The Dean Corey Marching Extravaganza is back and better than ever for the 41st annual competition taking place on Monday, Sept. 25, from 7- 8:30 p.m. at Cravens Field at Lamar High School.
As in previous years, all six of Arlington ISD's phenomenal high school marching bands (Arlington, Bowie, Lamar, Martin, Sam Houston and Seguin) will perform as they set their eyes on the UIL Region Marching Contest that takes place Oct. 10 at Vernon Newsom Stadium in Mansfield. During the competition, students and directors will receive evaluations from some of North Texas' respected band teachers.
Fine Arts
Arlington ISD assistant director of fine arts Joe Munoz believes the event is an opportunity for the community to come together and see the district's high school programs and let our kids know how much we support them.
"Dean Corey Marching Band Extravaganza is always a special part of the fall," said Munoz. "Seeing our high school band students showcase their hard work and talent in an event that allows them to perform their marching band productions in an environment like what they will experience at UIL is critical to their preparation."
The University of Texas at Arlington's marching band will also perform at the extravaganza, giving district students the opportunity to see a university marching band up close.
History of Dean Corey Marching Extravaganza
This extravaganza honors the legacy of Dean P. Corey, an Arlington High School band director from 1949-1972, who later served as coordinator of music activities for the district from 1972-1980. Corey is also the namesake of Arlington ISD's elementary school Corey Academy of Fine Arts and Dual Language.
Grab your tickets!
Tickets are $7 and can be purchased online here or at the gate (cash only). Proceeds from all ticket sales will benefit the Arlington Music Enrichment Program. The mission of the Arlington Music Enrichment Program is to improve the musical education experience for all Arlington ISD students in band, choir and orchestra programs by providing financial assistance to students for music lessons.
Be sure to follow the district's Facebook, Instagram and Twitter pages for posts from the event on Sept. 25.
For any questions about this event, email the event coordinator, Rhonda Ceaser, at Rceaser@asd.net.