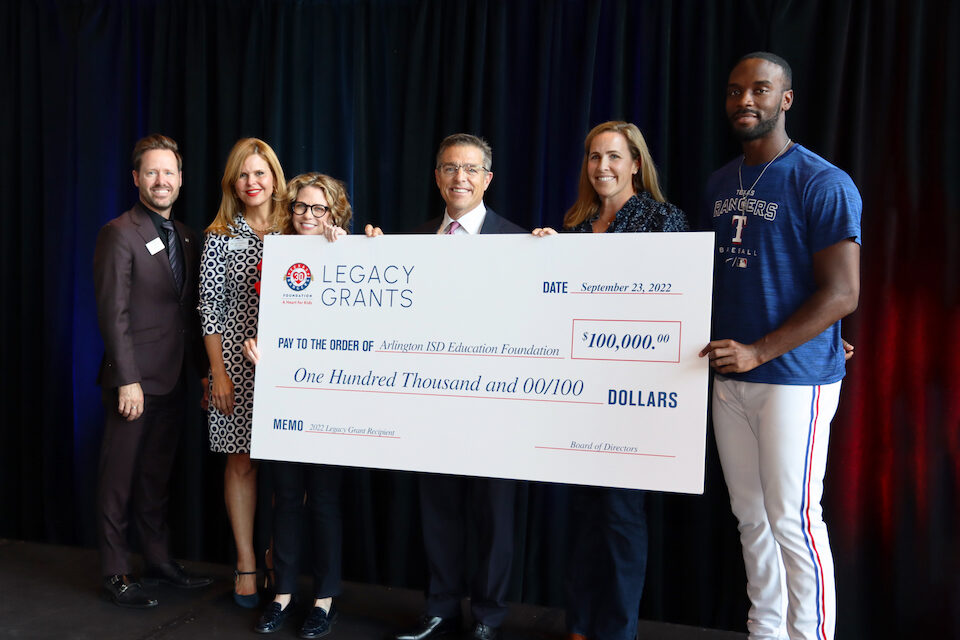 Education Foundation wins big with Texas Rangers
The Arlington ISD Education Foundation and the Arlington ISD came out big winners thanks to the Texas Rangers Friday even before a pitch was thrown at Globe Life Field.
The education foundation was the recipient of a $100,000 grant as part of the Texas Rangers Baseball Foundation's Legacy Grant program.
The baseball foundation honored five non-profits with grants at a press event before the baseball game. Representatives from the five grant recipients will be honored on the field before Saturday's Rangers game against Cleveland.
 The education foundation will use the grant for the district's littlest learners, as the money will go to promote education, physical development and athletics for pre-K students.
Pre-K 4 students throughout the district already have hands-on experiences through the new STEM curriculum. Thanks to the grant, there will be more hands-on play outside as the grant will allow the district to buy everything from T-ball equipment to Hula hoops to bouncers.
It's another game changer for the district's innovative pre-K program.
"We're fortunate to have outstanding partners like the Texas Rangers Foundation," Arlington ISD superintendent Dr. Marcelo Cavazos said. "We've made a huge investment in our pre-K students, and the foundation is helping us further that cause by providing them outstanding opportunities for physical activity. I can't wait to see the impact this makes on our students."
Arlington ISD chief academic officer Dr. Steven Wurtz can't wait to implement the equipment the grant will provide.
"Pre-K is an opportunity not only for learning academic skills but also to build lifelong learning habits for physical and emotional health and wellbeing," said Wurtz, who attended the press conference along with Arlington ISD early childhood director Dr. Jackeline Orsini. "This opportunity provided by the Texas Rangers Foundation will give students a chance to be physically active and develop their gross motor skills with building habits they can use throughout their lives."
The five grant recipients were honored as the Rangers celebrated their 50th anniversary and 30th year of the Texas Rangers Foundation.
The Arlington ISD Education Foundation was the only Arlington-based grant recipient out of 160 who applied. The grants were the largest individual grants distributed in team history.
"The Arlington ISD Education Foundation is proud to partner with the Arlington ISD and Texas Rangers Foundation to bring innovative hands-on discovery and play to all of the district's pre-K students," said Arlington ISD Education Foundation board president Kelly Curnutt. "There's no better way to celebrate the legacy of 50 years of the Texas Rangers than through building stronger, healthier futures for Arlington ISD's youngest learners."