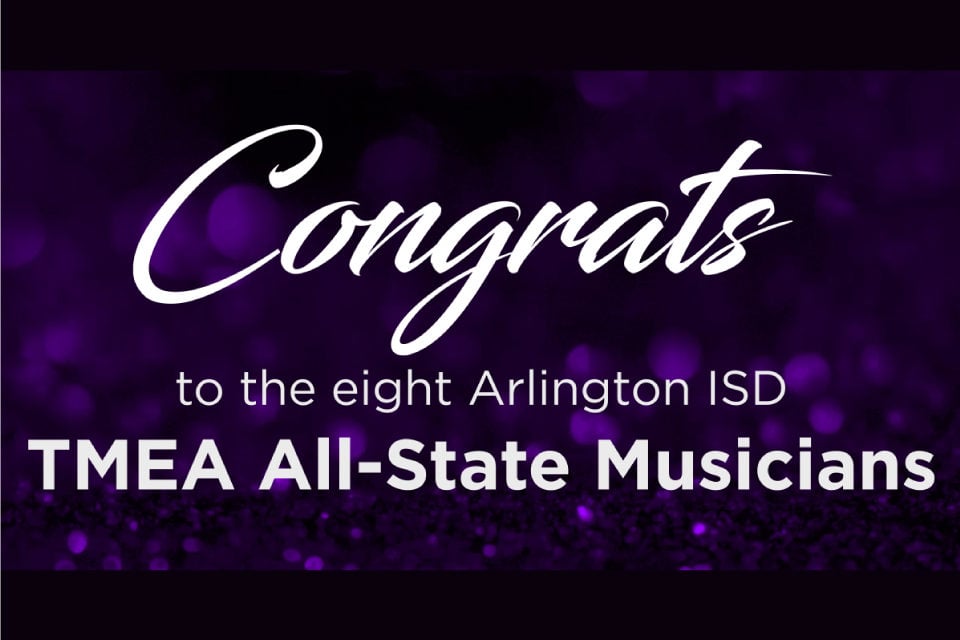 Students represent choir, band and orchestra
When measuring the degree of difficulty in earning Texas Music Education Association (TMEA) All-State status as a musician, consider that those who reach such a lofty honor represent the best of the best – the top two percent of all high school musicians in Texas.
Now consider the fact that eight of them are students in the Arlington ISD.
"This achievement is a testament to the many hours of hard work put in by these students and their dedicated directors," said Michael Stringer, Arlington ISD's  assistant director of fine arts and performing arts. "Being named a Texas All-State musician takes over eight months of preparation and many rounds of competitive auditions. You can't take lightly that approximately two percent of students who begin this competitive process are ultimately named a Texas All-State musician. We celebrate this amazing achievement with these awesome students."
Kathryn B., Hien D., Kiara M. and Anthony W. of Martin HS and Kate M. of Arlington HS made the cut for choir. Megan K. of Arlington and Stephen N. of Seguin are All-State Band and Ella T. of Martin made All-State Orchestra.
That means Martin had an impressive five selections.
"We have a long tradition of students being named to the prestigious Texas All-State choir," said Martin music director Kay Owens. "We're fortunate that the Martin cluster K-12 is a very strong fine arts cluster. So long before the students reach the ninth grade at Martin, elementary music teachers and junior high directors have prepared them very well."
Because of the preparation by the feeder schools, students are ready to move to the next level when they arrive as freshmen.
Martin's Anthony W. was already so accomplished that he has earned a place in the Texas All State choir singing Bass 1 three out of his four years. A member of Chorale, Chamber Singers and Variety Show Choir, he is headed for Cornell University in the fall majoring in music.
"In other words," Owens said, "it is the culture here."
The tradition is also strong at Arlington High School. Only a junior, Megan K. is the principal French horn player in the Arlington High Wind Symphony and served this past marching season as the school's junior drum major.
"She's an outstanding performer and role model for the band," said Arlington High director of bands Michael Hejny. "She has traveled to elementary schools with the AHS band and talked to young students at the two dual language fine arts academies about being in band, playing the French horn, and the hard work and dedication needed to be the best that you can be. She plans to serve as head drum major at AHS this next year. Her hard work, strong ethics and leadership qualities will serve her well in that vital position in the AHS band."
Competition for this statewide distinction is fierce. More than 50,000 students from across the state initially enter the audition process, which is multi-layered and rigorous. The process kicks off with 33 TMEA regions hosting auditions where individual musicians perform for a panel of judges who meticulously rank them. Those advancing then face area competitors. Emerging from that group are the TMEA all-staters.
A good audition, according to Martin's Owens, is generally being as close to technical perfection as possible with proper style and a keen attention to the dynamics of the music, whether it is playing in the orchestra or singing. Martin's Kate B., a senior who is a member of Chorale and the Chamber Singers, earned All-state status in music for the first time this year.
"She's quite an accomplished musician and tennis player," Owens said. "Bottom line is that there are so many talented students that walk through the doors of these choir rooms. It's competitive. I have been very blessed to teach so many talented and dedicated students through the years."