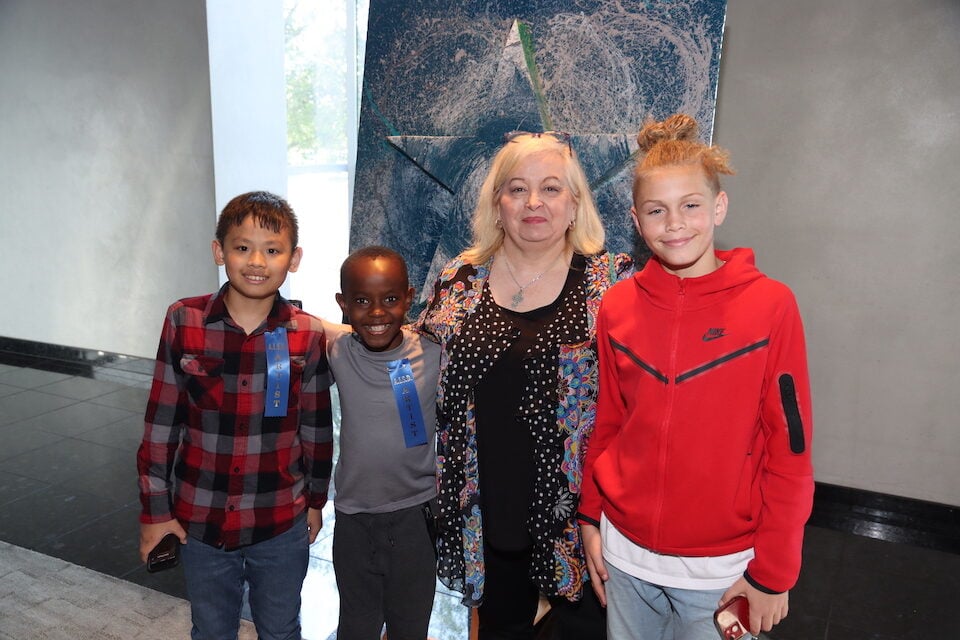 Since her first drawing with colored pencils on plain lined paper, Vanessa Osorio has had a love affair with art. She loves her art class at Bailey Junior High and has already added an Art 101 course for next year in high school.
Still, Vanessa never imagined standing in AT&T Stadium as she did last Wednesday evening and seeing her work on display.
"It's kind of amazing," she said.
Vanessa's colorful acrylic painting depicting Day of the Dead, or Dia de Muertos, one of Mexico's most expressive holidays commemorating death as a way to remember and honor loved ones, was one of the dozens of artworks produced by students for the annual Arlington ISD Fifth and Eighth Grade Art Program.
Dallas Cowboys Art
This art program, sponsored by the Gene and Jerry Jones Family Arlington Youth Foundation, has served as a rite of passage for students entering the next level of arts instruction in junior high and high school. Over the course of the school year, more than 5,000 fifth and eighth grade students received a guided tour of the vast Dallas Cowboys art collection (about 92 artworks from 62 artists) at the stadium as a way to jump-start inspiration to create their own works of art.
Last Wednesday was the culmination of that inspiration as artwork from individual students and entire art classes was displayed in AT&T Stadium. The works of art included paintings, sculptures and other unique projects that glowed with lights. Some were 2D or 3D, and were made of everything from clay to paper mache.
Art Appreciation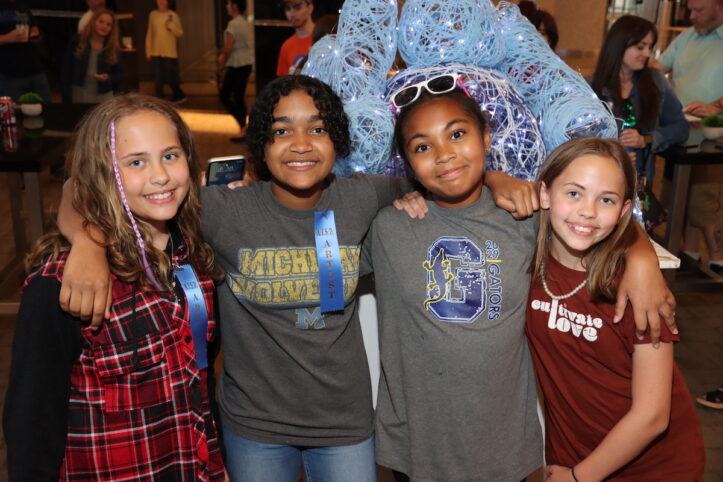 Arlington ISD assistant director of visual arts Linh Nguyen explained that the program's aspiration is to instill an appreciation for art at the elementary and junior high level and encourage these young artists to pursue art beyond their current academic station. That's exactly what Vanessa plans to do.
"For many of them, this is their first time having their art on display, so it's a big deal," Nguyen said. "It makes them feel differently about the art they produced."
Or, as Arlington ISD Superintendent Dr. Marcelo Cavazos put it during brief remarks to attendees. "You came to the stadium, not for a football game but because your artwork is here. And you came as an artist. That's what you are."
Sparking Creativity
Dunn Elementary fifth-grader Tarron Randolph never thought much about displaying his art until this year. It was his art teacher Nicole Miller who told his class about their plans to enter the program. They ended up with a work that looked like crochet, except it wasn't.
"It took us a long time to do this, but it was so much fun," Tarron said. "I do like art, and maybe more than I thought before starting this. I didn't think I'd like working as a group as much as I did."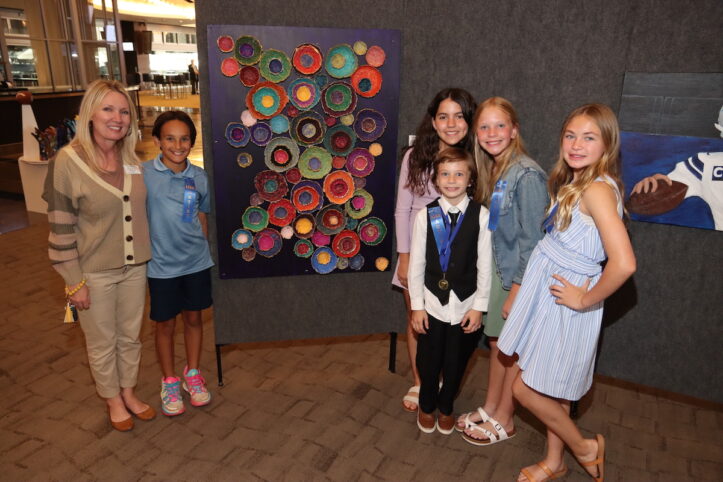 Neither did the young artists at Jones Academy of Fine Arts and Dual Language, whose display of stars was made of yarn and metal and sprinkled with lights. Their work was inspired by artist Jim Campbell's three-dimensional arrangement. The piece is of flickering lightbulbs that transform two-dimensional images into abstract apparitions open to interpretation. Stare at Jones' flickering stars long enough, and a similar effect occurs.
Jones' work demonstrates how looking at artwork sparks creativity, which is why the tours exist in the first place.
Geniuses in the Making
"This shows they were listening and learning," said Phil Whitfield, the Dallas Cowboys art ambassador who led the tours. "I told them that most artists started when they were their age and that they are the next geniuses of the world. I also told them how art does not have a race. It does not have a color, creed or religion. It doesn't have anything to do with politics. You want to free them to do what they want to do."
Arlington ISD art teachers like Jennifer Kinter from Jones couldn't agree more.
"The tour is the first time the kids noticed that art is part of a building built for football. Art doesn't have to be only in a museum," she said. "Because of this project, when they go into spaces now, they look for art, which is great because creativity starts with seeing things differently."