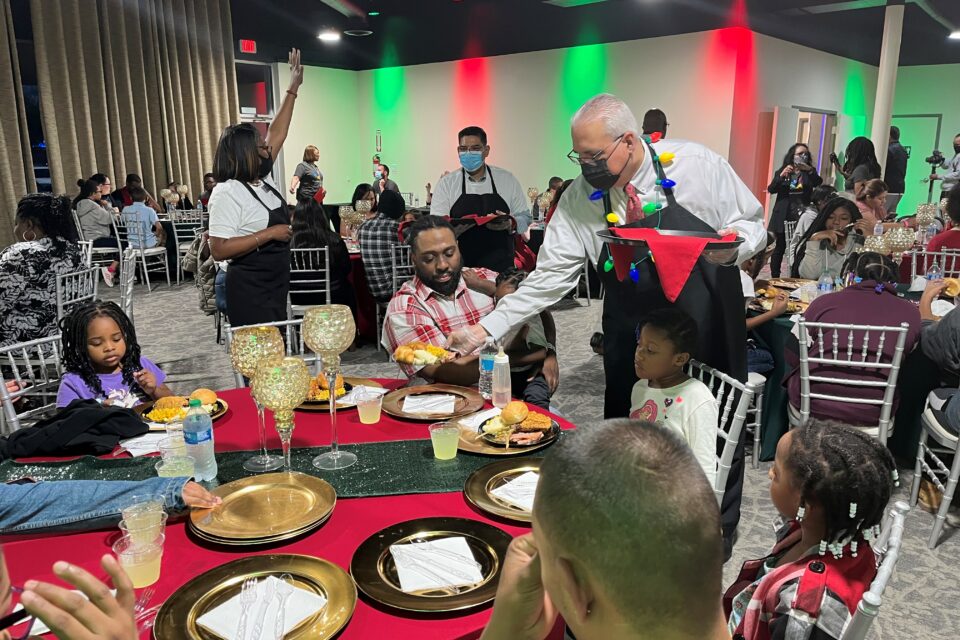 Ella B's is the Place to Be!
The holiday spirit was alive and well at Ella B's restaurant in Arlington on Wednesday.
More than 100 people from Arlington ISD's Families in Transition (FIT) program enjoyed an upscale dining experience during the inaugural Ella B's Generous Hands: Holiday Give Back Dinner, which featured a visit from Santa Claus, presents and pampering.
"We've been able to partner with many different community groups to make sure that our students and families in transition have an opportunity to have a nice dinner before the holidays, where they can sit and be served," said Kecia Mays, president of the Arlington ISD Board of Trustees. "It's all about them this evening."
The sit-down meal was served by an army of volunteers from across the community, including Arlington ISD Superintendent Dr. Marcelo Cavazos and members of Arlington ISD's student outreach services team. The holiday meal featured southern chicken, mashed potatoes, cabbage, yams and desserts.
According to Mays, the collaboration of several community partners allowed the event to be provided to families at no cost to them.
"We're really grateful for the Texas Rangers, Dallas Cowboys, the City of Arlington, UTA and some of the groups that have come together to help serve and provide the food, and especially to Ella B's for providing the food and location," she said.
What it's all about
The event wasn't just all about the food, either. Every student who came left with toys, free shoes from Metro Sports Fieldhouse and bags of groceries donated by Food for the Soul.
For board member Sarah McMurrough, seeing the gratitude in people's eyes and on their faces was a reminder of how important it is to connect with others, especially during the holidays.
"It's all about giving back," she said. "I'm a former Arlington ISD student. It feels really good to be able to give back to our community. We're all here for our students and their families."
Patrick and Patricia Whitfield – Ella B's owners – have done charitable work in the region for more than 20 years, providing hot meals to people in need. When Patrick saw the kids' reactions during the event, he knew it was a success.
"Seeing their faces, it was priceless," Whitfield said. "It is something my wife and I look forward to. My grandmother always instilled in me, 'If you're able to do, you do.' It's just a joy to be able to do something for someone else because we never know when we're going to be in that position ourselves."
Families were able to enjoy an evening of fun and holiday cheer, even if it was only for a few hours. Regina Hawthorne, who is currently living in a hotel with her three grandsons, relished the event.
"It was nice to have a good meal and be treated with respect," she said. "I really enjoyed it."
Hawthorne credited Shar Thompson, a Families in Transition school social worker at Arlington ISD, for inviting her family to the holiday dinner at Ella B's.
"Thank you. Keep up the good work. Humanity, these days, is hard to come by."