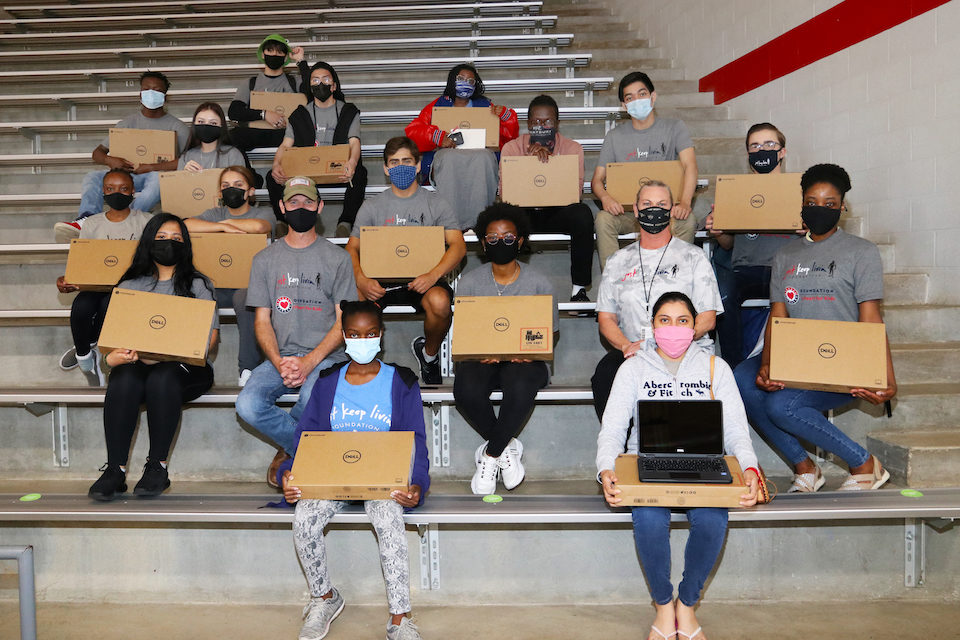 just keep livin foundation promotes fitness and wellness for high schoolers
Approximately 30 Sam Houston High School students received new Dell Chromebooks from the just keep livin Foundation (j.k livin), an after-school program focused on empowering youth to live healthier lifestyles. In partnership with Dell and the Texas Rangers, the nonprofit organization gifted the laptops to meet students' needs.
The organization, founded by Matthew and Camila McConaughey, is open to high school students interested in improving their overall health and well-being. After struggling with the passing of his father in 2011, McConaughey embraced the saying "just keep livin" to help him navigate through life's hardships. The mantra naturally became the organization's namesake because of its significance.
As an extension of j.k. livin's mission to provide students with the necessary tools to lead active lives, fitness and wellness programs were set up in nearly 40 high schools nationwide. Programs in California, Louisiana, New York, Ohio, Tennessee, Texas and Washington, D.C. currently serve over 2,500 students.
Fitness, wellness, nutrition, and service are the pillars of the organization. Through exercising, cooking, joining gratitude circles and participating in community service events, students are encouraged to make positive life choices to improve their physical and mental health.
Like many student organizations across the nation, the j.k. livin program at Sam Houston began meeting on Zoom due to the COVID-19 pandemic. Despite circumstances, virtual learning and meeting haven't hindered the group's desire to learn. With the help of their teachers, Eric Miller and Ronda Sherrill, students have continued to meet twice per week to hear from guest speakers and exercise together online. Throughout the year, students got the opportunity to hear from professors and mental health experts on Zoom as a part of the "Mental Health Monday" campaign to promote mental health awareness.
"My favorite part of participating in this program is gathering and interacting with the other students," said junior Carlos R. "I wouldn't have got the opportunity to meet and become friends with most of them if it weren't for this organization."
Not only is the organization giving students the chance to build social skills, but it also is providing tangible resources and tools to students who may not have access to them outside of school.
"I'm super excited to have a Chromebook, because it will increase my productivity in and outside of the classroom," said senior Chisom A. "I'll be able to get so much more classwork and projects done at home rather than trying to finish all of my assignments at school."
Chisom A. is also a member of the International Baccalaureate Film Club and plans to use her new gift to support her passion for filmmaking.
"This laptop will be convenient, because I'll get to upload, view and edit my files and the quality won't be compromised unlike using my phone," she said.
Students expressed their gratitude for the new laptops to Dell with handwritten thank-you notes.
"The opportunities j.k. livin provides are so amazing, and it really empowers students to live healthier lives and develop skills they will be able to use for the rest of their lives," said Sherrill. "All of these kids come from all walks of life and various backgrounds, so it's powerful to see them join together and become friends."
For more information on the just keep livin Foundation, please visit jklivinfoundation.org.