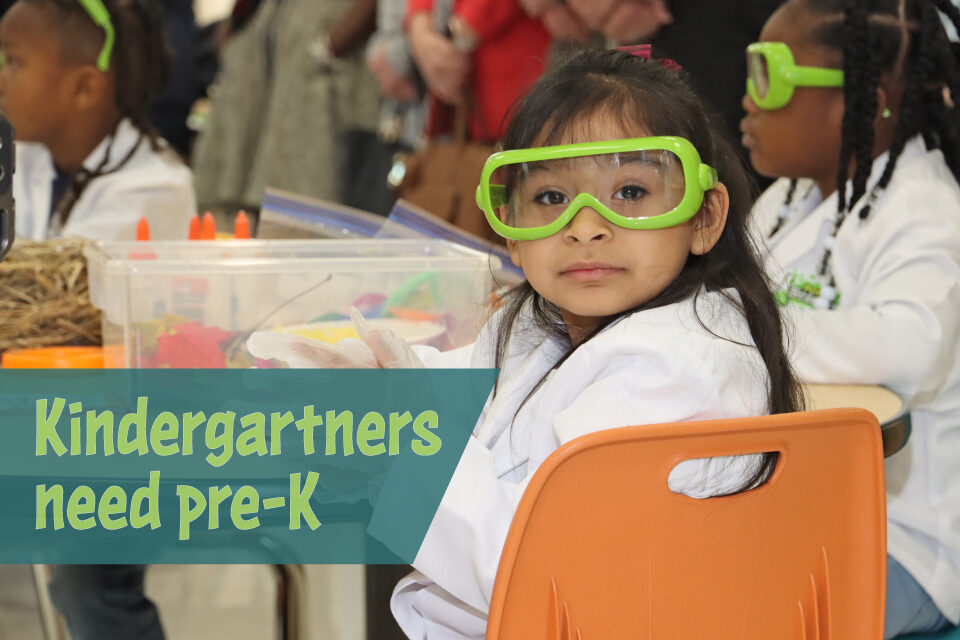 Choosing to let your little one start school can be a challenging task for any new parent. Will they like it? How will they adjust? Will they make friends? All of these are questions any parent might have if they are considering sending their child to pre-K? We've taken those questions to people who would know best, our kindergarten teachers. They can speak about the benefits of sending your child to pre-K before they begin their career as kindergartners. Let's hear what they have to say.  
Pre-K builds the foundation
Enrolling your child in school for the first time might be scary but in the long run, students who begin their scholastic careers in pre-K excel. Pre-K builds the foundation children need to operate in a classroom setting while it also teaches them social and language skills, literacy skills such as letter/sound recognition, vocabulary and print awareness.  
Ellis Elementary kindergarten teacher Isamary Torres-Cordero uses the analogy of a house to describe kindergarten without pre-K. She believes a firm foundation is a key to little learners' success.  
"Not sending your child to Pre-K would be like building a house without a concrete foundation," said Torres-Cordero. "You can build it and the walls would probably support the roof and the structure, but it will not be a stable one that can overcome challenges." 
Don't wait
Some parents think students start learning in kindergarten or even first grade. That's the way they grew up so it's what they know. But is it true or does waiting hinder students academically because it delays developing their cognitive and fine motor skills?  
Webb Elementary kindergarten teacher Ana Camarillo has a variety of lessons that are built on lessons learned in pre-K. Number sense, working in centers and collaboration skills are just a few. When asked why parents should take advantage of pre-K 3 or 4, Camarillo said it helps students develop their literacy skills and aids with students' vocabulary, 
"Pre-K is the perfect time where kids can develop social skills, build their academic journey and can acquire motor skills so they can be more prepared for kindergarten," said Camarillo.  
Truth is
Students who do not attend pre-K and go directly into kindergarten take a longer time to adjust to a classroom setting and day-to-day routine. 
"It is very noticeable when students have had pre-K because they come to school ready to learn, "said Judith Vega, a bilingual kindergarten teacher at Webb Elementary. "For those who don't, we have to give them the basics and also the skills taught in kindergarten. The curriculum moves very quickly and if they have not had pre-K, they may struggle. Pre-K kids come with the basic letter knowledge and number concepts to build on." 
Little learners learn how to pay attention, know their letters and sounds, say please and thank you, wait their turn, share, count and have so many more skills vital to their development. 
Take the first step
Open enrollment is now open at aisd.net/pre-K. For questions or to speak with someone, call (682) 867-9418 or email prekquestions@aisd.net